By Rocky Landsverk
Houses, barns, and sheds aren't what they used to be, as anybody older than about 50 years old can attest. In fact, some of today's sheds would have been considered a pretty nice home 100 years ago.
As the shed industry continues to evolve from "place where you store your lawn mower" to sometimes meaning "small home where the grandchildren can play and sleep," it can be difficult to define entry-level, mid-level, and upscale sheds.
And regional differences are making it even more difficult to assess. In more rural areas like much of the Midwest, there are often still entry-level sheds with no windows. In the Northeast, even entry-level typically means something nicer than your great-grandparents' house.
"If you look out in the Midwest, a basic shed is still a basic shed," said Thomas Slack, sales rep at Shed Windows and More. Move to the Northeast, however, and "that standard shed typically has at least two windows and a double door."
Justin Burnett, sales manager at Midco Building Products, said the South is also moving toward entry-level sheds that increasingly seem like mid-level sheds. "Definitely over the last 10-15 years there has been an increase" in the quality and features of basic sheds to the point that they're really more like what we would have called a mid-level shed before. For instance, the South often has traditionally used a more-affordable aluminum frame door "but we are seeing a slight trend toward a better-grade fiberglass door," Burnett said.
How did we get here, and what happens next?
Basic vs. Mid-Level in 2023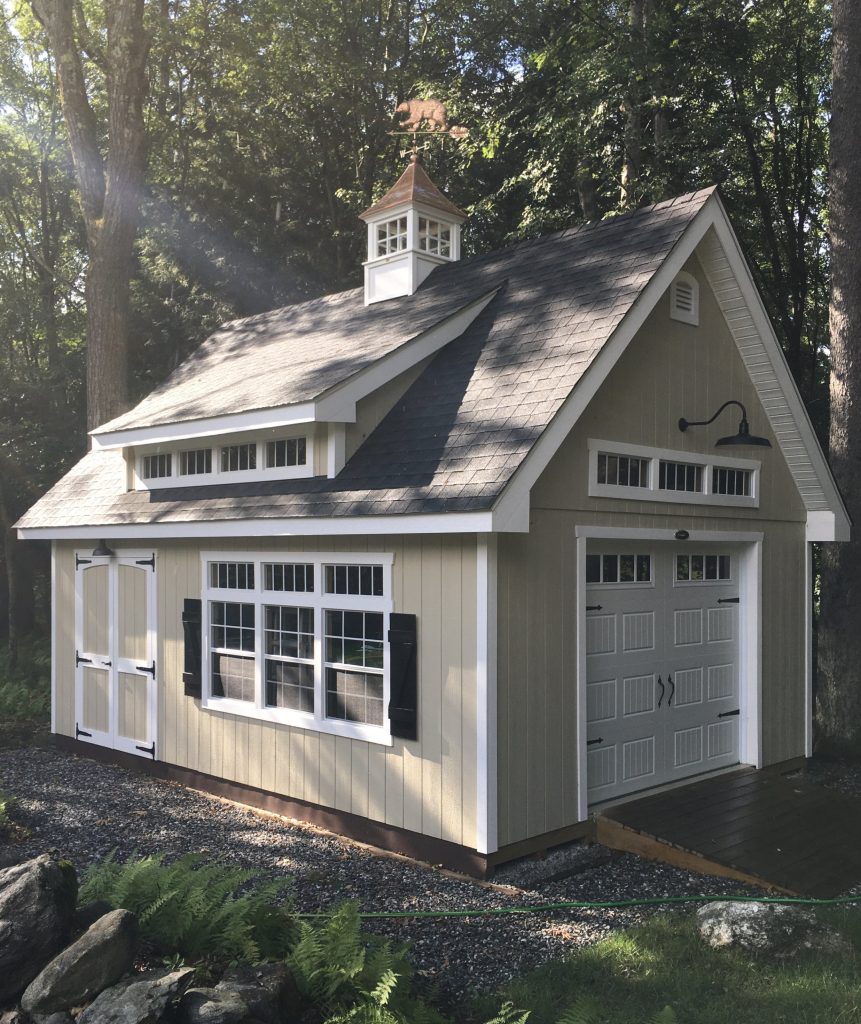 Most of the regional differences seem to track with urban vs. rural areas. If you want to generalize about what a mid-level shed is today, nationally, it will have windows, plus upgraded doors and siding.
"A middle-of-the road shed is still a standard LP SmartSide shed, maybe with multiple windows, maybe a rollup door," Slack said. He then continued walking up the food chain. "Your high-end sheds are going to be vinyl or Hardie with entry with a standard residential entry door, and then maybe then a double bifold door with a ramp."
Next up the ladder would be what Slack calls a specialty building, which would have double-pane windows and insulation and drywall.
Burnett gave some criteria for what he would call a mid-level shed in 2023.
• Fiberglass doors.
• PVC frame instead of wood.
• Double-paned aluminum windows.
• Ramps for wheelbarrows, lawn mowers, etc.
• Cosmetic upgrades such as window shutters and flower boxes.
"Upgradable components and creature comforts are what make the changes between an entry-level and mid-level shed," Burnett said.
Ranking the Important Upgrades
The first upgrade to be considered is typically the door. "It's the easiest replacement," Slack said. "Pop the trim off and then pop the door in. Put your trim on, and you're ready to go."
For the next upgrade, a builder would typically say windows. That could mean upgrading to include windows at all, or it could mean moving up to better windows.
Upgrading windows to a better quality is easy because the rough opening doesn't have to change, versus improving (for instance) the siding, which can impact the studs. "In the case of windows, you're just dropping a new product in there with the same dimensions," Slack said.
What would Burnett recommend to upgrade? He listed upgraded side panels such as LP SmartSide and some kind of improved door, perhaps a metal roll-up door. He said you should also consider upgrading the roof to shingles to match the house. Other items on his list:
• Upgrading windows to include
transom windows.
• Upgrades in flooring to either floor
panels or LuxGuard rubber floors.
• Vented gables.
• Upgraded door hinges (from gal
vanized or zinc to a more decorative
black powder coated hinge).
Regional Differences
Why these regional differences? Slack said much of the difference is that HOAs and covenants in the Northeast are stricter and/or have higher standards. Sometimes that is rooted in simple urban vs. rural differences, but often it's just what got passed from town to town, regionally.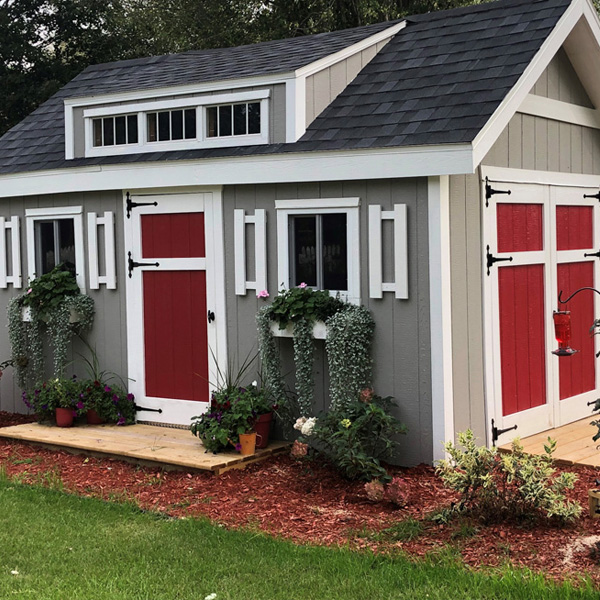 "The Midwest is more rural, and rural means less rules, less regulations," he said. But in the Northeast, "the shed has to look like the house, and the house has windows, so the shed has to have windows. If the house is a cream color, the shed needs to be a cream color."
Example: Here is a section of the covenants for a subdivision near GSCB's office in Central Wisconsin. "One shed per residence, with a maximum floor area of 192 square feet." End of discussion on the topic. So as opposed to most of the stricter covenants in other areas of the country, including but not limited to the Northeast, Slack said in this instance, "the shed could be bright orange."
Meanwhile, in some areas of the Northeast, Slack said, "We're working in some developments that require the shed to be on a concrete foundation. It has to be a vinyl building that matches the vinyl of your house, or the closest match that is available. It has to have fiberglass doors and has to have hurricane clips, to be anchored. You're essentially building a mini-house."
Prioritizing Upgrades
All things considered, Slack said his vision of a middle-of-the-road shed includes two windows, a double-door, and painted and trimmed LP SmartSide.
What do experts strongly recommend to get upgraded? Put another way, what do customers often regret not upgrading?
"That depends on the use of the building," Slack said. "Is it just for lawn equipment, or will you be keeping valuables in it? Will it be used for an office or a workout studio?
"If you are trying to keep your lawn equipment dry, you need a door that's wide enough to get your lawn equipment in and out. If you have a riding mower, do you need a ramp? How much do you care about the way a door looks?
"If you're going to put nicer things in it, then you want a fiberglass door, so it becomes air- and water-tight, and in that case, we're going to seal the entire building properly, and insulate."
What people seem to be inquiring about in today's uncertain economic times mirrors what happened during the 2009-era recession. "Fiberglass doors and double-pane windows," Slack said. That kind of upgrade was popular during that previous recession, and he said people are utilizing the same philosophy in today's uncertain times — their attitude seems to be avoiding expensive upgrades in favor of practicality"
Upscale Trends
Sheds are also increasingly serving as living spaces, or turning into the backdrop for patios enclosed as three-season rooms, Carolina rooms, and multi-use outdoor spaces. "You have sheds being converted into offices, into game rooms, into gyms, yoga studios," Slack said.
Burnett said he's seeing a couple trends currently, including dormer windows, and lofts for storage or sleeping, turning the shed into a bit of a cabin. "Dormer windows add better views and increase the building's stylishness," he said. "Lofted barns enable more storage, or a place to sleep in a cabin-shed."
We know these trends toward higher-end and more extravagant aren't going to stop. In the same way that everything gets fancier every day, Burnett said, "We can expect the quality of sheds to continue to go up in years to come." GSCB