The ­­­­­­­­motto, "Where Personality Opens Doors and Character Keeps Them Open" has been on the Central Door Solutions homepage for some time now. Whether it's large commercial door projects or smaller, residential installs, the garage door company has kept on finding "solutions," and they work for customers successfully because of these words they live and work by.
"I came across that comment 10 years ago," says Chris Brooks, current co-owner and general sales manager. "I changed it a little bit to fit our door world. But I think it speaks volumes who we are and what our vision is: When you call Central Door somebody is gonna answer the phone. When you're looking for something someone's going to call you back. When you have a problem after the fact we're going to go out of our way to make sure it's taken care of."
The company started up in 2004 through current co-owner Bruce Woyak and a couple other individuals, all with experience in the overhead door industry. Two of them, including Woyak, previously worked for Lakeland Overhead Door. One later went on to TW Masters Overhead Doors.
In 2009, one partner left, then Chris Brooks came on in 2010 in the sales department. His role would become as co-owner and partner. Another of the original three subsequently departed, leaving Bruce and Chris as partners and sole owners in 2014.
"We went back and bought out TW Masters, which was my previous employer," Brooks said.
Their business prowess and growth opportunity didn't stop there.
"We [then] just came to an agreement to purchase Lakeland Overhead Door, which was Bruce's previous employer, and they were the biggest overhead door company in the '80s and '90s."
Brooks says it's coincidental and not the norm when two minds come together, with each purchasing the companies of their former employers within the industry.
When Brooks started, he says there were only three installers and one office manager.
"We did $650,000 [in 2010] at that time in revenue. In 2021, we did over $4 million in revenue and employed 24 people."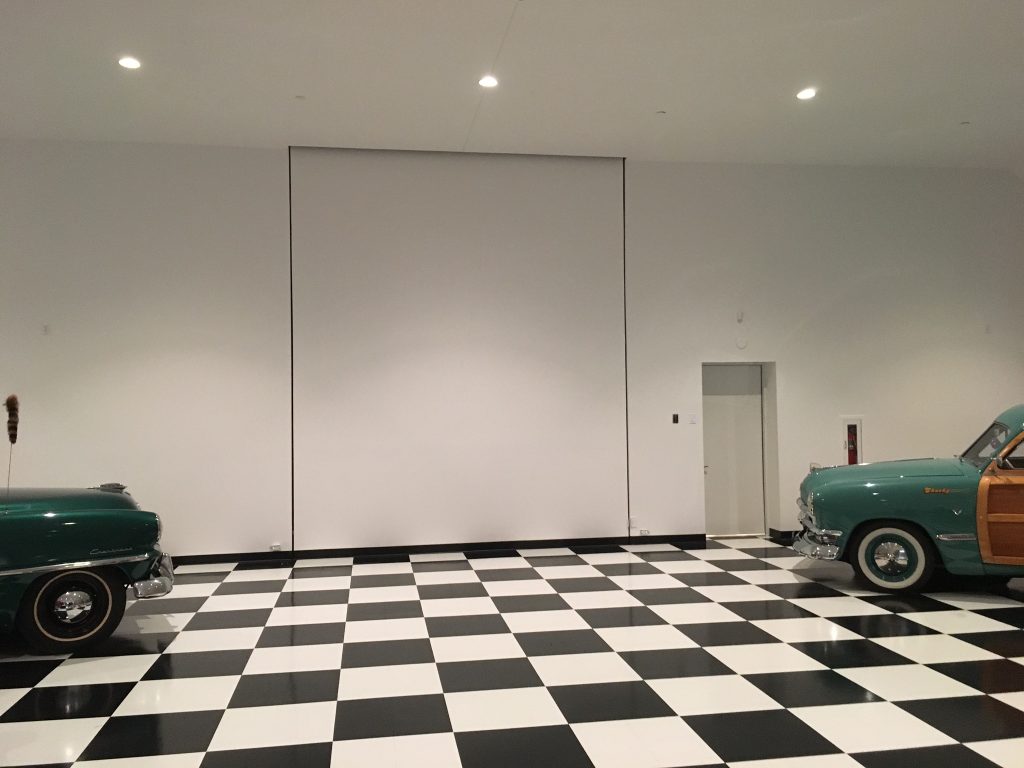 Go 'big and go home'
In a "relatively" small populous, Central Door covers both residential and commercial in a broad area including all of Wisconsin and the UP of Michigan. Brooks says they work out of the New Berlin office division often for larger commercial projects, an increasing area of work for them.
The company was recently awarded with larger high-profile projects for their services including the Camp Randall Stadium renovations in Madison as well as work at the Kohl Center at the University of Wisconsin.
"These are pretty significant jobs we feel fortunate enough to have been able to work out."
Another large project they are ready to work on is the new, state-of-the-art Delta Dental building in Stevens Point, Wisconsin.
Brooks says the company is moving in a direction on the commercial side where they are working on many custom and high-profile projects, but still do many residential garage doors where a customer needs a 16 x 7 door.
The door manufacturers they use are Clopay, Raynor Overhead Door and Midland Garage Door. The main door supplier they use is Clopay. Brooks says they offer a great line of products that are diverse, with several color options.
"Their commercial options is greater than any other and their warranties, how they stand behind their product, is second to none."
Central Door has seven straight years of attaining "Master Authorized Dealer" status for Clopay. Brooks acknowledges that it's because they look for growth and improvement. "We're constantly adjusting how we do things internally and how we handle things in the outside sales world. As we've grown we've been able to attain more equipment, and have the capability to do jobs that at this point a lot of others can't do. That opens up some markets for us that we continue to grow in that — without losing what we've built the company on — we've been able to expand in. Other areas [too], whether government projects or municipalities or even getting heavy into hollow-metal entry doors, high-speed doors is a big one for us, and we've done a number of airplane hanger doors in recent years."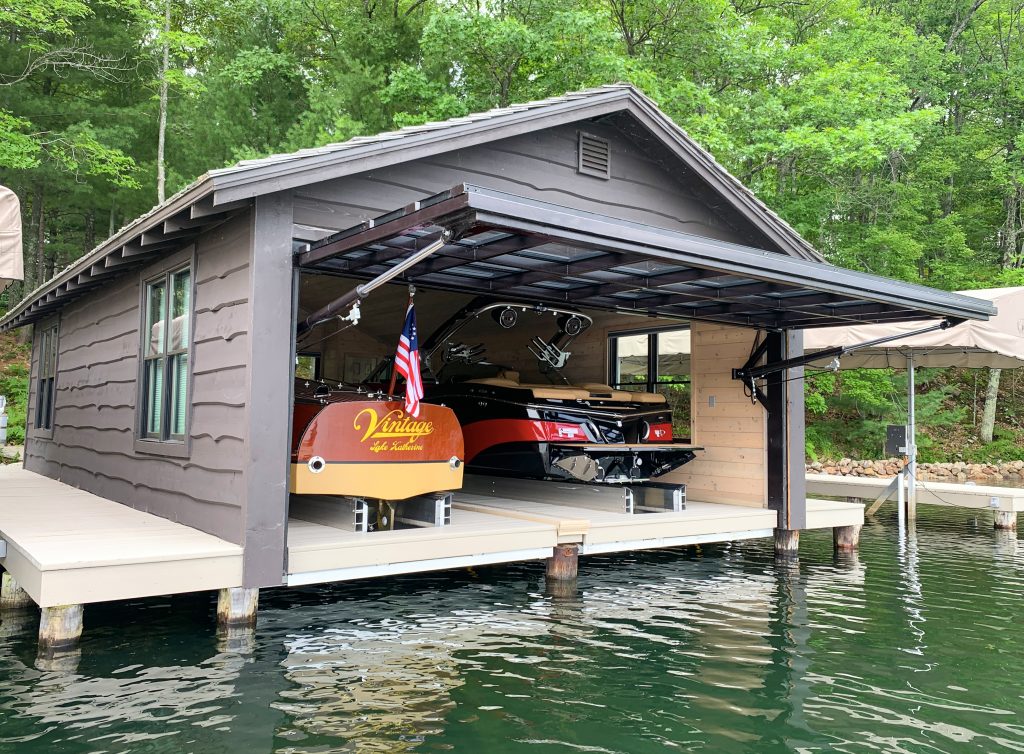 'Inside' the Door
Why they choose and install the products they use — a diverse type with varying materials and speeds for different applications and uses — maintains their client base and grows their list.
"The high-speed doors travel up to 96 inches per second. The true speed of the door and responsiveness — a lot of people don't realize these are out there."
Brooks adds that in the blink of an eye these doors are 8 feet in the air.
"We've actually developed internally a high-speed sectional door that runs at 24 inches per second, which is very strong in the section overhead door world. We have got some county garages and some food processors that utilize these. That way, it gives you a strong R-value, rather than with some other high-speed products [where] the R-value is not quite as strong. Instead of being an R-value of 4, now you're looking at an R-value of somewhere around 18 1/2." Brooks added less materials on high-speed doors makes their advanced lifting speeds.
Residential clients want the thermal R-value, the resistance to heat flow loss or transfer, incorporated into their work. But, the customers have to know that what they choose or plan to install has to work with several factors already in place in their garage and its walls.
Brooks says this is extremely important and they have to coordinate the specific installation to what they have to work with. They stress choosing what's best for customers and answering questions beforehand, especially in a cold-weather region.
"What kind of insulation in the garage are they using to begin with?" Chris wants to ask their customers. "If they're putting an R-31 or 28 in the walls, it doesn't make a lot of sense to put a 16' x 7' and 9' x 7' [door] with an R-value of 6 in the wall. Essentially you have one wall with 6 1/2 and the rest of the garage is a value of R-19 or whatever it may be."
Brooks also stresses determining door choice based on the use of the garage and its space.
"You have to work with it, and it depends on what the use is: Is there living quarters [coach] above the areas? Is it something they're going to heat all the time or when they're only working out there? It's important to us to make sure we're giving the customer the best door for the application without overspending.
The fire-proof doors they install are also popular. These NFPA-tested, designed products work on firewalls at food processing plants or paper mills and workshops.
"Sometimes they need a larger opening to get products through or just a service parts counter that needs a window-sized fire door," Brooks says. "These doors will activate upon smoke detectors or heat detection and will drop on a governed speed — they're not just going to drop immediately on somebody being in the opening — designed to hold a fire back for whatever it may be whether it's a 90-hour rating or a 3-hour rating."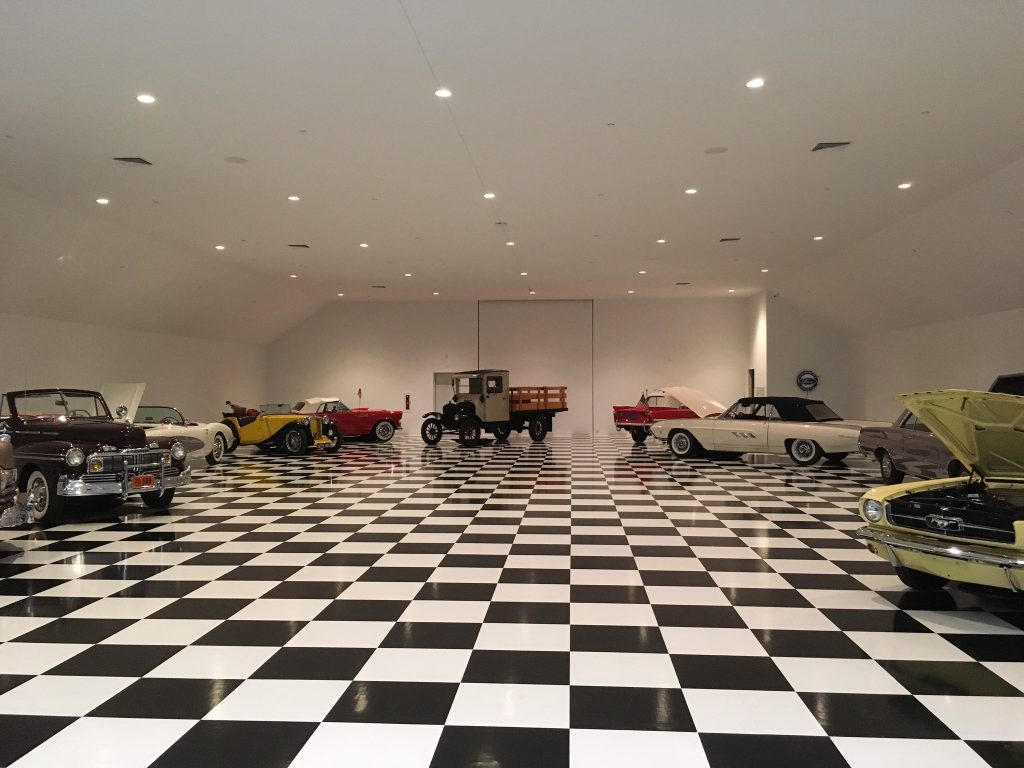 Central Door 'Custom' Projects
Brooks and the company prides itself on performing many custom-work door projects. Many clients turn to them for customized projects not just out of personal or company preference but as a necessity.
"A boat house door we did is a full-glass hydraulic door — essentially the whole wall on the boat house — and extends out."
Their impressive custom work prompted the door manufacturer supplying the component to post and profile the project on their website for marketing.
Three years ago the company completed a large custom car barn in Plover, Wisconsin, which is where Central Door is based. The client wanted the overhead doors to be "invisible."
"We put these doors in and designed them to go straight up, but they literally had to have a wall built on the inside of the overhead doors. They are dry-walled and have wainscoting on the bottom. So, other than about a 3/8" gap on each side of the door, it looks like a complete straight wall."
Brooks' client required precise, custom work done, as there are rare, expensive cars parked inside the car barn including Model-T, Model-A Fords and others.
"[These projects] are the kinds of things we are able to do. Quite frankly we designed and 'evolved' these doors." They use doors in custom projects like these and design them internally, without outsourcing, for this step in the install. "We are able to produce these and they are functioning at a level they should be. We designed all these doors," Brooks says proudly."
They also complete custom work for the aviation industry.
"We've done a number of airplane hanger doors in recent years. Those tend to be very high-end, involved projects. We currently have one that's coming up for the Waupaca Foundry for their new jet that they just bought."
Their work with the Rhinelander Hodag Dome in Rhinelander, Wisconsin is another unusual large-scale job.
"We did all the fire doors and concession rolling grills and overhead doors."
Brooks added their growth is due to experience and the company performing custom projects where there's a limited amount of workers available for these specific types of jobs.
Providing 'Solutions'
When it comes to residential work, why they are where they're at today is through recognizing the needs and issues facing the homeowner who wants a new garage door, as well the wants of supplier and builder.
"I think availability is the No. 1 issue right now. Getting products is a huge struggle with supply chain issues. With the number of dealerships and the size that we are, and the inventory that we hold, we are able to supply that."
Their showroom and product choices are other key factors for their growth. Finally, they fall back on their aforementioned motto and apply that to every residential customer, creating a word-of- mouth scenario.
"I think credibility is a big one. When they come to us and a product is installed they know what they are getting for their money."
On the commercial side for who a company chooses, Brooks considers competitive bid a salient factor.
"Following that is financial stability, then capability of following through on a large-level project that will be on display to the public."
Brooks says they have a diverse staff of electricians, fabricators, certified welders and mechanics, which enables them to develop, design and follow through on a customer's vision.
"A customer calls us, we show up, they point at the side of a building and say, 'I would like to have overhead doors here, or we have equipment we need to get in here. What can we do?' We can show up, cut a hole in the side of the building, frame it out, trim it out, install the door and have everything operational turnkey without them having to hire anyone else."
Brooks says another final point for residential customers and garage door installers is a routine maintenance regimen. He says homeowners should practice more, but don't do enough.
"We treat our garage doors like we do refrigerators — you come home and expect that to work every time you press a button. We tend to not take the time to lubricate, double-check spring tension, give it an annual service and check cables. In our climate the cables get and have a tendency to rust. GSCB