Linda Schmid
One might think that carports would not be popular in northern areas where the elements can often be less than pleasant and mild. However, after speaking to Roy Rodriguez of Midwest Steel Carports, it is apparent that would be a false assumption. He assures us that carports are popular for many reasons, including the affordability of these wall-less structures. They provide easy accessibility to the items stored within them, they give protection from the elements, people are not continually cleaning snow away from vehicles, and items are conveniently contained in one space. Further, because carports are pre-engineered and pre-manufactured, they can be quickly constructed. 
Manufacturers bend the tubing to create a pre-fabricated carport frame to be assembled like a puzzle. However, there are no instructions so a bit of experience is a very helpful thing.
Carport Materials
Carports frames can be made of aluminum, but steel is a much stronger material for a lasting structure. Rodriguez says that their carports are usually 14-gauge steel with a diameter of 2 1/2 x 2 1/2 or the heavy-duty 12-gauge steel option with steel to steel 3/4" SD tech screws. Hex zinc screws can also be used, #12 screws that are self-tapping with a drill bit for ease of installation (no pre-drilling required). Neoprene washers give a tight, long-lasting seal to help prevent leaks.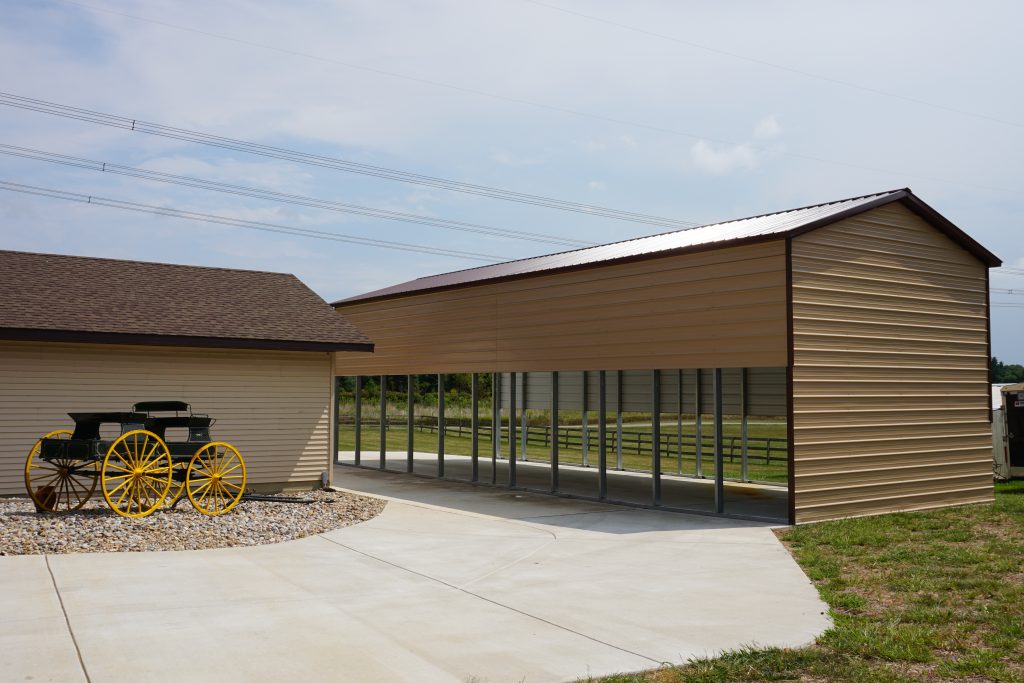 Brian Thomas, the Dealer Support Manager at American Building Network, finds that 14-gauge Grade 50 Galvanized Tubing is most-often used for framing. They primarily use self-drilling screws and thru-bolt anchors for fastening the structural components to each other and the siding to the frame. He adds that steel trusses and column components are pre-fabricated off-site and assembled onsite. Depending on the foundation, a 36″ auger anchor can be drilled into the ground or a 6-prong anchor is used with asphalt, and a wedge anchor with concrete.
Rodriguez adds that galvanized steel is a good choice for rust resistance in a climate where the structure will have to withstand snow, rain, and hail.
Tips On Carport Construction
Level Site. The first thing to ascertain is that the site is level, within 3″ Thomas advises. An un-level site can lead to problems; firstly you may be looking at a lopsided-looking building. More importantly the structure may not be as sturdy as it could be, for instance the anchors holding the structure down are in danger of pulling out when strong winds come along.
Installation Clearance. Leave yourself at least 3′ to 4′ of clearance for panel installation; unnecessary items left in that space can end up damaging the panels if they are banged or scraped up against them.
Check for Pipes. Ensure that the ground you are working is free from pipes, electrical, or septic lines; check with the owner and ensure that they have had the area surveyed.
Do Not Over-Tighten. As you assemble the carport, take care not to over-tighten the screws, or the washer can give out eventually and you have a leak. This can be avoided by using the correct tool at the correct torque speed. Also a higher quality of screw can help.
Veteran Finish. Do not allow a newbie to do the finish work unsupervised, as pieces may be poorly cut, calling the craftsmanship of the whole project into question.
Rodriguez said if you are the new guy on the job site, learn as much as possible from the experienced workers, look up videos online, be vulnerable to criticism. This is how you will learn!

Job Site Etiquette
Communication and respect for the customers' property is first and foremost on any job. Customers may have items that they don't realize are in the way of construction, but before moving their belongings, ask for permission and ensure that they understand what is happening.
Take breaks away from the job site and refrain from smoking on the premises.
Don't leave packaging or any garbage behind.
These basic courtesies can make the difference between positive and negative word of mouth.
Temporary or Permanent?
Carports may or may not need a permit. It is up to the state, county, city … but often they are required nowadays.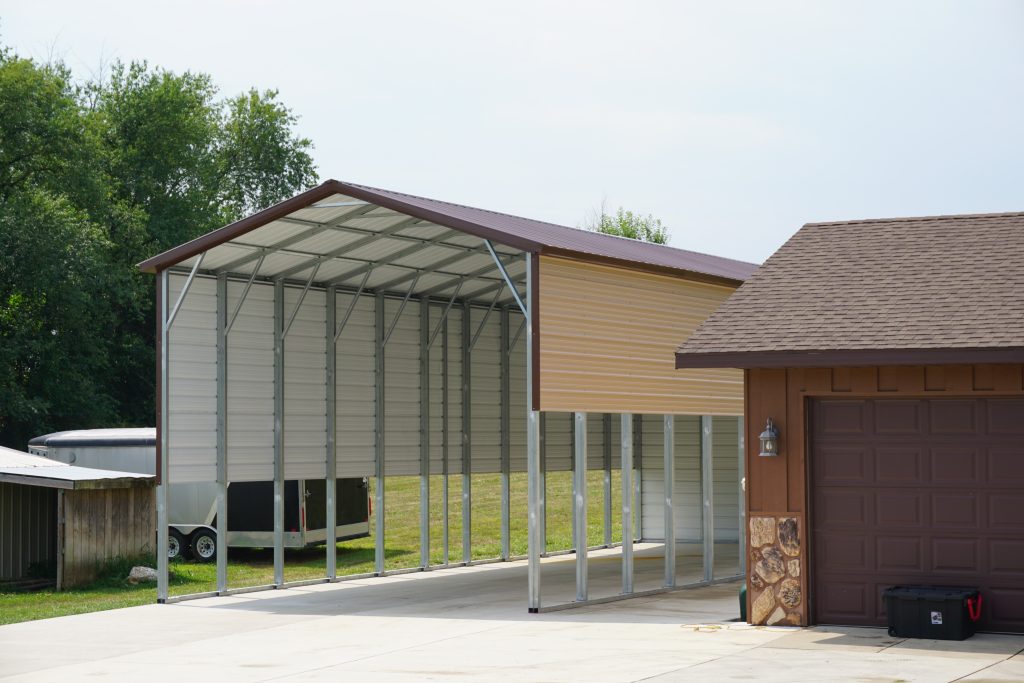 Permits are not necessary if the building is considered temporary. It depends largely on the foundation; if it's on concrete, it probably needs a permit. Size can also play a part; if it's over 200 sq. feet, it's most likely considered to be permanent. However, you need to be sure what the requirements are in the area you are building.
Because of the materials used, carports have the potential to last a long time; as Rodriguez says, steel is the material used for bridges and skyscrapers. Framing can have a 20 year warranty and the roof panels generally have many more, perhaps double that with a proper build and maintenance.
A proper build ensures the carport is engineered to meet local building codes which in turn ensures the integrity of the structure during heavy winds and snow loads. Of course, accidents happen and there have been occasions where buildings have been damaged by vehicles or fallen trees. Thomas warns that concrete cleaning chemicals can cause damage to the galvanized coating if over-sprayed.
On a positive note, repairs of steel buildings are typically not too complex since the structures fit together like puzzles. GSCB