By Linda Schmid
All too often windows for garages and sheds are chosen as an afterthought, and the choice may be based on one consideration only: price. The reality is that windows warrant more thought than that, first because the quality of the components you install will reflect on you, even if you didn't build them. Second, a window is, after all, an opening in the building envelope, and you don't want a weak stop-gap.
If the cheapest window is chosen, it may fail, and possibly more than once, according to Vicki Wachtendonk, Inside Sales Manager at AJ Manufacturing: "The initial cost is not the only factor; you need to consider the long term cost if you end up replacing a cheap window."
"For a couple of extra dollars, you can get a better, more efficient window and that extra outlay will be easily recouped," said Patrik Blondin, Sales & Marketing Manager at Minnkota Windows.
Well-built Windows
You can tell a well-built window right out of the box, according to Wachtendonk. "It looks solid with well-sealed corners, weather stripping and the NFRC (National Fenestration Rating Council) rating marked on it. It's also properly sealed with a good weld and easily opens and closes."
Another reason to re-think the windows you use is the trend toward multi-purpose spaces. Consider what ways the garage or shed may be used. If it will be part hobby shop, entertaining space, or other living space, then different window characteristics become more important for the build than if it is simply a parking spot for the car or a storage space for garden tools. Depending on the usage, these are some of the attributes you will want to consider:
• Ventilation
• Natural Light
• Longevity
• Energy Efficiency
• Aesthetics
• Warranty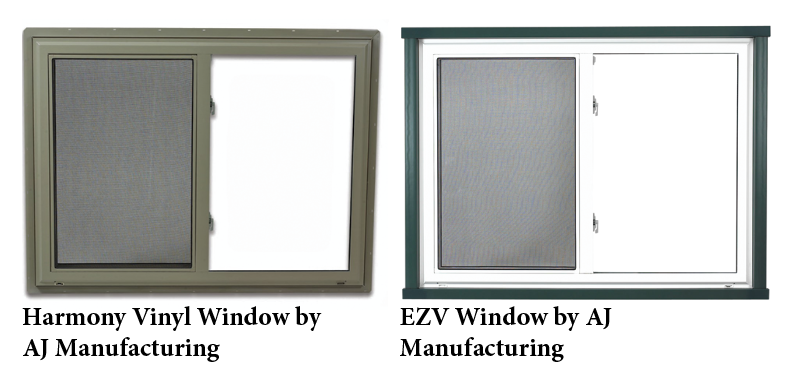 Ventilation
Ventilation is an important concern if people or animals will be spending time in the building. In this case you want to be certain to choose a window that opens easily. You may want to consider a window that is wider rather than tall, either a single or double slider. Another great choice is an awning window that cranks outward and can even be left open during a light rain.
If ventilation is not a concern, perhaps because the doors can be opened for ventilation and natural light is more important, a fixed picture window could fit the bill.
If you are looking for a window that will last a long time, vinyl windows are an option. They won't warp or rot and no resealing or painting is required; they are maintenance free.
Energy Efficiency
If energy efficiency is important because the space will be temperature controlled, look for a window with good thermal properties; a window that minimizes heat transfer. The window should be "insulated" with at least a double pane of glass, preferably a triple pane with a minimum of a 1/2" space between panes filled with argon. This creates a low U factor or heat loss factor, which is particularly effective in Northern climates. You want a window with low-e glass (featuring a glass coating with low emissivity). In the South, nickel layers can be added to block heat from the sun. These options will make the windows efficient over the long-term.
Aesthetically speaking, single hung windows are popular on garages, but people generally look for something to match the house or other buildings on the property.
Warranties and Longevity
The warranty is a good indicator of what a manufacturer expects from a product, so the longer the warranty the better. Look for a warranty greater than 5 years at minimum; some of the higher quality windows will come with a 20-year warranty. Keep in mind that a lifetime warranty on workmanship can be transferred to a second homeowner and the longer the windows last, the happier your customers will be — which reflects well on you and improves your bottom line. GSCB