By Joey Hancock
After years of traveling for his industrial construction job, Dave Kryzak decided it was time to put down some roots and open the door for a new opportunity. Tired of being on the move for his construction job, Kryzak reached out to friends he knew in the garage door industry to learn the trade, which eventually led to starting his own business, Palm Valley Garage Doors [www.palmvalleygaragedoors.com].
A few years after learning the garage door business Kryzak decided it was time to start his own company installing and repairing garage doors. During his time as owner of Palm Valley Garage Doors, Kryzak has learned some valuable lessons that anyone starting their own garage door company can benefit from.
Marketing Your Business
Gone are the days of simple word of mouth advertising and Yellow Book listings. In today's world businesses must use the power of the internet to promote their companies and find customers. Review sites like Yelp, Angie's List and others can prove beneficial for many companies but the power of Google remains at the top of the list when marketing your business.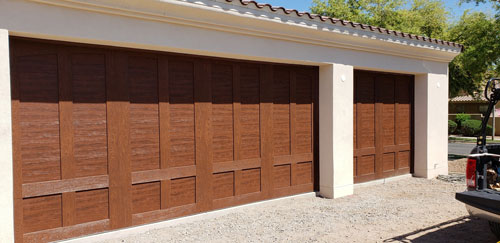 "One of the biggest struggles I had starting out was navigating the internet to produce business," Kryzak said. "You used to be able to put an ad in a phone book and then your phone would ring. Now you have to understand Google and get your name out there through the internet."
Navigating Google and its different analytics can be a daunting task for any business owner who is not familiar with the platform. Marketing companies come out of the woodwork to get your business and offer ways of helping you promote your brand but not all do the job they tell you they will.
"At first people call you and offer a year contract to promote your business but they don't actually do the work to help you," Kryzak said. "After dealing with other companies who overpromised I found a company here in town that does what they say they will, and my business has been growing ever since."
Finding the right people to work with outside of your business is beneficial in growing any company. Having trust in someone that tells you what they can do for your company, does it, and can show you the results is critical when finding a marketing business to promote your company.
Growing Your Business
After marketing his business Kryzak came across an issue many businesses' owners face: Is it time to grow and how do I do that?
"There comes a time where you have to feel out if there is enough business where you can put another truck on the road," Kryzak said. "You have to make sure you can pay your employees, yourself and decide if you are losing business because you are too busy and have to turn away potential customers."
When deciding to grow his business, Kryzak had to make the decision on who to hire. He said it was a difficult decision in choosing between potential hires with varying experience levels.
"I wasn't sure if I wanted to hire a guy who has a lot of experience but is asking for a lot of money or hire someone I can train," Kryzak said. "Either way I was going to be able to free up enough of my time to do more jobs. I ended up hiring someone I could train so I could teach them how I did things, and we were on the same page when it came to how the job should be done."
When making the decision to hire new employees you have to know they will do the job and do it the correct way. By training his new employees, Kryzak said he was able to make sure his customers were still receiving the best service possible and keep the integrity of the business above board.
Overcoming Obstacles
Many homeowners like to take on home improvements and repairs themselves; they often don't want to spend the money to hire a professional. But when they get into doing the job, they realize they are in over their head. Kryzak said he has had many experiences just like this. A homeowner has started a job but can't finish it or after the homeowner does a garage door repair it still doesn't work.
"The difficult part in working with homeowners who worked on their own garage door is telling them they did the repair or installation wrong," Kryzak said. "Sometimes the customer will get angry because they have to call someone to fix the issue but once you show them where they went wrong, they typically calm down."
Being professional and speaking respectfully to your customers goes a long way in customer service. Let your customers know you are there to help them and fix the problems they are having with their garage door. Instead of just telling them what is wrong, show them and it will often calm a frustrated customer.
"Most of the people doing work on their garage doors are capable of recognizing their mistakes," Kryzak said. "They just have to be shown where they went wrong and then they understand."
Future of the Business
Owning a garage door company is becoming more complicated as big companies are now offering services and attracting more customers due to their lower costs and ease of service. Amazon has cut into the garage door business especially as they are now offering installation services if you purchase garage door equipment through the Amazon website.
Having enough trucks on the road and maintaining a loyal customer base allows Kryzak to keep his business running as he competes with the conglomerate companies. In the end Kryzak says his business always comes down to one important aspect every business owner should strive for: good customer service.
"Customer service is key," Kryzak said. "If you treat your customers right and do a good job, they will tell their neighbors and help you bring in more business. If you treat your customers right, you can never go wrong." GSCB
Joey Hancock is a freelance writer in Tempe, Arizona. He has written on a variety of topics including engineering, construction, and business for multiple news outlets.