When building a custom garage or overhauling an existing one, clients want the attention to detail, craftsmanship, and components to match the quality of what they will be parking or working on in there or the unique belongings stored inside. You are there to enhance the form and function of that space, choose materials and products that fit specific needs to preserve what's inside, or create a durable workspace. You must coordinate with a client who has distinctive style, uncompromising taste and, most importantly, a plan they've envisioned.
Custom-Garage Prep & Coordination
Communication is vital in custom-garage builds or upgrades. Communication with the owner allows you to understand how the space will be used.
"The owner has to determine how he wants to stack his cars and what is he going to use it for," says Larry Fechter, senior advisor for the Iola Car Show. They should know if they're only going to use a lift to display cars, to work on them, or both. "If you're showing cars off in a mechanic's shop, safety and environment, that has to be addressed too."
Customers need to ensure they devote enough time in the planning phase. "When I build something, I put more thought into it. I 'see it' before it's done," Larry says. His ability to conceptualize, organize and bring to life a special-build project is reflected in his one-of-a-kind, custom vintage Mobil Gas station garage on the Iola Car Show grounds in Wisconsin. Larry was the contractor for the garage and owns this must-see throwback with all the bells and whistles.
Every client has different ideas for their own build with many variables to consider. Larry adds it is dollar-driven, and some customers may have to drop some square footage due to cost. He adds there's a lot of detail work and that takes much time. Scaled-down versions of original plans are not uncommon, especially in custom jobs, but these still maintain their uniqueness or their functionality.
He says in order to build something with this much detail people need to be driven to create it, and work within their budget. Larry recommends builders speak candidly with clients. "They have to talk common sense and reality to the buyers." He cautions builders need to help clients know their limitations when finalizing the plans for a distinguishable look, in addition to all the necessities they want. Your clients have a plan in mind, and don't want to lose the true essence of their creativity or desired spatial modifications. But sometimes adjustments are necessary.
"As it relates to my own build, I very seldom tell anybody what I'm up to because I frequently adjust based on cost and creativity," Larry says.
Decorative Workmen
Some clients may want more of a custom mechanic's garage while others, like Larry, prefer a more decorative space to complement their collectible classic cars or modern toys. Some wish to incorporate both.
"If you're taking engines apart, be more practical and put finishes in there that are easy to clean," Larry says. His custom garage is a working space for vehicles and includes a lift, so he has flooring with advanced materials that preserve and protect, as well as beautify. His project has character around every corner. Larry's garage is more decorative in most of his personally designed space, with vintage pictures, quirky and memorable items, and iconic collectables meticulously worked into each motif.
The creative, decorative side dominates his eclectic, nostalgic auto-haven and includes a corner with a Chevy garage theme, another with a Shell gas station theme, bathroom with vintage and workable facilities, functional showers to use after working on cars, a phone booth with his childhood friends' and old girlfriends' numbers, kitchen, restaurant man-cave area, a sky mural, a Christine movie-themed fireplace and a lounge with leather seating. His garage is a testament to what clients can dream up and make into reality.
"I wanted to show the average guy, this is accomplishable."
Special touches and other work by fine craftsmen on this garage include the metal restoration into the cars inside and other areas, by Vintage Vehicles; the roof cleaning for Larry, by Titan Xteriors, LLC; electrical signage to make the project glow with nostalgia at night, by Mid-State Sign Service; and the contribution to the flooring and its base, by Alchemy Concrete.
Finding Client Needs
Determine the needs of the client and how you can execute their specific plan. Some installers even get the blueprints of a home or garage from customers to use as an aid. Rick Hoeltke is co-owner of Garage Experts, the specialized flooring company. They installed the custom flooring for Larry's Mobil garage. Hoeltke says they really like to personalize the experience when they first meet a client. They have a team member go to their home and discover what they want and why. Sometimes the job is based on color; sometimes it's a look or theme.
"We're going to help them 'use' our eyes," says Hoeltke. They suggest floor colors that match or offset the exterior or interior walls of the garage or the owner's car. They let the client explore their creative options. "We really let the customer 'have the wheel' and let them play with it." He adds there are many varieties of colors, including a solid color or a brindle stone-like look. Some pick a natural or traditional flake system. Hoeltke says they are more than happy to show their support and knowledge and gear individuals more toward the texture, look and color they want.
Customers want their garage jobs to be different, with a special detail. Find out how they exactly want to personalize their floors. "We had custom colors done for Larry; we've had customers match their car color and put in logos in their floors," says Ryan Bednarowski, co-owner at Garage Experts. Some already have these extra touches in mind; some may need probing to find it. They said Larry designed the custom colors himself, but not all clients have Fechter's car repair, paint and detailing experience and need more assistance using a sample color board or deciding on adding a rare nuance.
Order Up
The exact order of what you install in a garage overhaul matters. Hoeltke recommends builders install custom flooring first. He says the floors can't be changed as easily as the finished walls or decorative features or other components. "Typically, you want to start with the floor," Hoeltke says. When that decision on the custom floor is made and it's installed, it's done and difficult to change. "If you're going to paint a wall, that can always be changed." He adds, if you need to wipe up any spills from the next job in line, the durable custom floors designed for easier clean-up are already installed.
Nick Knauer, co-owner of R. H. Fischer Overhead Door, says they prefer doors go on after all custom work inside the garage is complete, including paint, plaster and drywall. He stresses coordination with contractors and others on the project is important. "It's nice when the doors can be put in last," Knauer says. "You don't have to worry about painters coming in and getting paint and drywall or dust [on the door] or things getting all dinged up."
He prefers all electrical work finished beforehand including completing prewired jobs for photo eyes and the garage opener wall button, and the outlets placed in correct spots. "We've walked into $2 million homes and they have a 16-ft. ceiling with 8-ft.-high doors, and they have the high lift [system] so the door lifts straight up. They'll have the outlet up there for a standard trolley opener when it has a side-mount opener, and then there's no outlet." He says in this case, if plastering and painting is already done, they may have to then tear portions of the wall apart in order to get access. After, they can then put in correct wiring and adjust its placement in the right areas for their door installation. He cautions photo eyes and wall button prewiring up in ceilings for trolley-style openers present similar challenges.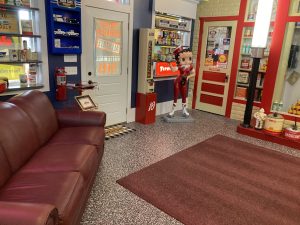 Custom Flooring
Custom garages with workspace for cars, or for displaying, need floors made with materials that increase durability through heavy use, and are attractive. It's recommended to use flooring that uses an epoxy and a polyaspartic in conjunction. High-quality flooring includes an epoxy base coat that penetrates extra deep to create a vapor barrier in the floor. The epoxy uses advanced moisture-wicking technology. This is essential in the regions with temperature extremes of sub-zero and 100-degree readings. "You want to protect against hydrostatic pressure (lateral pressure with moisture) and extreme climates," says Hoeltke. Garage Experts prefer installing flooring with advanced materials. The epoxy also allows the flake system (color) to stick and adhere to the concrete.
Once the epoxy dries and the top is stripped and cleaned, the polyaspartic is applied on top. This is clear and used as a topcoat. This layer adds durability and prevents cuts and abrasions from falling tools or other objects. "With that topcoat, it allows you to drop your wrenches on it," Hoeltke adds, regarding no fear of damage. "It's user-friendly for the man in the garage." These coatings protect against chipping, peeling, and won't stain, making it perfect for covering the entire garage floor. An anti-slipping agent is added for increased traction and includes a silicone-based material for texture.
Garage Experts say proper preparation and maintenance before, during and after the floor installation is necessary. They use a diamond-tip grinder to etch the surface of the concrete to "open it up" to create a porous environment and allow the epoxy to penetrate. The process makes dust that can travel or stay on the ground. To prevent this, they recommend using a triple-stage HEPA vacuum to collect dust accumulation and stop its movement. Clients want to bring their cars back inside to a clean, dust-free space.
'Door County' Tips
When you put the door in on a custom garage, ensure exact positioning with precise fitting to avoid time-consuming adjustments or wall patch-ups. "You've got to be very particular," Knauer cautions. "When you put a screw in there you can't do it twice." The client may have a hoist inside for cars. When the vehicle is raised, its roof is very close to the ceiling, not leaving much room. "You may have to get a higher-radius track for more clearance. It makes things look a little neater, makes it more exciting."
Larry personalized his garage even further, this time making his "mark" on the outside panels of the doors. He had his doors made with an enlarged picture of cars on lifts printed on the outside panels. "These are flush panel doors, all steel, no windows," Knauer says. "They (car images) are just printed on." He says a client sends their picture of choice to the manufacturer and they download them into a system (Larry used C.H.I.). They send individual door panels through a large ink-jet printer and the image(s) are printed on each.
Back on the inside, clients want climate control to preserve their cars or to create comfortable working conditions. Many include air conditioning and heaters, and the right door will maintain ideal temperatures inside. Knauer advises builders install steel doors with a polyurethane insulation to create a higher R-value in cold months. He adds these doors provide an R-19 rating.
Willis Miller, co-owner of Kevmar Manufacturing, recommends builders treat custom garages differently with regards to components. Owners of custom garages, like Larry's, have hoists to work on or display cars. "Car hoists require special door tracks to make room for the top of the cars," Miller says. "High-lift and follow vaulted garage ceilings with the roof line tracks." Using this setup makes better use of the vertical space and gives you more headroom by moving the door track closer to the ceiling.
To protect vehicles in any season and control the conditions inside, Larry added a dehumidifier to his garage to keep the moisture levels low in hot summer months and keep his cars and individuals cooler and drier. Under the Hixwood metal roof panels, wall and side shell is a hydronic heater (installed and exposed on the wall). He also has in-floor heat and a split to provide additional heat and A/C. An air conditioning splits zone is installed above to maximize climate control from all angles.
"Stored vehicles should have some heat in winter and low humidity in summer to prevent corrosion," says Miller. "Insulated garages and doors are important." Kevmar says to use a door that sandwiches either an expanded polystyrene or polyurethane core in its construction for added rigidity and insulation.
Clients may need larger openings to get machinery or high-profile vehicles through. Miller says residential doors overall are becoming larger on custom jobs. "The 18'x8' doors are more common now than in the past," he says.
At Your Leisure
Customers want a space in a garage to sit back and enjoy the new look – and have room for the hand-picked accessories and furniture to do it. Larry's space has a finished lounge area with arranged leather seating and side tables for taking breaks from waxing the cars or for just hanging out or entertaining. This added touch to a garage overhaul completes the special project and allows clients to relax and admire what they've accomplished. Larry acknowledges it's a welcoming change of pace from the mechanic's work area.
"That's why we have this here. The car guys and gals can sit and talk about the good ol' days." GSCB