Understanding Local Regulations
by Anthony Brass
You prepare and follow detailed plans when building or modifying a garage for a customer. Homeowners should do the same before finalizing a custom-built or standard garage addition or upgrade to their house. Zoning laws, code requirements and permits are on the books for your customers to follow. Attached or detached garage, you should familiarize yourself with building codes for that municipality before clients decide on size, design, and use.
Garage Zoning Laws Basics
The garages you build or modify for clients are designed, and intended, for use as storage for possessions and for people to enter and leave. Therefore, your project must be safely constructed. Local regulations are in place to bring uniformity in what, how and where to build.
"Zoning codes reflect community standards for design and placement," says Trent Schultz, zoning inspector for The City of Madison, Wisconsin.
Every municipality decides on the specifics of how they want accessory structures to be created, where they are placed, and how they are used. "Each community establishes its own standards for detached accessory structures, including regulations on height, size and design," Schultz adds.
Every town has codes to follow. For instance, he says, The City of Madison's zoning code regulations for garages and sheds attempt to "allow for flexibility in design, size, and location, while maintaining uniformity in setbacks." This is common practice by most local governing bodies and written into their official statements regarding builds.
Clients should ensure their intended addition follows all municipal protocols, which will vary according to location. These codes represent a consensus on building requirements. Zoning codes reflect the town's protocols for building plans including layout, says Schultz. Each city decides on and establishes its own standards for detached accessory structures and garages, including regulations on height, size and its use.
Building Garages Within Zoning Regulations
Clients should possess knowledge of exact zoning and codes ahead of a project. This is just as important as the needs and aesthetics they desire for the garage or its upgrade.
Schultz cautions that customers need to know what the requirements are for the garage project in that community and how their proposal matches these requirements. They must proceed to access required permits and other paperwork.
Accessing Codes
It's important the homeowners contact the local building inspection, permitting, and zoning office. "Most municipalities have a website with their community-specific information or the name of a contact person to call or email for the regulations," Schultz says.
Schultz adds their zoning code regulations are available on their website, including detailed guides for their permit process that distinguishes between each type of build (garage reviews are separated from house additions, for example). Officials are accessible, and poised to discuss regulations by phone. They're also available through email or as an in-person visit. As builders, it's advisable to contact the same sources your client used to see if these regulations are being followed.
Overlooked Codes & Regulations
Construction plans are universally required and are different from one town to the next. Residents overlook codes, especially when there is a multitude, with some locations having more than others. "Zoning regulations have so much variability from municipality to municipality," says Schultz, and "site plans are the most commonly forgotten element of a full plan submittal."
He says the site plan is the main element needed for zoning review in Madison, as it is for many locations. "A site plan should show placement of any buildings on the property, setbacks from lot lines, and lot coverage for the property." All these aspects affect the limitations of a garage.
Code Changes, Working with Clients & Custom Garages
The zoning challenges for garages are similar to other buildings, says Schultz. It's important builders and clients stay cognizant of any code changes, especially those that could affect green-lighting custom jobs where the dimensions are increased or unusual. For instance, late last year the City of Madison adopted zoning code changes, allowing detached garages and sheds up to 1,000 sq. ft. "Since the adoption of the simplified size regulations for garages, we have seen far fewer projects need additional reviews, such as Plan Commission approval," Schultz says.
Why Zoning Codes Vary
Zoning codes reflect the standards of particular places. You can drive to one town for a garage job and to another project the next day in another community and see a code change. "Every city has different contexts, a different history, and different values," Schultz says. He says his city's approach has evolved over time. "Our current regulations show the value we place on allowing flexibility in size, design, and use."
Even with modified codes, the larger the city, the more regulations there will be in place. Clients should organize all the information they obtain and keep it easily accessible. This will eliminate delays when you ask to see their paperwork.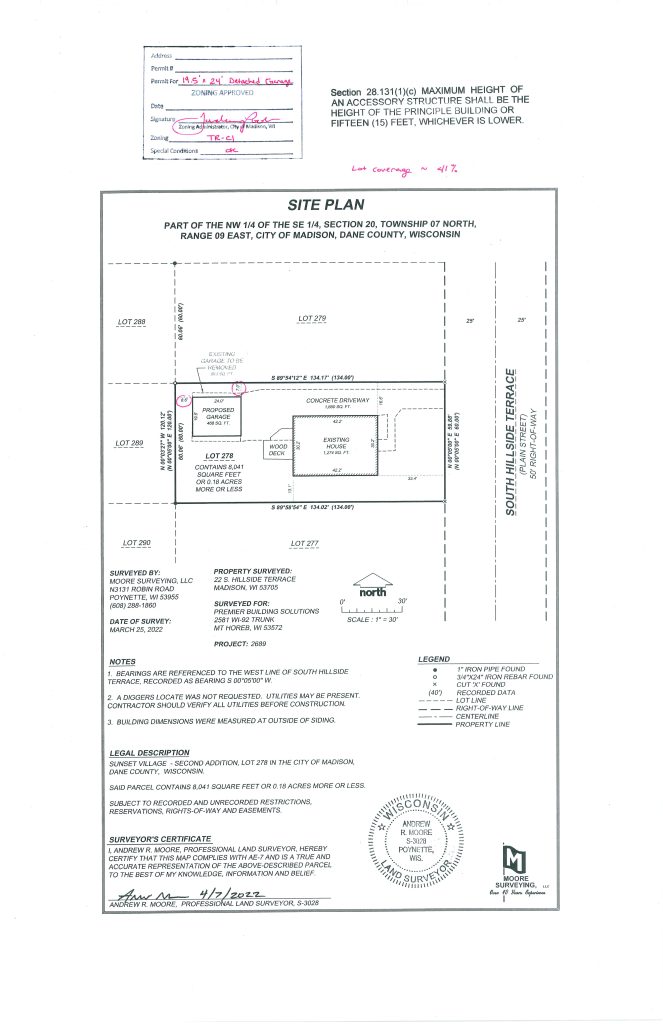 Zoning Laws: Garages vs. Homes
Schultz says most garage building requirements are different from house codes (livable space). "Zoning regulations for homes are designed and intended to impact development patterns across a block face, resulting in compatible building placement." Detached accessory structures, such as garages, are typically allowed deeper into backyard areas and closer to side lot lines than homes because their use tends to have less of an adverse impact on neighbors' homes and are smaller in size and height than houses, depending on community standards.
Within The City of Madison's Zoning Code, and others, houses and detached structures (garages and sheds) are regulated differently. The regulations are different based on the intended use of each structure. Builders and clients should request to see a copy of the approved plans, zoning approval and building permit for each project.

Detached & Attached Garages, Use and Business
Regulations for attached garages are very different from detached, says Director of Business Development and Planning for The City of Portage, Steven Sobiek. He says for instance, in Portage, the setback – the distance a building must be set back from the street or road – for a detached garage is only 4 ft. However, for attached garages the setback can be 40 ft. from the rear lot line. "That can really make a difference in putting up or not putting your garage up," Sobiek cautions. "They may have a very small backyard and [the build] may not be feasible." He says Portage regulations for detached garages include: a paved surface setback, it cannot exceed the square footage of the house or one-third of the backyard, and the total of all accessory buildings cannot exceed 1,000 sq. ft. He cautions that builds must comply with setbacks and height limitations. He states that sometimes builders' time can be wasted by customers who have not done their homework.
He recommends your client pursue an official variance from their local zoning administrator. These are obtained when the homeowner wants a garage or other work done that doesn't conform to local zoning laws.
"They need to prove there's some kind of a hardship," Sobiek says. Clients need to show the proposed plans are necessary for reasonable use, would not alter the character of the neighborhood, and are not intrusive. As a builder, be proactive when you know the homeowner is seeking a variance. "I have found that garage builders are very helpful, and they will even come to the variance meeting and hearing with the homeowner and advise them."
Question your customer regarding garage space and use, including modifications. Sobiek receives many calls from homeowners looking for additions to work on cars as a business, in new or upgraded garages, which he says can create a problem. For their town's requirements, you need a conditional use permit to do repair work in a commercial district, but you can't work on cars for profit in a garage in a residentially zoned district. These repair businesses are strictly prohibited in residential areas, in many towns. He says clients will buy a large vacant lot adjacent to their home and inquire about putting a large garage on it without specifying its size and use. He says they want to open a repair shop on the purchased lot. "A principal structure has to be constructed first [in Portage, other townships] before adding on any type of garage or accessory building, even if it's not a business." If this is a requirement in the municipality, and a feasible option for your client, ask them if you can provide this structure for them first, then the garage.
If you put up a new garage or modify a current structure and it doesn't comply with local codes or your customers don't get a permit, your finished work may end up being compromised. "The client may be forced to take the structure down if there's a health or safety issue," Sobiek cautions. But it's not just a matter of you and the client working to stay compliant. It's a legal one. The neighbors who live nearby are involved; they may not want to live next to a structure where auto body work is done, and can be heard. "These types of zoning regulations seem onerous to some but protect the property rights for the majority of people," Sobiek says. He adds these are in place for preventing land use that is not compatible with the legal right to quiet enjoyment of residential living.
Weather Codes
Municipalities consider the effect of weather on newer and modified garages, especially their components. Garage doors on a project have specs to follow per zone that vary depending on the local area. Wind-load requirements are part of an inspection process in many inland towns, but especially for cities within regions with enforced high-wind hazard area building codes. Clients need to know this going in. But builders have some responsibility too, so they can install the exact door that meets local requirements. "We know if we're in a certain area whether it meets that spec or not," says Delden Garage Doors Director of Business Development, Brad Dodson. He says it depends on the zip code they're in.
Dodson adds when a permit is pulled, they must meet current required specs whether the door is for an attached or detached garage. These wind-rating requirements are subject to change. "It's a matter of the legislators and who wants to pick up that project and up the ante of the wind-load requirement."
Express Carport builds garages all over North and South Carolina and across the country. Their clients face weather extremes in many areas with differing zoning requirements. The slight nuisances in codes from one town to the next is a challenge, says Neil Osborne, owner of Express Carport. He recommends the best way to overcome this is you, the builder, pull the permit and be forthcoming with your inspector's office. "Let them know what you are planning to do," Osborne says. "They'll tell you what needs to be done and what they expect to see." He adds some locations for instance require concrete footers, some a 3-ft.-deep footer, while others require none. "Your local code office is the gatekeeper of all the information."
Express Carport follows through to ensure their projects are built within code. "A lot of what we use are generic plans. We know that we're going to meet wind and snow load ratings for all of North and South Carolina," Osborne says.
Conclusion /Trends
Garage builds are more popular than ever, and municipalities are constantly updating zoning codes. Consultants are currently brought in to find the best practices to create a one-size-fits-all zoning code that transcends all municipalities. Towns are starting to adopt similar zonings to others. But, until there is a statewide, universal zoning and regulation template for your clients, it's advisable to keep up on each city's regulations for each garage project whatever town you're working in. GSCB