…with a Small Footprint 
Exploring the Trends for Tiny Homes and Builders
By Lindsay Wood, "The tiny home lady"
The demand for tiny homes is exploding, with the industry expected to reach $3 billion by 2025. Here's why: Decades of under building have left the country with too few homes, especially as millennials enter their peak home buying years and drive demand higher. Match this with the trends of the wage gap of housing now costing 6-8 times the average wage and you have yourself a recipe for the housing crisis. But that's changing.
From the millennial to the Boomer generation there is a desire to live simply, live with less, pay less for housing, and experience more of life. However, the manufacturing required to meet this demand is either stuck in their outdated designs and lack of architectural inspiration or is undersized and backed up for 12-18 months. What's needed is a surge in the capacity to build more quality-designed tiny homes.
Before manufacturers start diving into changing manufacturing to include tiny homes, let's cover the basics of tiny homes, building standards, and zoning laws as they all play a part in tackling the US demand for 7+ million homes.
The phrase "tiny home" is a marketing term. There are 19,000+ building departments around the US with no known building standards for a "tiny home." The International Residential Code 2021 Appendix AQ refers to a tiny house as having 400 sq. ft. or less in floor area, excluding lofts, intended to be placed on a permanent foundation and used as a single-family dwelling.
Building standards and zoning laws are different but connected. Every time a tiny home enthusiast says, "Can I buy land and place a tiny home on it?" the immediate response from experts on zoning laws is, "It depends on your jurisdiction and the zoning laws on the property." What's important to remember is building standards/codes govern "HOW" the building is built and zoning laws govern what is "ALLOWED" on the land. Every jurisdiction (City or County) has its own zoning laws. In some jurisdictions, they are unrestricted, and in other areas they require a home to be built to minimum square footage, not to mention the type of building standards they require.
With such a demand for tiny homes, many builders new to the market are feeling the pressure to build more. However, only a percentage of them are capitalized enough to expand and scale operations.
With building materials on the rise, the trend is toward housing built in a factory. The tiny home industry needs manufacturers with the capacity and desire to build more housing to step up and start building tiny homes. The traditional way of building homes from the ground up will always be there, but to meet the demand of 7+ million homes in the US, more manufacturers are needed.
So what does a tiny home manufacturer need to be aware of?
There are four types of tiny homes that are all built in a factory, which reduces construction waste and build time. Each type is transported to the site on wheels. However, the last two of the four types listed are placed on a permanent foundation, giving tiny homes more opportunity to be placed around the US.
Type #1 The Movable Tiny Home (MTH): These Tiny Homes have been popularized on YouTube Channels, TV shows, internet sites, and thousands of social media pages. One of the biggest distinctions is the tiny houses on wheels are built to look like a home; they use regular house siding, and dual-paned windows and are aesthetically unique, making their design the darling of the manufactured home industry. However, there is NO official Movable Tiny Home building standard, and they are often referred to as Recreational Vehicles, which are only allowed for temporary living.
Type #2 Park Model Recreational Vehicle Standard: ANSI A 119.5 Park Model Recreational Vehicle Standard can be built up to 400 sq. ft. These homes are built in a factory and placed on-site with the wheels attached or nearby and are likely to move 1-2 times in their life — if ever.
While these homes are often lived in year 'round, the standard states these "are for temporary living," making this standard difficult for many jurisdictions to consider for permanent full-time living. Because there is no official Movable Tiny Home Standard, many builders build to the ANSI A 119.5 Park Model Recreational Vehicle Standard.
Type #3 IRC: The International Residential Code (IRC) has been adopted by 49 of 50 states. Homes that are built on-site from the ground up are built to the same IRC standards as homes built in a factory and inspected to the IRC standard, only this practice of building IRC-inspected homes is relatively new in the world of factory-built housing.
What's important to remember with IRC-built homes is when the home is completed at the factory, the home is then transported on wheels. The wheels are removed and the home is placed on a permanent foundation per the requirements of the jurisdiction. Being built to IRC standard gives the homeowner the opportunity to obtain financing that a regular home built to the IRC standard would use.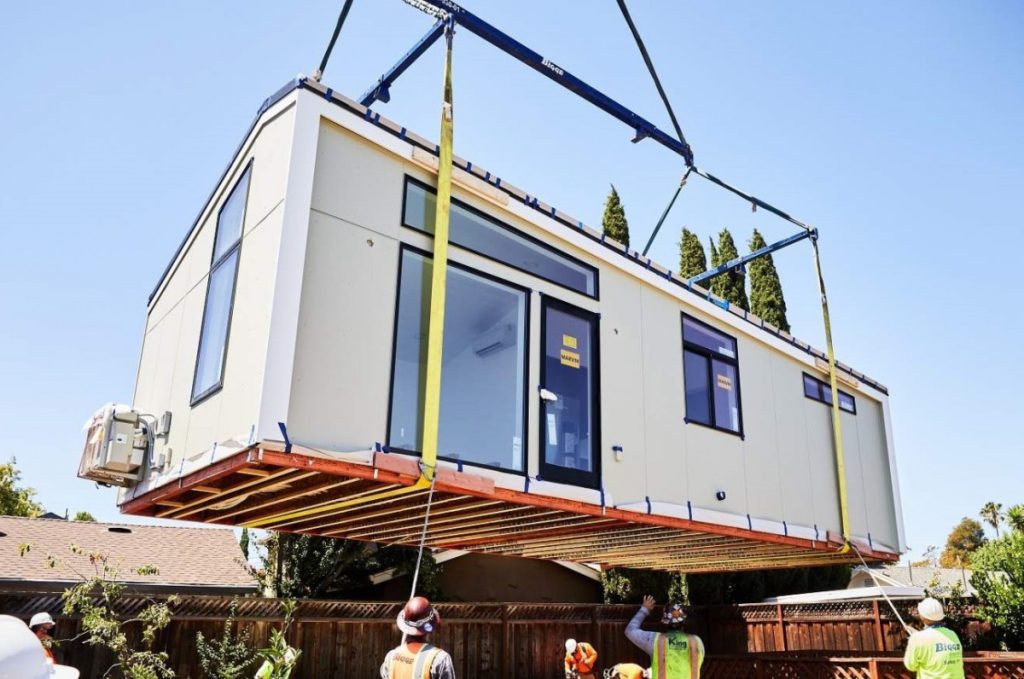 Type #4 Housing and Urban Development (HUD):HUD is a national building standard legally known as Manufactured Housing. The former term was Mobile Home, which was officially changed to Manufactured Home in 1976, even though our cultural awareness has not often caught up. A home built to HUD standard can go as low as 320 sq. ft., is built in a factory, then transported on wheels. The wheels are removed and the home is placed on a permanent foundation per the jurisdiction requirements.
HUD was formed in 1965 as part of President Lyndon B. Johnson's War on Poverty. Now, some 57 years later, the housing crisis is still raging on and we are far from everyone having a roof over their head.
So how can the IRC or HUD standard-built tiny home help eliminate the US housing crisis? One solution is for more manufacturers to build tiny homes. The fact that an IRC- or HUD-built home can go as low as 320 sq. ft. is where we begin to see this size of home fitting in backyards, meeting financial budgets and giving families an opportunity to house loved ones on the same property but with privacy in mind.
The challenge for so many who want to "buy land and place a tiny home on it" has more to do with zoning laws requiring minimum housing sizes versus the building standards they are built to.
For example, The City of Encinitas requires a minimum house size of 600 sq. ft. While this would allow for an IRC or HUD-built home, it would not allow a Movable Tiny Home or Park Model RV due to the size requirement alone, regardless of the standard the home was built to.
For the person who is dreaming of going tiny, living in 600 sq. ft. surely meets the definition of living smaller, especially if the national average of homes in the US is 2,500 sq. ft.; 600 sq. ft. is three times less than the national average.
If we ever hope to change the stigma of manufactured housing, then the housing manufacturer of tomorrow will require more education and a drive toward well-designed, well-built homes.
The question is what manufacturers are ready to lend their credibility, experience, and skill set to this industry so we can create housing solutions for people and the planet? GSCB
Lindsay Wood, "The Tiny Home Lady," is a Tiny Home Owner and consultant for buyers and builders as well as a real estate developer, focused on developing 100,000 Tiny Homes across the US.