By Karen Knapstein
Understanding how the materials used in manufacturing a garage door affect the form and function of the door will allow you to help your customers make suitable choices. The door rail and operating systems need to be able to handle the door, and the material needs to be suited for the environment.
The materials determine the appearance, weight, and longevity of garage doors. Willis Miller, Kevmar Manufacturing, explained how the garage door function doesn't change much with different materials, but the form changes significantly.
As you well know, stamped steel doors are often installed in garages and portable sheds. Miller said the stamped pattern helps give the door panel rigidity, which allows the use of a lighter-gauge metal without sacrificing strength. (For comparison purposes, an 18'x16' stamped steel door weighs about 500 pounds.)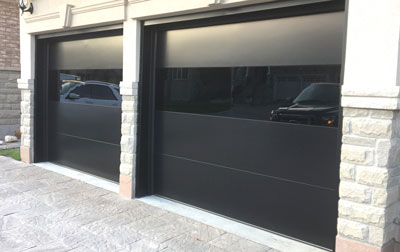 Doors made of steel and glass are a design and material upgrade from a steel pan door. Since the steel is smooth in this type of door (there is no stamped pattern), steel in a heavier gauge is used. "It's either 24 or 22 gauge, depending on the color and potential heat absorption," Miller explains. "A black door will absorb more heat, so black steel is 22 gauge to buffer against distortion if the steel gets too hot." (An 18'x16' steel and glass door weighs about 850 pounds.)
Molded fiberglass doors feature a fiberglass skin that's about 1/8" thick. The fiberglass is molded to replicate a conventional wood door with deep panel profiles and wood grain. Again, the molded patterns add rigidity. (An 18'x16' fiberglass door weighs about 1,000 pounds.)
Kevmar's top-of-the-line doors are their all-glass sectional doors. "They are made with 1/8"-thick glass and are frameless. We do quite a lot of them," Miller said. "They're made with tempered glass, so they have a lot of strength. Very seldom do we have an issue with breakage. It's kind of like a back-hatch on a vehicle or a backhoe door." The back of the garage door either has window openings left uncoated to see through, or it is coated with ceramic frit, like around the edges of a vehicle's windows. (An 18'x16' all-glass door weighs about 1,300 pounds.)
Miller explained that there's not a lot of variation on track thicknesses from manufacturer to manufacturer, but the thickness of the tracks depend on the weight of the door. Horizontal tracks that hold the door in the "up" position measure from .055" to .075" thick.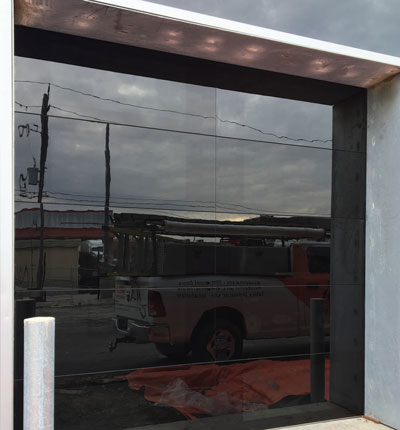 Billy Thompson, Vice President of Safe-Way Doors, said the various materials used to finish garage doors (and the type of insulation used) can have quite an impact on performance, warranties, warranty exclusions, and maintenance.
Safe-Way manufactures doors ranging from very basic commercial to high-end residential garage doors. They offer wood, insulated and non-insulated steel, raised and flush panel, aluminum, and carriage house-style overhead garage doors in both steel and wood.
Thompson said hollow-back non-insulated pan doors are commonly used on sheds, but homeowners are starting to want insulated doors. Doors may be insulated with a vinyl-backed foam insert, or a three-layer door may have a steel front and back with polystyrene insulation glued between the layers. Yet another option is polyurethane-injected insulation, which has better thermal performance but is heavier than polystyrene. "Customizable doors always have more of an impact as far as weight, warranty, and warranty exclusions," he said.
Turning to the outside of the door, Thompson explained that newer urethane-overlay doors, on which urethane panels are adhered to a steel substrate, offer a more custom-type application. "That material is much lighter, so it doesn't have as much of an effect on the door as a wood overlay.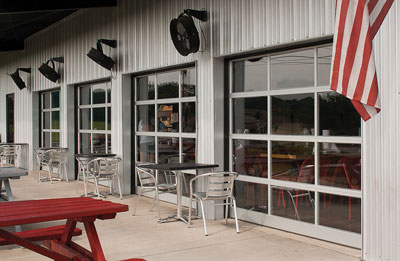 A wood overlay on carriage house doors gives an Old World look but are very high maintenance. They need to be painted and sealed multiple times per year to keep up the appearance.
"A vinyl overlay is a little bit heavier than urethane," he continued. "It's less customizable. You can only use certain paints, and certain colors to avoid issues with solar gain properties, that can cause the vinyl-overlay to curl, split and peel if not properly coated."
While overlays offer a great deal of versatility in door design, it can have an impact of additional limitations on warranties because the manufacturer is using glues to adhere different mediums onto a steel pan.
Location and environment can have a big impact on garage door components. "You wouldn't want doors with vinyl overlays in dark colors in hot areas like Texas," Thompson said. "It will degrade more quickly. It won't hold up as well in Texas as it would in Ottawa, Canada. Vinyl tends to hold up better in Intercoastal areas. Either a vinyl door or a door with vinyl overlays holds up to salt spray, chlorine and those types of chemicals, and acid rain."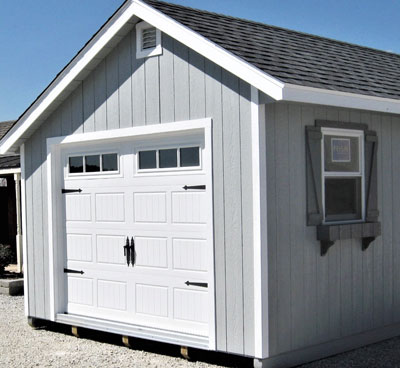 BIG Doors
Midland Door Solutions manufactures overhead bi-fold and swing doors. Midland's Jason Myrvik shared some insights about door design and finishing. "Anything can be used to cover the door," he explained. "Wood, steel, aluminum, glass. But [the designer] has to think about the additional weight added to the door to ensure proper sizing of the operating system. Also, they have to think about whether or not the building is structurally capable of handling the additional weight that is going to be applied with a heavier door.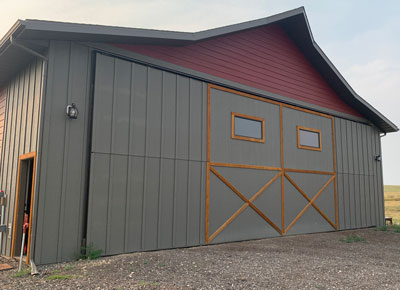 "When working with a door manufacturer," he continued, "It's critical for them to understand the door will have to be built differently to accommodate whatever façade they're putting on the inside and outside of the door."
The most important thing to keep in mind if you're helping your customer select a garage door is to determine the goal of the building, and then look at the options that are available. Establish the functionality and that will help you determine which type of door best fits the building. GSCB