Reeds Ferry Sheds® Shares Keys to Growth & Longevity
by Karen Knapstein
Hudson, New Hampshire's Reeds Ferry Sheds® is one of the largest shed manufacturers in the United States. Founded in 1960 by Hobart Carleton and his son Harry, the business has grown from a small, two-man operation housed in a garage north of Nashua, New Hampshire, into a 16-acre campus with over a hundred employees. The growth and success are the result of extreme focus on their product and customer.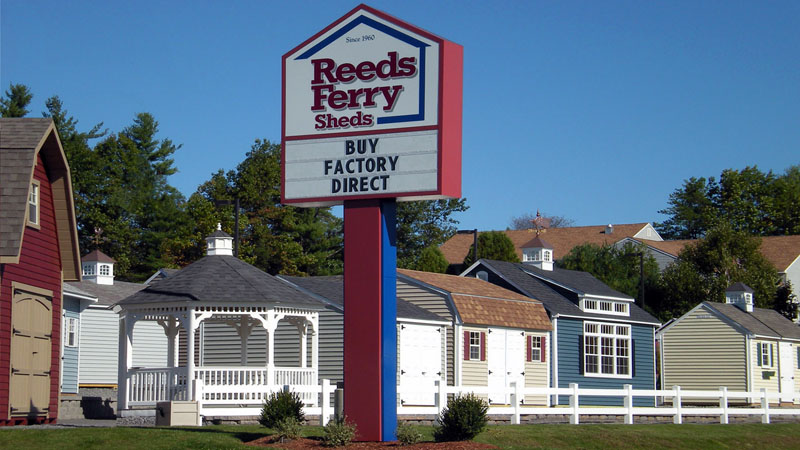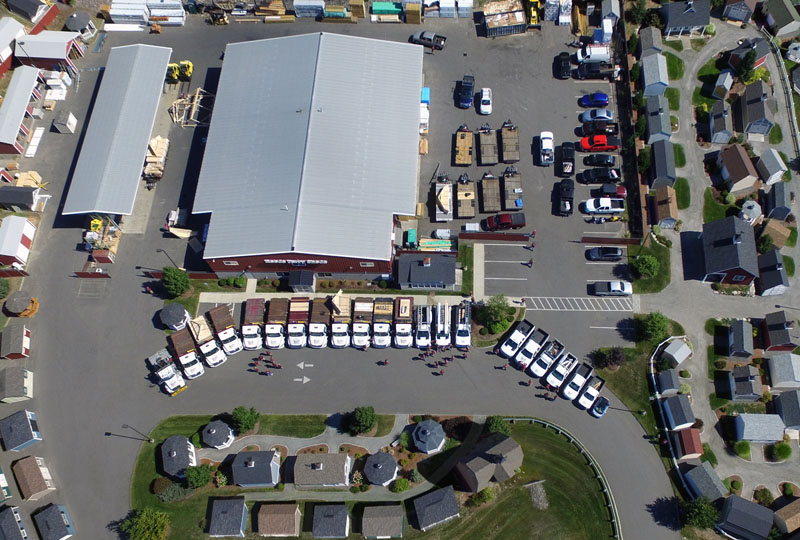 History of Hard Work
The story of Reeds Ferry Sheds [www.reedsferry.com] is one of humble beginnings. Hobart and Harry built a few pine sheds in 1960 and sold them out of the family garage. By 1962 they were ready for larger accommodations, so the business moved into a closed gas station. Mike Carleton, one of Harry's sons, recalls working with his father when he was 8. "Back then kids working wasn't an issue," he says. "We did a lot of the actual shed work." And he and his family have never stopped working. Mike, along with youngest brother Tim and older brother Steve run Reeds Ferry Sheds today. Tim is president while Mike handles the operations side of the business. Steve is in charge of custom orders and designs. 
Mike traces the company's dramatic growth, and why the future looks very promising. He explained some of the ways Tim has been instrumental in the company's path to success. For example, in 2004 Reeds Ferry was selling $2.5 million per year. Not a bad result; but during that year Tim convinced his family to buy 3.7 acres along a busy state highway and build a new factory. Mike says, "If it weren't for Tim we would have been happy to be a $2-$3 million company. But in order to survive you have to invest, and in 2004 home improvement store sheds were popping up all over New England, so the new factory was simply a matter of survival."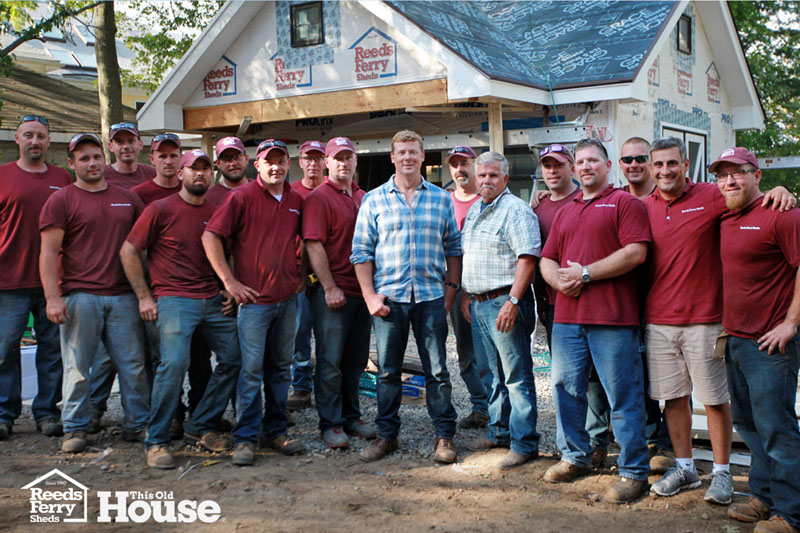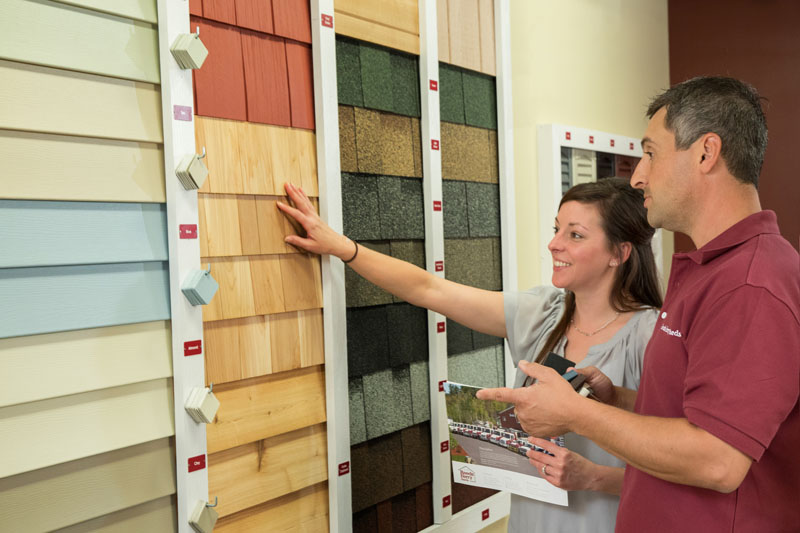 A 'Shed Improvement Store'
"We've been able to 'outshed' the big box stores," says Mike. "The two big well-known brands not only sell sheds, they also have over 100 stores in Reeds Ferry's market area." These national chains have the huge advantage of recognition and resources, but Mike explains how Reeds Ferry has been able to outperform the big box stores: "We consistently promote a simple point, that they might be a 'home improvement store,' but Reeds Ferry is a 'shed improvement store.'" According to Mike, many of their customers report a poor experience when they first try to buy a shed at their neighborhood box store. "At the home improvement store, sheds, along with the shed customer, are often an afterthought, but at Reeds Ferry helping shed customers is our only thought, and when you walk into Reeds Ferry Sheds you are the most important thing that has happened to us all day." Focusing only on 'shed customers' is key.
No "Fallaparticle Board"
Mike claims Reeds is 'not' in the business of selling sheds: "Instead, we're in the business of building a higher quality shed and it sells itself." There's a big "orange" home improvement store just down the street from Reeds Ferry and Mike urges his customers to go there and compare. "When the customer returns they notice that many of the box store sheds are made with particle board, so I remind them when 'particle-board' gets wet, it turns to 'fallaparticle-board'. The word 'fallaparticle-board' always gets a chuckle, and he says the description is a perfect way to highlight the difference in quality between a Reeds Ferry Shed and sheds sold in the parking lot at the box store.
"We back the quality of our shed with a 30-year warranty. Our warranty is really no more than a promise that we will be here for them for years to come." He said they recently replaced the door on a pine shed they installed in 1966 — free of charge. "Nothing gets us more excited than shocking a long-time customer with over-the-top service."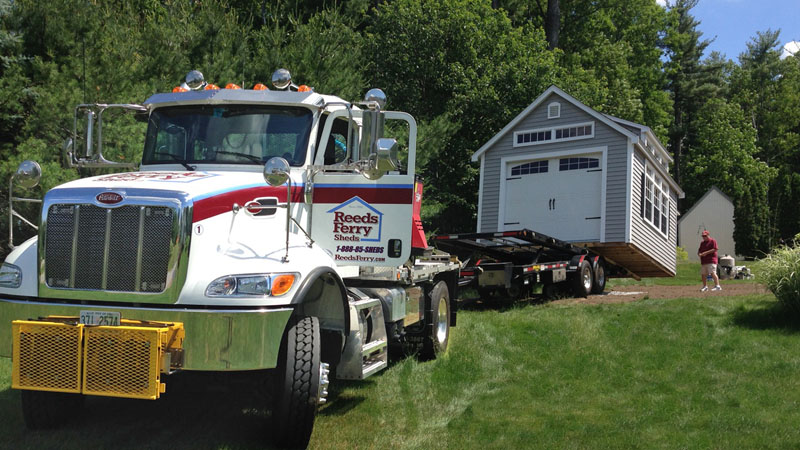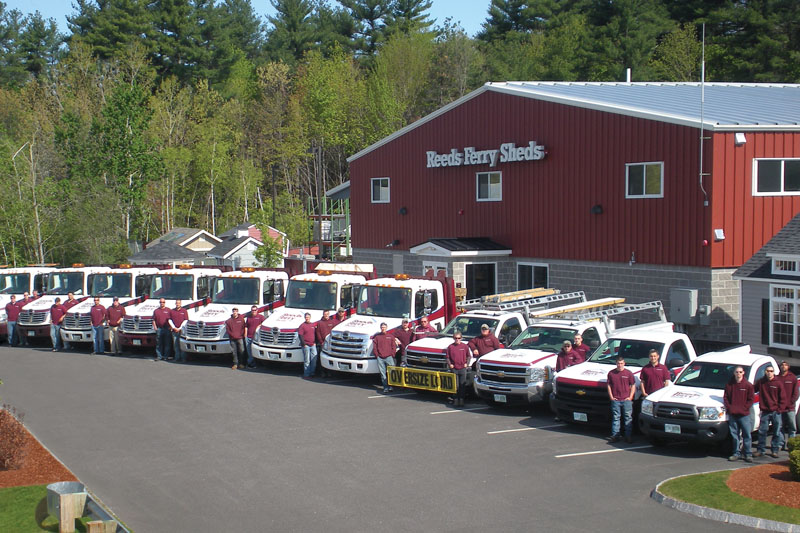 Volume and Growth
Today the company operates three factory buildings, it has two indoor showrooms, and it has a hundred sheds on display. The shed campus covers just over 16 acres. It's so large, customers are provided with golf carts to make their way around.
Their success is not built on the shortfall of quality of other sheds, but on the high quality of their own. On average, the company builds about 25 sheds a day. It offers 12 standard styles with options available. "Our whole thing is to deliver a really good shed but get a lot of them out the door," Mike explains. "It doesn't mean we don't [customize], but we don't push that to the degree that it's slowing down the company, because reinventing each and every shed slows production.
"We typically don't do full customizations, but we often help customers line-up with our partner contractors who will insulate and finish the interior for them," he adds.
Mike attributes some of their success to the shed design software on their website. The simplicity of it makes it easy to use and "it doesn't let you do dumb things like fill a wall with vents," creating an error. The software builds the most popular sheds with the most common options. "If you give a customer too many options, they opt to do nothing," he observed. "People use it to buy online, or to get a general idea about what they want before visiting our showroom." Oftentimes customers will use the shed design tool to print out their selection, then when they arrive, they are able to compare it to the actual shed on display.
"Using the design tool and buying online means you don't have to come see us," he says, "But still, most people visit our showroom to place their order. Our shed is in your yard for decades, so they want to see the quality first-hand and be sure every detail of their order is correct.
Building for quality means engineering and creating a building that will last for many years. "We build to Massachusetts building codes," Mike explains. Standard building practices include framing with 2×4, 16" on center frame and sheathing with thick plywood. The roofs are built with engineered 2×6 rafters and meet Massachusetts standards for snow loads. Since most customers live near Boston, they follow the Massachusetts codes.
To meet customers' needs, they offer six different siding options: DuraTemp hardwood siding, durable vinyl siding, cedar tongue and groove, cedar clapboard, vinyl shake (which looks like painted cedar shake), and real cedar shake. "The goal is to build sheds that are so good looking you can put it in the front yard. A storage shed is no longer an embarrassment — it's part of your house," he explains.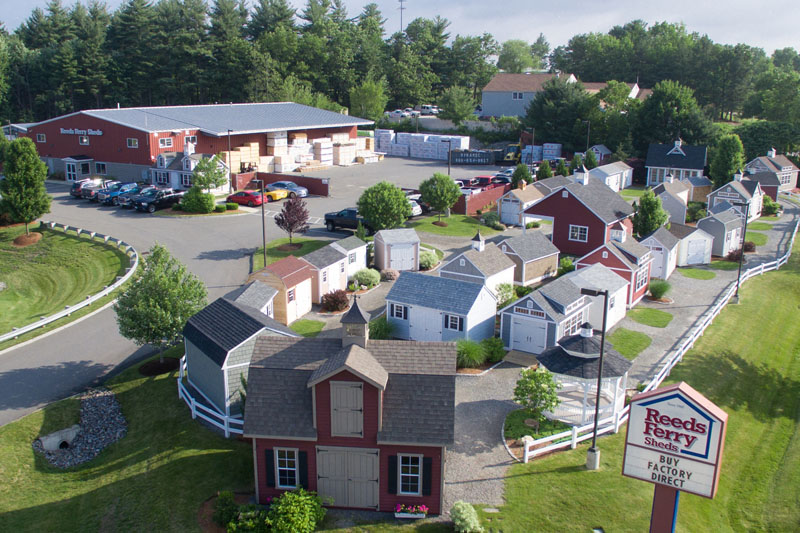 Service is Top Priority
Standing behind its product and making good on promises made are among the company's top priorities. "We stand behind our sheds. If someone has a problem, we fix it. We know what we'd want if we were buying a shed," he says. "We can understand someone else wanting to be happy. So if we say we'll do something, we do it. And then we follow up afterwards to make sure everything is ok. If there's a problem, we take care of it."
To ensure timely deliveries, the company employs 18 installation crews and trucks. They have 16 trucks on the road and two waiting on standby to avoid delivery delays should there be a problem with one of the trucks. "All our delivery crews are employed by us and not subcontracted out. The crews are qualified and take pride in their work. It's a huge advantage and an advantage to the customer. … Some of the sheds are so much larger that it can take a good portion of a day to put a shed together on a site." Having ample crews means if one crew is busy at a site, it won't cause delays in other shed deliveries. 
Material Prices & Availability
"The pandemic has been a crazy thing," Mike said. "It caused an increase in sales. We didn't know what would happen, so even though the peak shed season is spring in our area, we took our foot off the gas when the pandemic hit." There was a brief lull with the shutdowns, but "business made up after we opened back up. We were crazy busy last year."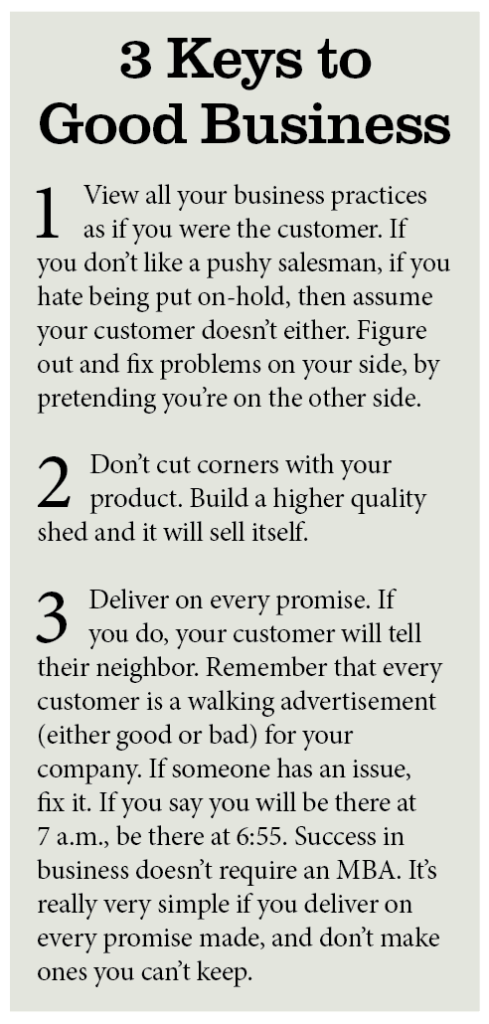 Like the rest of the construction trade, Reeds Ferry has not escaped the impact of material shortages and drastic price increases. While reported lumber futures prices are coming down to a more customary level, Mike says we're not there yet. "It's been very scary getting materials," he says. "We have great relationships with lumber providers. We buy in substantial volume and order big while the ordering is good. We try to get as far ahead of the game as possible. Lumber futures are coming down, but so far 'the future' hasn't arrived at the end-user yet. We're hoping soon they will and we'll get back to a more customary shed price."
Conclusion
Reeds Ferry Sheds has developed and established a product for which buyers are willing to travel. Consistent (and memorable) advertising gets their brand out in front of consumers. Top-notch customer service, keeping every promise, and a willingness to service any problem that comes up after purchase make it easy for buyers to recommend the company and its sheds to their friends, neighbors, and families, which leads to even more growth. Quality products and service pay off. GSCB
---