by Linda Schmid
Tubing has long been used to build carports, but interestingly, people are finding more uses for it. Tubing is rated Schedule 2, so it can be used for residential building, and recently Reed's Metals has seen that there is interest in using tubing for small residential buildings. Why, you may ask, but there are many benefits to building with tubing.
David Cravey, Senior Building Representative at Reed's Metals, said, "Tubing is engineered as a Schedule 2 building material, which means it can be used for a residential build, as long as it is no bigger than 50' wide or 16' tall. People are starting to use the tubing to frame smaller barndominiums with a gable-style roof. They like the steel for fire-proofing, the wind speed for stability, the look of the steel on the exterior, the way it's designed, and the ease of pulling permits, plus having the main frame erected a lot sooner than a wood frame, saving on materials, and the turnaround."
The tubing is engineered to withstand a minimum wind speed of 140 miles per hour with 3-second wind gusts so it is very stable. Another benefit is that people can get the engineered drawing they need quickly for permitting; it can be a matter of hours rather than days or weeks. Further, with fewer members than some building methods, iron stud building, for instance, it requires less labor and materials.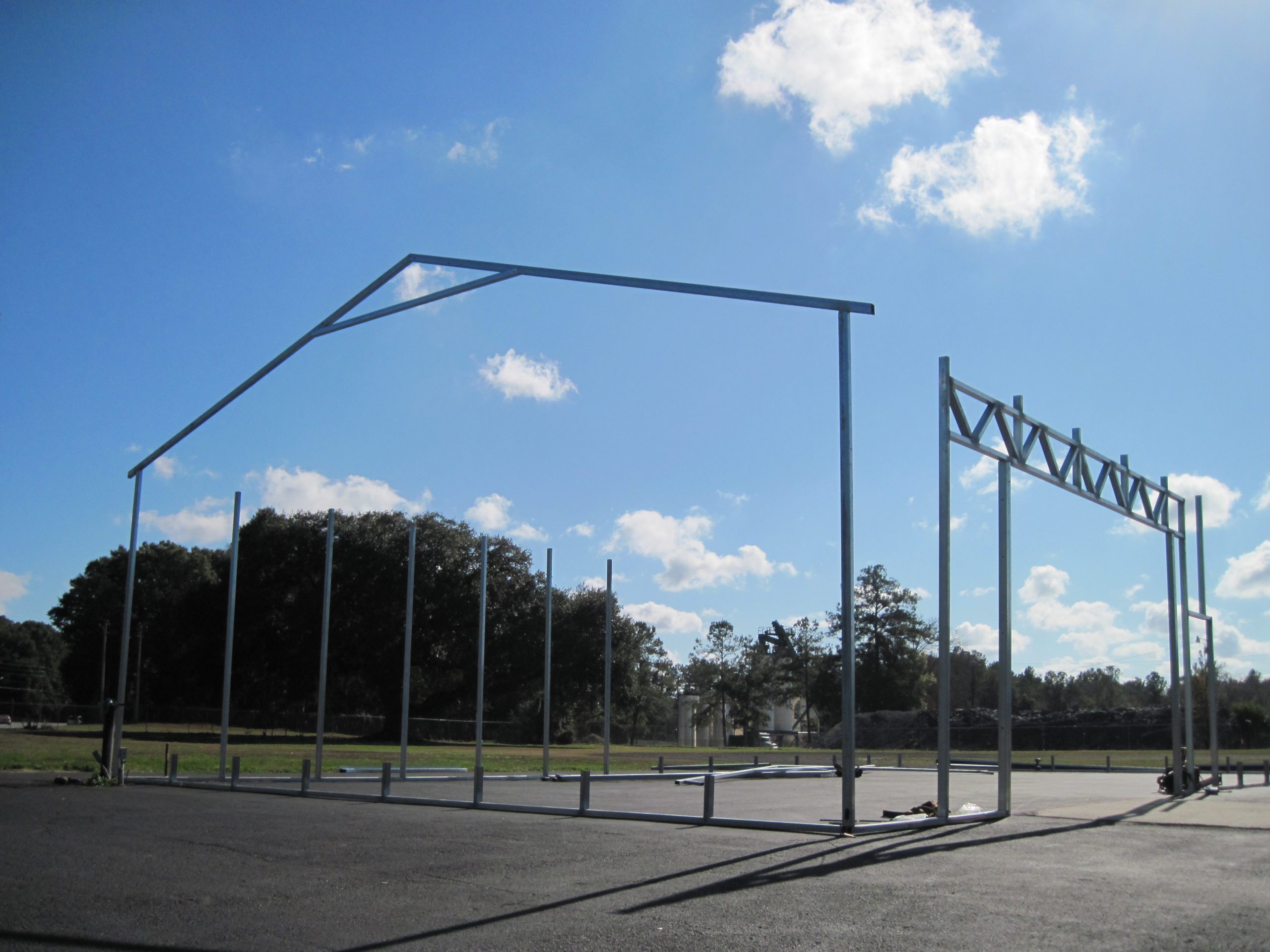 The Process
The first step in any building project is, of course, collaborating with the customer and finding out what they want. Size and use are important considerations. Lucas Rollison, Regional General Manager at Reed's Metals, said that they usually find that the building needs to be bigger than the building the customer initially requests as they are only thinking about their current needs.
"If they ask for a 30' x 40', we try to move them into a 40 x 50 or 50 x 60 to give them some room to grow. I can't tell you how many times customers have come back and thanked us for it because down the road they find they need the space," Rollison said.
From the sales team, a CAD drawing is forwarded to the customer for approval and then the project moves on to the detailer who puts it together, in a drawing which shows the pieces needed and how they fit together. From there, it moves on to the shop where all of the tubing pieces are fabricated by hand to the correct lengths. Then, with larger, more complicated buildings, they lay it out to be sure it is good to go.
The building pieces go to the builder in a pre-fabricated kit that is particularly adaptable for hard-to-get-to places as they can stack it out front and the supplies can be easily transferred from there.
The pieces go together like an erector set, with the builder pulling it together and adding screws. The tubing is 2" x 3" and there is insert material welded into it that is about 1¾" x 2¾".The insert provides a fastening space, reinforced with two welds and two screws creating that stability the tubing is known for.
The ground rail is anchored into the slab with the insert in the ground rail protruding up so you fit the post over the insert. When you bend your tubing at the peak, you achieve the desired pitch and width.
The tools required for the job are pretty basic: a 1/4" impact nut driver, standard for roofing screws, tin snips for minor trim modification, a 3 ft. level, a hammer drill for anchors, and a 3/4" wrench.
"Putting the building together is pretty intuitive if you get the right person in the position; it just clicks," said Rollison.
The Right Person for the Job
Filling positions with the right person is their greatest challenge these days. Of course they are not alone in this, many businesses are experiencing this challenge, including builders.
Their associated builders receive a lot of leads from Reed's Metals; they know these people are experienced, and a quality kit in the hands of an experienced, quality builder will lead to the best outcome.
Keeping a Lean Footprint
Nowadays, many customers appreciate companies and builders who try to keep their footprint lean and their builds efficient. One way to do this is to purchase steel from U.S. suppliers, close to home. Reed's Metals works mainly with USA Wholesale because they like the quality of the product. It is mostly 2" x 3" 14-gauge Galvalume-coated steel, which is slick and clean.
Another way to keep building lean is to eliminate waste. The detailer at the company who creates the pipes, cuts the tubes as efficiently as possible, which keeps waste to a minimum.
Using materials that will last a long time is another way to show that you care about your footprint. With a 45-year warranty from AkzoNobel on their panel's paint with no coastal setback, a builder can feel confident that their build will last. GSCB