by ROCKY LANDSVERK
If you build it, they will come. But if you don't sell it, the movie doesn't end well. So it has always baffled Matthew Black of Blacks Buildings why the shed industry seems to build sheds with great aplomb and get them delivered to the finest locations alongside busy highways, but then doesn't support the builders who are supposed to explain to customers why they should buy them.
"Too often companies rely just on their dealers to handle their sales side of things," Black said. "They dump a bunch of sheds on a lot and hope they sell themselves. But I feel like there should be more time spent in the training of salespeople. There are a lot of shed sellers who aren't trained in doing sales."
Enter Shed University, a new project being launched by Black and other industry leaders intended to create a platform for online shed sales training, and live and in-person courses, including a day and a half of learning at this coming January's Garage Shed Carport Builder Show in Knoxville, Tennessee.
Black and a host of other shed experts will be at the show, and teaching shed sellers at sheduniversity.com. Training will include both the basics of sales along with some advanced-level lessons.
Black's Background
Matthew's passion for the portable building industry began at a young age, as he was introduced to the business through his parents' mobile home roofing company. From there, he went on to found Blacks Buildings, a company that provides the state of Tennessee with high-quality, hand-crafted portable buildings and sheds.
That was more than 25 years ago. In the recent past, he added the MyShed.io service to his company's offerings. That website offers a 3D builder that the company says is "meticulously tailored to support shed business owners. [It] aims to propel their businesses into the realm of technology and streamline the entire online selling process from design to delivery."
Black said he isn't a devotee of a specific sales program, though if he had to name one that was most influential, he said it would be Grant Cardone ("The 10X Rule" and other books and courses).
What is Shed U?
Recognizing a significant gap in sales strategies and efficacy, Black then embarked on a new solution that will empower shed business owners from coast to coast. Shed University aims to help people learn the best techniques for selling sheds. Elements of the coursework and discussions will include:
Sales process management
Lead follow-up
Sales script development
Black said that as he has gotten to know more and more shed salespeople, he's been surprised at how few use a sales script. "The right sales script can turn a tentative inquiry into a firm order, but crafting that script requires a deep understanding of both the product and the customer," he said.
Shed U marketing information adds that its "training program guides salespeople in creating scripts that resonate with potential buyers, speaking to their needs and aspirations in a way that is both genuine and persuasive. The power of a well-crafted sales script should not be underestimated, and Shed University is leading the way in teaching this vital skill. At its core, Shed University embodies a profound commitment to advancing the shed industry. The university's unwavering focus on increasing sales, instituting a sales process, following up on leads, and creating effective sales scripts is a testament to this commitment."
Who Is It For?
The shed industry is comprised of a diverse group of companies. Some of them, like Blacks Buildings, build the shed, manage the shed lot, and employ the salesperson, but that's fairly rare.
"Shed University is mostly for shed sellers who are doing sales day to day, interacting with customers, we're hoping to help them get better conversions and improve their sales process," Black said.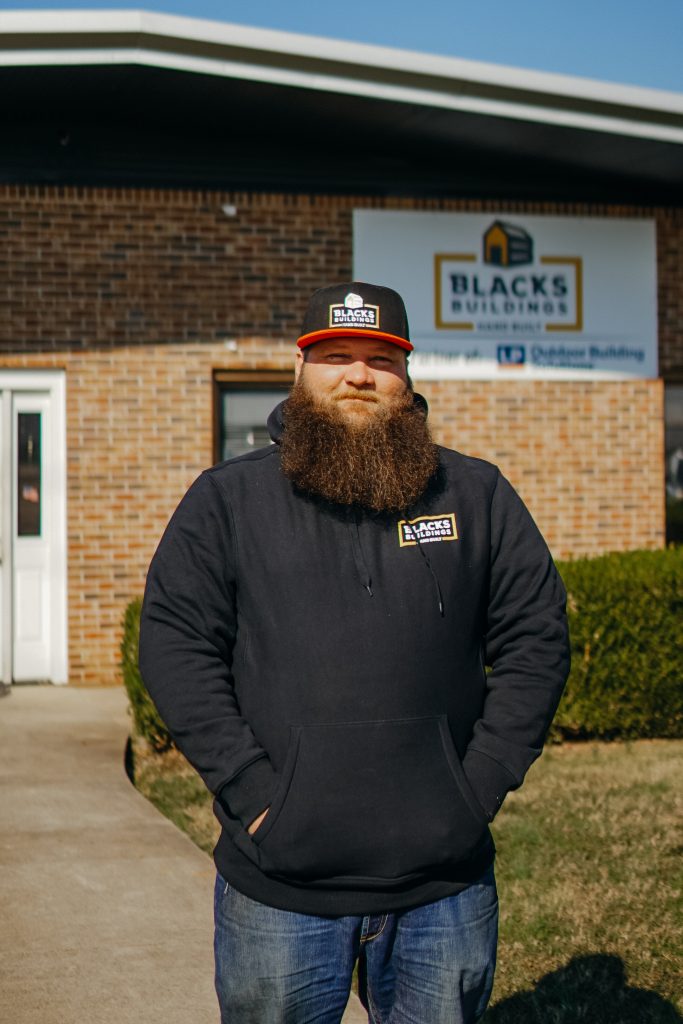 "There are a lot of customers who aren't buying sheds because the sales process
isn't what it should be. The best way to make our industry bigger is at the dealer level,
versus building more sheds and putting them on lots."
Matthew Black
Black Buildings is a manufacturer and sells its own buildings through its dealers, but for a lot of companies, there are three different players involved: the manufacturer, the shed dealer, and the salesperson at the shed lot. "Most dealer locations are completely separate from the shed company or the manufacturer," Black said. "The shed companies themselves are often a brand but they aren't their own manufacturing company."
The result is that there isn't a big enough player in that mix to warrant a big marketing expense. In the case of Blacks Buildings, the incentive is there to train the salesperson and not just send them a shed because they all work for the same company. Black called it the Whole Foods model instead of the Wal-Mart model.
His hope is that the shed manufacturers and larger multi-site dealers will start instituting a sales-training program like this. If that doesn't work, then hopefully the salesperson themselves will decide they want to learn how to best sell sheds.
Improving Digital Acumen
Shed U will also be focused quite a bit on digital sales, not just in-person sales processes. Different levels of the food chain might each have different skillsets related to online sales, but for those who are able, the SEO and other courses could significantly make a difference. At a minimum, website and social media marketing create leads that you don't get from a shed lot alone, even a well-located shed lot.
"There are a lot of dealers just literally sitting on their lots hoping somebody comes into their building," Black said. "They're not proactively generating leads or marketing. There is an opportunity to grow the industry through sales processes' alone.
"There are a lot of customers who aren't buying sheds because the sales process isn't what it should be. The best way to make our industry bigger is at the dealer level, versus building more sheds and putting them on lots."
Sheds Aren't Just Sheds Anymore
Black is hopeful the website
(sheduniversity.com) will be ready in August. There will also be a separate upcharge for the Shed U programming at the GSCB Show in January. We'll preview the Shed U presence at the GSCB Show in January in a future issue of the magazine.
One of Black's additional goals is to begin helping the industry convey that sheds aren't just sheds anymore. They can be backyard classrooms, or studios, or guest houses. You can turn one into your hunting cabin. They can be more than storing a lawn mower. But how many potential customers realize that?
"We have to teach people what a shed can be," Black said. "We need to start teaching consumers what a shed can do." GSCB