Mid-Michigan Structures Caters To Needs of Horse And Livestock Owners
By Karen Knapstein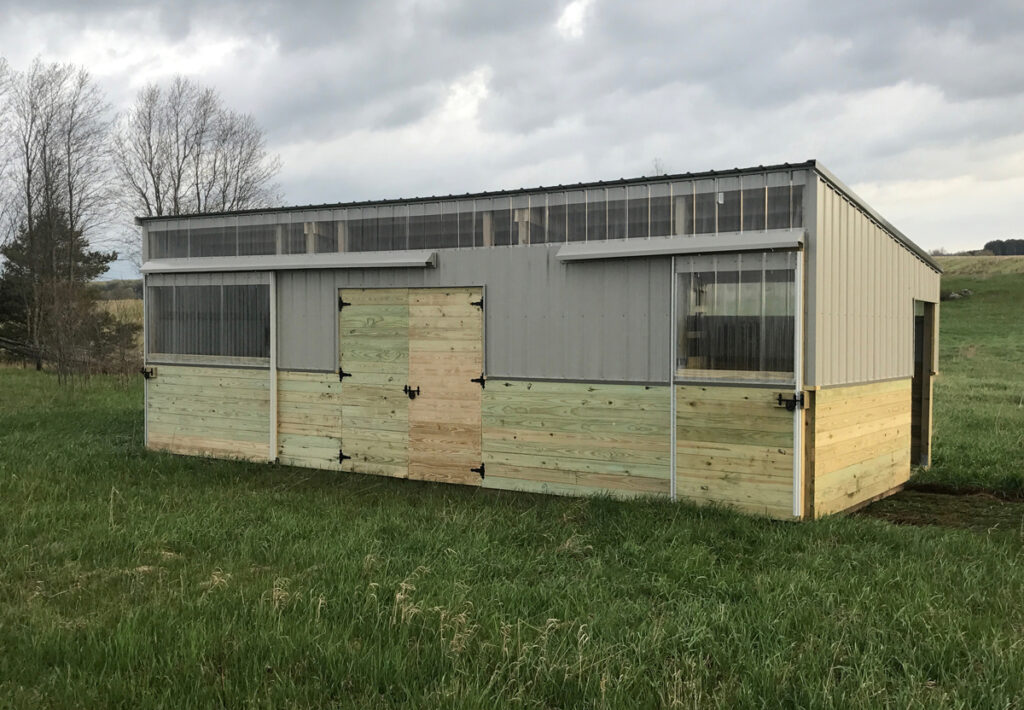 Reuben Schrock, founder of Mid Michigan Structures in McBain, Michigan, has found his niche. He launched what would become his business in June 2012 when he built his first portable barn.

"Back in 2012 when I started, the mini barn company down the road from me got me thinking," Schrock said. "I was only working 4 days a week and needed something to do." The mini barn shop, Mid Michigan Barn Co. [www.midmichiganbarns.com], didn't offer many horse barns. He knew there were a lot of horses in the area, so he figured there had to be a demand for them.

Schrock decided to act on his theory. He first contacted Mid Michigan Barns to make sure it was okay with them if he were to build an animal shelter or two. (He didn't want to compete with them.) They told him to go ahead; he wouldn't be competition since they didn't build a lot of horse barns.

So he bought the materials and built his first two run-in sheds. Since he wasn't by the phone to answer customers' calls, he thought maybe he should try to wholesale to Mid Michigan Barns, who has the staff ready to answer the phones and also delivers sheds. Since the folks at the shed lot didn't particularly like building animal shelters — they preferred to stick with backyard mini buildings — they took Schrock up on his offer to build animal shelters for them. "They jumped on my offer and it just went from there," he said.


Growth In A Good Partnership
It didn't take long for the first couple run-ins to sell. Then he built another one — and it sold. Schrock's run-in sheds sold off the lot one after another. "By the end of that first year, I built 37 sheds," he said.

In 2013, while still building sheds part-time, Schrock built a hundred. "After the second year, it just kind of took off"; in 2019, he said he built more than 200 portable barns.

Schrock started out building simple animal shelters. "I started from the get-go building horse barns," he said. "They're three-sided run-in sheds." But it wasn't very long before customers started asking him to build bigger and more complicated structures. "Soon, someone said they wanted one with the front end enclosed and a 4-ft. sliding door. Next, somebody wanted a gate. As people started asking for more complicated sheds, I started building barns with more options." Now, some of the most frequently requested options include sliding doors, tongue-and-groove floors, stall divider walls, bar gates, and enclosed tack rooms. The "standard" run-in sizes he builds are 8' x 8' up to 12' x 48', but Schrock will make the effort to quote bigger, fancier buildings.

In his experience, he has found that the most "economical" material choice isn't always the best. For example, he used to use lighter-gauge steel gates. Although he didn't receive any complaints from his customers, the lower-quality gates just didn't sit well with him. He switched to Diamond Bar gates, which he says have "good thickness and strength for the price." He also uses two-way gate latches from Cashmans out of Ohio. "Using the better quality gates and latches upped the standard of our barns. People like them so much they don't mind the added cost."

Schrock does his best to fulfill his customers' needs and wants, but it's not always easy. "A customer sometimes walks in after they've seen a picture online. It might be made of materials we don't carry, or a style we don't do. Sometimes trying to match a customer's dream gets pretty challenging," he said.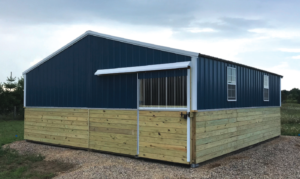 Quality At A Fair Price
What Schrock strives to do is build a good, quality product and offer it at a price that is fair for both him and his customers. He gives careful consideration to determining his prices; prices are set so he can be fairly compensated for his time, Mid Michigan Barns can be compensated fairly for their service, and the customer is happy with the product they get for the money they spend. "I try to accommodate the customer and still be realistic with pricing and get a fair wage," he said.

Whether the animal shelter is a small, basic run-in or a larger and more elaborate enclosure, quality is always the goal. From the runners to the rafters, all exposed wood is treated. The kick walls are built from treated tongue-and-groove 2×6 boards. "I use boards at the bottom [as opposed to metal] because it's safer for the horses. A horse can kick through metal and can seriously hurt itself on the sharp edges," he explained.

No nails are used in construction; the shelters are assembled entirely with screws for durability. "These barns are going to be out in the elements. Nails will let loose over time where screws will hold," he said. Since they are being used on treated lumber, which is corrosive to untreated fasteners, Schrock uses treated deck screws from National Nail.

Roof and wall panels are 29 ga. corrugated steel with a 40-year finish. Track is sourced from Graber Post and the latches are from Albany Hardware in Wisconsin.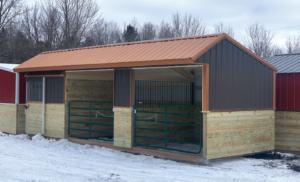 All corners are fastened with heavy-duty, quarter-inch-thick galvanized corner brackets from Middle Creek Welding (Pennsylvania). The brackets — which are a key element in the stability of the structures — are fastened with hot-dipped galvanized lag screws. Roof interiors are lined with single-bubble foil to prevent condensation.
Reuben Schrock's ability to figure out how to build enclosures that solve problems for his customers has changed his life. "If you make a good-looking, quality product and keep it at a fair price, people are going to appreciate it and tell their neighbors," he said. The word of mouth has really helped grow his business. "This has gone way beyond my dream when I started. I underestimated how many people actually want them or need them. There's a real demand and I feel like I'm filling a need," he said. "And there might be some potential in other states, too."