One of the things you can do to make each of your jobs more profitable is maximize the profit per jobsite. Maximizing the profitability means you can minimize the wasted time and expense of traveling between jobsites. For example, if you're putting up a poolhouse or pub shed on a property, adding on a deck is one way to make the job more profitable. 
As you well know, lumber prices continue to skyrocket, so here are some insights on solid-core composite deck materials from the experts at Fortress Building Products and MoistureShield.
Composite deck materials have gained in popularity with consumers because of improvements in performance and appearance. "Thanks to the latest innovations in manufacturing processes, composite building products like decking are now able to successfully emulate the warmth and richness of wood, but aren't prone to warping, cracking, fading or deteriorating over time like traditional wood board counterparts," said Toby Bostwick, Vice President of Product & Brand at Fortress Building Products. "Because composite deck boards are engineered to exhibit incredible resiliency and moisture-resistance, they'll typically last 25 years or more, whereas wood boards will show signs of weathering and deterioration after about 10 years.
"Since composite deck boards offer premium performance and require minimal upkeep to maintain their beautiful aesthetic, they shine in an array of applications that inevitably experience heavy wear and tear," Bostwick continued.
"For example, a wraparound composite deck in the rainy Pacific Northwest or snow-shrouded Northeast will sideline issues commonly associated with moisture absorption, like rotting. And similarly, because composites offer first-rate slip-resistance, little feet won't slip if the product is installed as a pool surround in a backyard. Because composite deck boards won't fade over the years, a rooftop deck over a garage in sunny coastal regions will maintain its vibrant aesthetic for years—no staining needed. What's more, composite deck boards won't warp or twist in locations that experience extreme temperatures, so the detached deck adjacent to the new 'office' shed will remain constant and smooth underfoot all year long."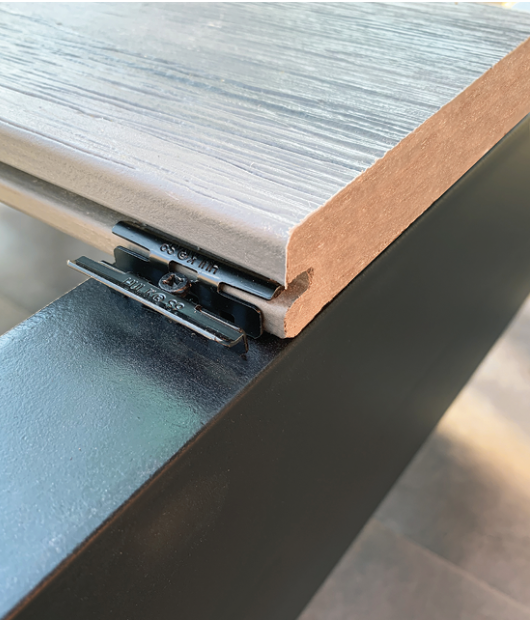 Molly Werner, Senior Brand Manager, MoistureShield, echoes the sentiment that longevity is appealing to customers. "Homeowners today are looking for decking materials that resist warping and splintering and offer the longest lifespan with minimal maintenance. Since the expected life span of a deck made with pressure-treated lumber is typically nine years, homeowners are open to upgrading to the low maintenance and significantly longer lifespan offered by composite decking.
"Composite decking stands up to high-moisture environments and the elements with minimal upkeep and a splinter-free surface," Werner continued. "There is a price level for every homeowner: markets will vary but generally, entry-level series tend to level the playing field with pressure-treated wood, creating an opportunities for contractors and homeowners to step-up to the low-maintenance benefits of composite decking."
Composite Decking Installation Advice
Installing most composite decking requires the same tools — saws, hammers or mallets, hand drills, specialty deck drivers — as when working with real wood. "Installing composite decking is quite simple with regular deck and woodworking tools," said Werner. "It has both square edge boards, fastened with traditional face-screws, and grooved boards, which can be fastened with any popular hidden clip system on the market. There is high demand for hidden clips to give deck surfaces a smooth, fastener-free look that keeps feet safe from popped screws that can also get hot in direct sun."
Bostwick said fastening with a hidden-clip system has more benefits than fastening through the face of the decking. "Surface fastening (we recommend using composite and stainless-steel screws) is one of the most common ways to anchor composite boards to the deck's substructure. But if not done well — maybe a screw is driven in too far or not far enough — builders risk the integrity of the board," he cautioned. "Even though composite decking is engineered to sideline issues associated with water absorption, the screw penetrating the cap might open a potential path for moisture to seep through.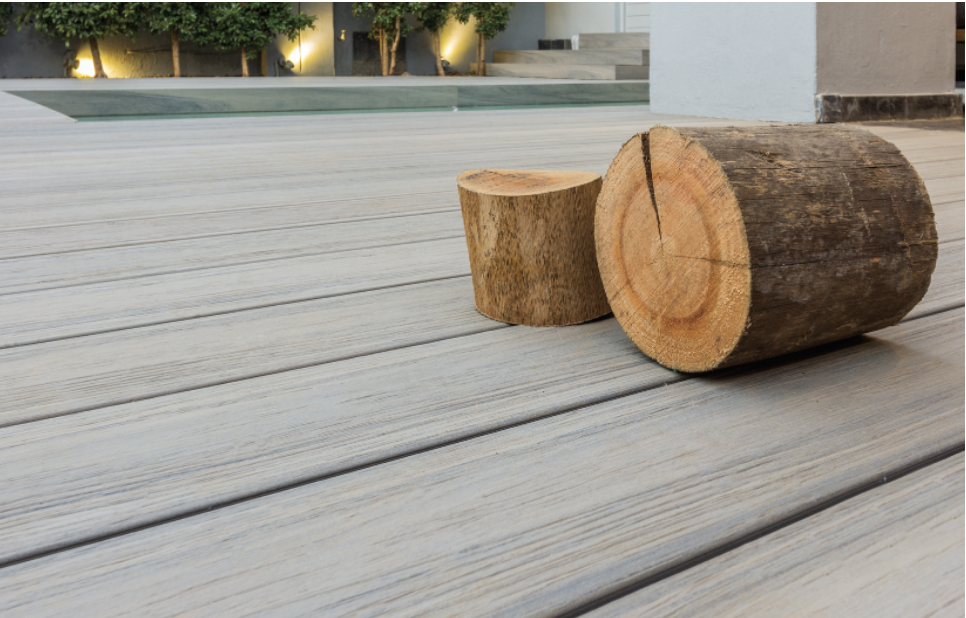 "However, even when screws have been installed perfectly, the customers' deck won't have that clean feel," he said. "Homeowners will still be able to see the screw heads, and over time, they might pop up above the deck surface (this is especially common in lower quality composite offerings). Not only does this look unattractive, but it also makes for an unsafe surface for bare feet.
"This is exactly why we recommend installing surface boards using a hidden fastener system. These fasteners hold boards securely to the deck without requiring hardware to actually enter the board. For this to work, composite deck boards will typically come with a groove along the side. Into this groove, builders will slide a clip, and the clip is then screwed to the deck joist. The next board in the series slides onto that same clip, and then another set of clips go on the other side of the board. This pattern is repeated until the deck is fully covered. The result is a smooth deck surface."
Bostwick continued: "The sole disadvantage of hidden fastener systems is that if a board is damaged, replacing it usually requires cutting out the board or removing the entire sequence of boards. To address this issue, Fortress Building Products offers a specialized fastener system. It's designed around a hidden clip that can be extracted through the space between the installed boards, making replacing a single damaged board both quick and easy."
If you build an outdoor living structure for your customer, being able to provide them with a deck that looks great and will hold up through the decades is an upsell that makes sense. GSCB
PS: With lumber in short supply, inexperienced builders may be tempted to turn to composites for structural uses. Don't do it. While many composite building materials are heavier and more dense than real wood lumber, it doesn't have the structural integrity of wood. It's typically used only for surface decking (or possibly cladding, depending on the product) or visible railing parts.