By Anthony Brass
Sheds built for muti-purpose use are more popular than ever. The portable one-car garage is another structure that can provide versatility in storage options.
Many want to use the extra space for more than just storing tools and backing in the riding mower. The one-automobile shed provides a solution for car storage, especially when a homeowner has two cars parked in their existing garage and they don't want a third vehicle parked outside and exposed to weather.
Portable garages are manufactured with, or set on, a temporary foundation so they can be relocated conveniently and economically. Owners don't have to worry about leaving them behind when they move. They aren't forced to sell that third vehicle due to a lack of storage at a new residence. Many asking for these sheds want the ability to park a car, motorcycle or even small pickup truck inside. When you offer this type of portable shelter, you're adding more potential buyers.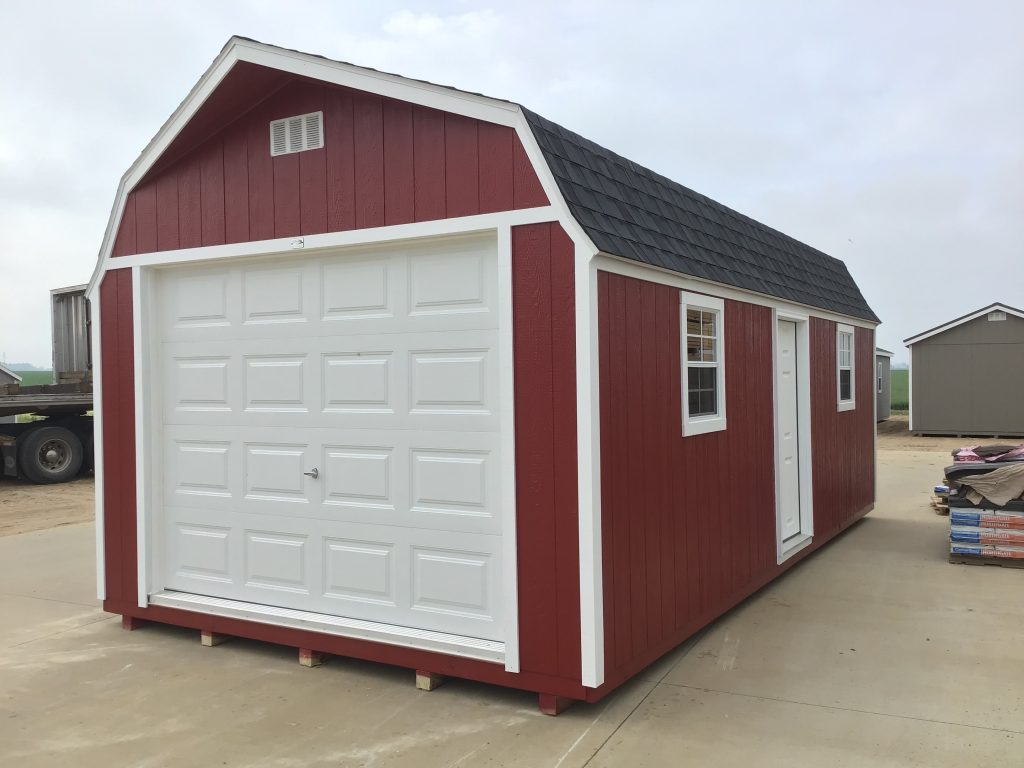 Sheds with 4×4 or 4×6 skids underneath are considered "portable." There are other components that make them portable as well as useful for car storage.
"All of our sheds are portable; each has its own floor structure," says Mervin Miller of Northland Sheds. "We try to explain the advantages for each, depending on what their storage needs are. There's a limited amount of structure you can put into a wooden [shed] floor," Miller says. Customers like these floors in garage sheds for long-term vehicle storage as there's less moisture buildup. "The wood floor has an advantage because of the 'dryness' of the floor; there's no condensation buildup on the floor."
The use of sheds for reasons once thought unorthodox doesn't seem to be dissipating. Austin Beachy of Sheds Unlimited says portable sheds that are large enough to park a car are popular.
"We do pretty well with them," Beachy says. "The 12' x 24' is a pretty common size."
He says some specifically ask for a shed to use as a car garage. But keeping a daily-use vehicle in this type of storage comes with a caveat.
"We generally don't recommend using it every day, pulling [a car] in and out on wooden floors," Beachy cautions, "you're inducing a lot of stress rolling across it." He adds this results in the rest of the shell of the building outlasting the shed floor.
He recommends building directly on a concrete pad. "We omit the wooden floor, bring out a layer kit and bolt it on top of the concrete pad."
Beachy recommends using 4" to 6" of concrete. However, if owners only want wooden flooring and prefer lighter materials for easy portability, and still park a car and pull out daily, he says install 2x4s that are closer on-center to "beef up" the floor and provide more support.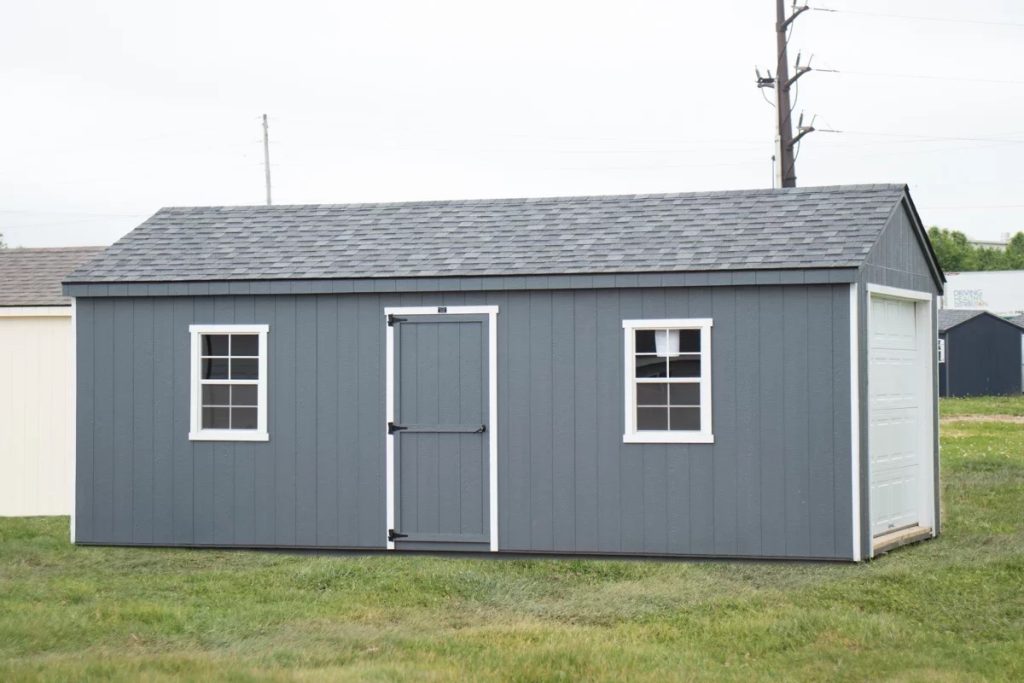 Wooden floors are lighter, aiding shed-portability, but reinforcing the floor requires heavier applications and extra layers. "Our sheds floors have a 16" on-center-spaced floor joist area that's essentially supporting that plywood."
These portable sheds are constructed to sit on either a permanent foundation or temporary one. The difference is in the final foundation and finish. Temporary foundation finishes contain materials that are easy to disassemble, load and transport.
"It's easier just to bring a building with the wooden floor and set it down," Beachy says. "We can do that with one driver."
Measuring Sheds & Car Lengths
Beachy says you're basically building the shell of these shed buildings. He says calculate the length that you need.
"If your car is taking up 16' to 20' of that room, and you want an extra 10' for a workshop area or storing yard equipment, do a 12' x 30' or 12' x 36' to have that additional room around that vehicle to store things."
Beachy says building these sheds at 16' widths is ideal. He adds 14' of width space inside is sufficient to open your car doors and get out.
"At 12' it can feel slightly cramped, but it's still doable."
Sheds Unlimited uses ProDoor garage doors on these one-car garages and other sheds.
"You're talking about a garage door that's 9' wide," Beachy says. "So, you can pull a car in and out comfortably. Once inside you've got a couple extra feet on each side to swing your doors."
Motorcycle owners storing or parking their Hogs have an option. These sheds provide the smaller vehicles proper shelter and even more space for owners to work with than when parking a car inside.
Full-size cars and cycles aren't the only vehicles for these sheds. "People want to drive their side-by-sides [ATVs] in and out conveniently," Miller says. He says the doors with wider openings on garage-sheds make it easier to pull their ATVs in and out. Northland Sheds uses Clopay doors on their projects. Miller adds these come in varying widths, and are typically insulated.
Ventilation & Insulation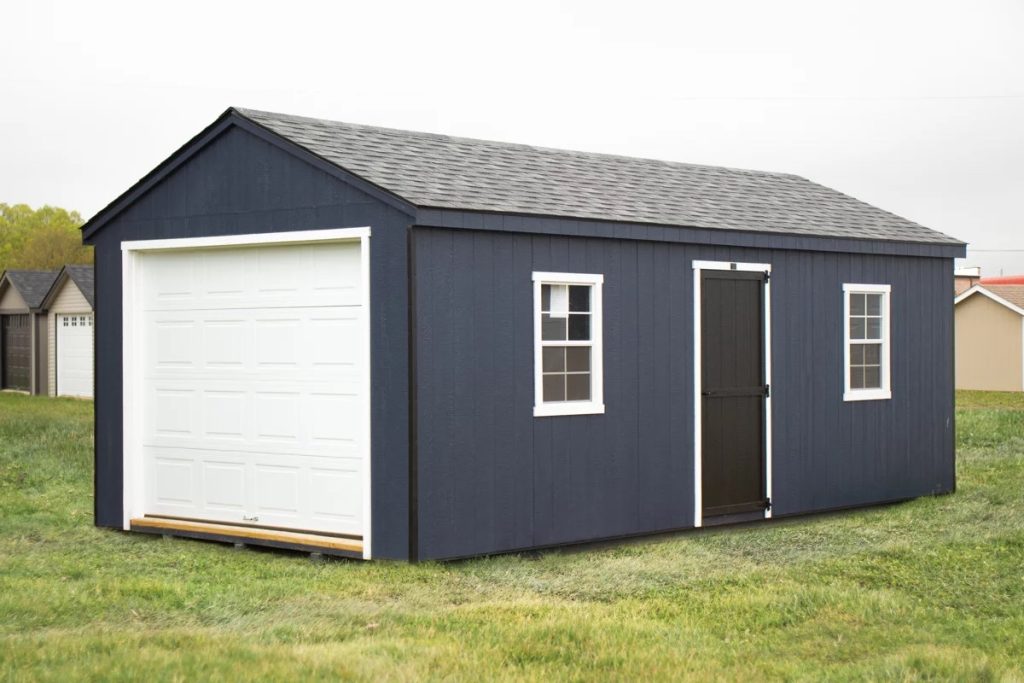 Shed-garage combos with proper ventilation increase airflow and release VOCs from cars, running or not, and vapors from gas cans.
Windows or side doors provide plenty of ventilation. "As far as adding doors or windows, that's easy to do. Windows have screening, so in summer you just throw them open; the building airs out pretty quickly," Beachy says.
The main garage door of the shed allows a proper opening for allowing exhaust to escape.
Beachy says built-in roof ventilation for these sheds isn't usually necessary, but it is an option offered early in the planning stage. These sheds aren't usually insulated, he adds, which keeps the overall weight and portability in check, but adding insulation to walls and a main door are options. "We can get the doors with vinyl- or steel-backed insulation."
The portable garage-shed allows several design options and themes, from a man cave to working space, around the vehicle.
"You can turn any shed into an office or 'cave-area' of sorts in almost any configuration, as long as it's properly thought about ahead of time where you add insulated doors, windows and venting," Beachy says.
Conclusion
The portable garage adds another structure to the list of offerings you can provide to customers. The multiuse shed trend reflects the mindset of customers who seek versatility and portability. Building a structure that can be moved from location to location and used for a variety of applications make for a practical, appealing option for consumers. GSCB