Since 1901, Trachte Building Systems has offered a full line of pre-engineered steel buildings and door/hallway systems. The 100% employee-owned company helped pioneer steel self-storage buildings in the 1970s. Trac-Rite, a division of Trachte, has been a trusted brand for manufacturing steel roll-up doors for a variety of applications, including self-storage facilities, for more than 40 years.
Headquartered in Sun Prairie, Wisconsin, Trac-Rite serves all of U.S. and Canada, and parts of Central America and Mexico. With recent expansion this past year to accommodate growth, a new distribution center opened in Sun Prairie. In addition, Trac-Rite doors are now manufactured and shipped from the south in Vernon, Alabama. This new capacity reduced logistics costs and shortened lead times, which led to becoming one of the largest door manufacturers in all of North America.
Trac-Rite's entire line of doors provide great wind ratings and warranties. Their product leader, the 944 Door, features a live axel, crushed ball bearings, and Teflon-coated dual springs that don't need greasing or oiling. The 944 Door is currently available up to 12′ x 12′ but will be expanding to 16′ x 16′ this year to meet market demand.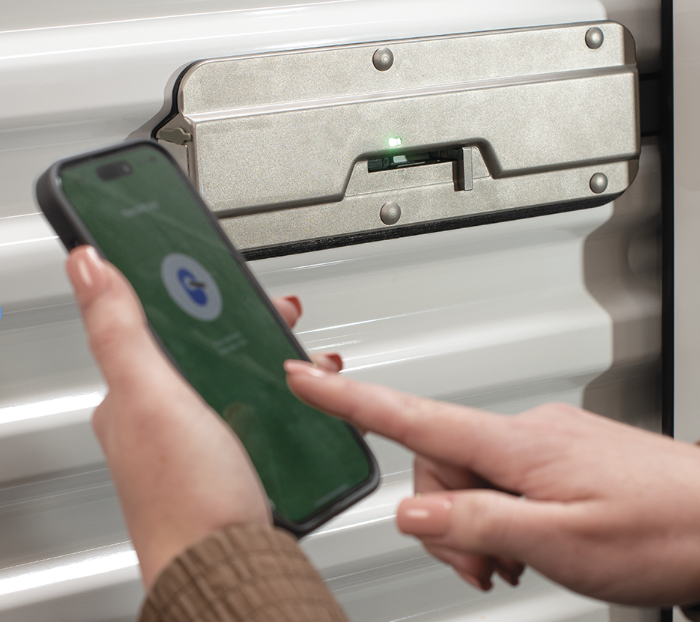 Performance, Value, and Service
Kellen Anderson, Director of Sales for Trac-Rite, is proud of their success in developing customer loyalty. He contributes this to their attentiveness to providing high quality customer service. Finding good service in the business world is disappearing, so this competitive advantage presents their customers with unmatched value. Anderson states that the quality is reflected in their warranty. Doors have a 3-year warranty on materials, a 10-year warranty on springs, and 30 to 40 years on paint. At one great low price, the doors are available in 24 different colors. With a drop in material costs, Trac-Rite announced a 5% markdown on their prices at the start of 2023.
Technology Advances
A great new product introduced this spring continued a long history of advancements and improvements.
Trac-Rite Door was founded in 1981 and launched with its first product, the 940 Door, which was available from 3′ by 3′ up to 10′ by 10′. Manufacturing moved to Sun Prairie in 1985. Insulated roll-up doors were introduced in 1990, and industrial steel slat doors came along in 2000. The company bought a roll former in 2003 and moved into offering door panels with a flat (versus rounded) configuration.
Since that time, advances have included the WL models ("windlock" to withstand high wind loads), EP3 coated springs (eliminating the need for regular lubrication), and improved bottom seals.
The constant search for improvement led to a leap forward in the spring of 2023 when Trac-Rite introduced the Passport Lock, a smarter locking solution for self-storage facilities. This new secure and reliable ecosystem is designed to meet your customers' needs. With so many advantages for both owners and tenants, this smart lock provides the extra convenience to take their facility to the next level, giving builders a sales opportunity.
The new technology offers builders an upsell on either a new project or an existing building. Features include:
• Install and operate with ease without any new doors, wires, or drilling.
• Provide access credentials from off-site and automate move-in and overlock processes.
• Grant or revoke access at any time, and track all access, attempts, and activity with audit trails.
• The system offers an extra level of security for vacant units.
The compact, easy-to-install lock is designed with the installer's time in mind, and qualified technicians can use an online portal to install, manage, or troubleshoot Passport locks.
The After-Effects of COVID
When COVID hit, business was expected to slow down initially. Despite their projections, a flood of customers came looking for doors when usual suppliers couldn't meet their needs. Trac-Rite gets their steel within the U.S. and the rest of the process is produced in-house. With enough material secured, they were able to meet and exceed expectations. The after-effects of COVID allowed Trac-Rite the opportunity to gain momentum and they prospered.
Company Culture
Anderson believes the company's strongest asset is their people. The benefit to being employee-owned is that his team truly cares and is invested in providing a superior product and service.
"If you came through our facility and talked to the people, you would know that all of them care. It's a trait that becomes instilled in you when you work here; you are part of something bigger," he said. "You care about everything … no one is above picking up garbage. Everyone cares that every door is wind-graded. We care that you are satisfied with your purchase. On-boarding salesmen are taught to care in the same way as they start out by learning how to make doors on the factory floor."
That passion and innovation led to automation. Robots and robotic engineers are able to take over processes that are usually heavily manual to ensure better quality control. The doors are all made exactly the same and a lack in labor doesn't slow the process down because they pride themselves on great consistency in quality and service. GSCB