Graber Post Building's Octagon Pavilion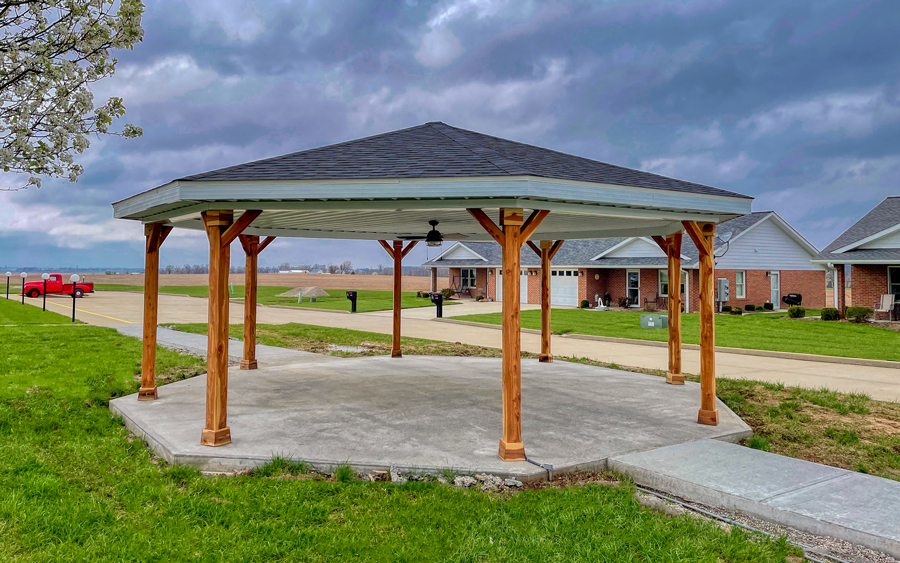 Graber Post recently built this octagonal pavilion. According to Trent Wagler, this structure is much different than those their crews are typically used to building, as it's composed without sides, windows, doors, metal roofing panels, and posts embedded in the ground.
The biggest challenge for these types of builds is the overall design factor due to its unique qualities, Wagler said, including picking out the right lumber, stain, roof pitch, roofing materials, and more, since they have probably done less than ten shelters in the last ten years.
The in-house CAD team put together some sketches and plans for this build, a 26' x 26' octagon. The pavilion was designed to stand out, except for the asphalt shingle roofing. The client chose solid sawn cedar posts for the framing and they wanted shingles to match the other buildings on the property.
Wagler credits their builders with their ability to be efficient even with non-standard builds. "Graber Post Builders is very fortunate to have crews with Amish/Mennonite backgrounds. Their work ethic and construction skill is second to none. When they arrive on the job site, their focus is solely on that job and ensuring it is done correctly." The builders' efficiency is what allows them to bid a project like this and be competitive in the market Wagler concludes.
Here's a commercial-sized structure that's versatile enough to use anywhere. Perfect for a farm, business or even a backyard. The main building offers 2400 sq. ft. of fully enclosed, clear-span space, and a 12' x 60' lean-to is included on the side, as well.
Greiner Building's Double Roof Pavilions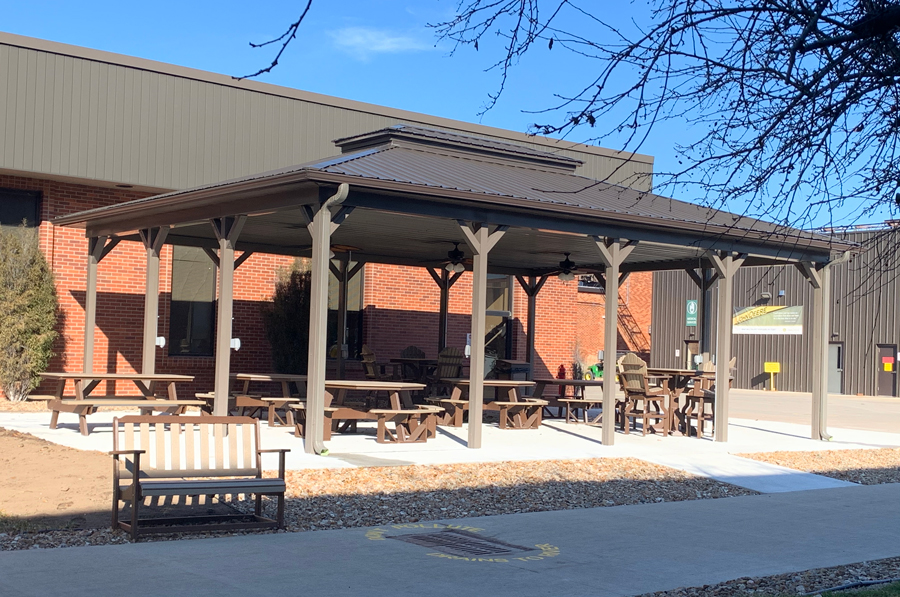 Nolan Gerber, Architectural CAD Drafter and Materials Specialist at Greiner Buildings Inc. has designed several
pavilions for clients. He finds that these builds are different due mostly to the special design in the roof system. His buildings generally have a gable roof, whereas the pavilions have a hipped double roof feature.
"The first structure we built using the double roof design had to be drawn from scratch by the truss designer based on a design in an advertisement for a canopy. We have used the term "Double Roof Pavilion" in our naming system, and pictures on our website have elicited several requests for quotes."
Gerber says that the pavilions they build are designed to last a long time. The hipped roof with Y post bracing shown in the photos are design elements that worked well in their porch designs so he brought them into the gable designs. They bring added support to buildings that have no walls. Tying the hip cap trims into the ridge helps the roof shed water properly, a trick from a job that had an octagon roof. l
Most often, clients do not request that they match the aesthetics of other nearby buildings, usually they're just matching colors.
Designing these pavilions has been a nice challenge to face. Gerber says that with each additional structure, the new challenge is to make the building easier for their crews to construct.
Fifthroom.com Memorial Pavilion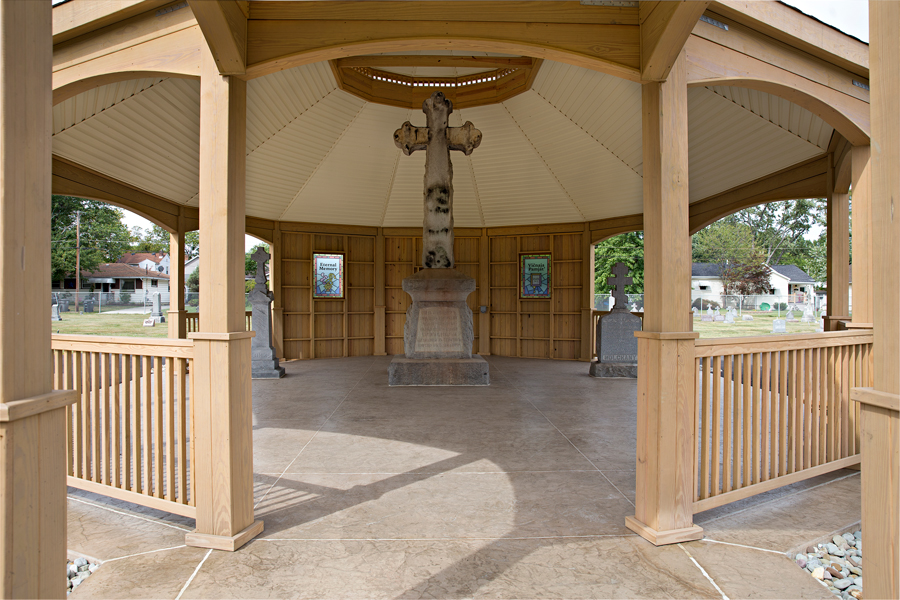 Fifthroom.com builds pavilions, pergolas, gazebos, and more. They have a number of standard designs and engineers for custom designs. They ship projects out as kits that any quality contractor can easily work with according to President, Tim McTighe. "We work closely with builders across the country," he said.
One of their more unusual projects is the Memorial Pavilion they created for St. Mary's Byzantine Church in Youngstown, OH. This project had a couple of built-in challenges. One of them was a spring deadline date that forced winter construction. The crew was out in the snow getting it together.
The second challenge was that they were required to accommodate the memorial to St. Mary's first priest, forcing the structure to become much taller than Fifthroom's usual build. The pavilion is 30' x 36' and everything was custom designed by their engineers, according to Mike Donaldson, Project Advisor.
The stained glass windows were preserved from the original church circa 1899 and were carefully incorporated into the design, a meaningful addition to the build.
Originally the church obtained a quote to have the pavilion built of stone, but they opted for this design at a third of the price. The wood is Southern Yellow Pine, kiln dried, and the most durable pine for building; the ceiling is ivory vinyl. GSCB