Contractors Achieve Unlimited Lengths With Fabric & Steel
by Karen Knapstein
Consumers and manufacturers in need of a large enclosure will find that a tensioned-fabric building can provide them with the shelter they need without the wait and added expense associated with a large "conventional" structure. This may be an opportunity for builders and general contractors who have the skilled manpower available to capitalize on it.
Benefits of Fabric
Perhaps the most compelling selling point for a fabric building is the amount of natural light that is allowed into the building. ProTec Buildings, a division of Sioux Steel Company [www.siouxsteel.com], manufactures steel-framed, fabric covered buildings. "Our standard white material has about 50% light throughput," explained ProTec Sales Manager Jon Gustad.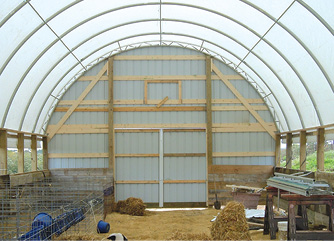 Plenty of light and ventilation make a fabric building well suited to animal confinement. Photo courtesy Sioux Steel/ProTec
A fabric-enclosed building is excellent for animal confinement. "Light being able to get to bedding material helps inhibit microbial growth," Gustad said. Another constant consideration is ventilation. "One thing you always fight in animal confinement is condensation," he continued. One of the factors in determining the amount of condensation you do or don't have is how much air volume is in the building. "These buildings have a lot more air volume by the nature of their construction. And they're very easy to ventilate using ridge vents, louvered vents, and powered ventilation [fans]," he said.
The hoop fabric structures are best suited for cold applications. "The most challenging use of these types of buildings is if someone wants to insulate them," Gustad explained. "Keeping it heated presents a greater challenge than anything else. It's not impossible, but it's definitely more challenging. For any type of cold storage there's no limitation. A lot of counties and states use them for salt and sand storage.
"One of the greatest advantages of these buildings," Gustad continued, "is that, when properly configured with ventilation, they provide cool shade in the summer heat and then can be buttoned up in the winter to provide warmth through a greenhouse like effect. Many users report that, without any source of supplemental heat, their building will be 10-20 degrees warmer inside than out."
ProTec manufactures two different types of fabric building kits in its Sioux Falls, South Dakota, plant; one uses single tubes and the other uses webbed steel arches. The kits are available with open span widths from 24' to 180' and can be manufactured to any length. The fabric carries a 15-year pro-rated warranty.
The smaller of the two types is built with a single-tube framework. The 2 ½" tubing is made from 14-gauge stock, which is galvanized to protect it against rust and corrosion. The single-tube buildings are mounted on pony walls that are usually built with pressure-treated posts embedded in the ground. The slip-fit connections mean "minimal tools are required to assemble the frame; the frame members slip together and the cover slips over the frame," said Gustad. "Most buildings that I would call personal use or farm use buildings you're going to be in the 80-foot and under range for width," he said. "A three- to five-person crew could build pretty much any of those."
The larger of ProTec's two types of building kits is the Sentry Series, which uses webbed steel trusses for the framework. "The structures that are 40' and wider are what most people visualize as a truss," Gustad said. The truss has a top and bottom chord with webbing in it. The standard finish for the Sentry Series framework is powder coat. If the planned use is animal confinement, fertilizer, or salt storage, then components are sent off-site and galvanized through a hot dip process. "When you're getting into really big buildings, then you need quite a bit more substantial crew," he added. "Depending on the size of the structure, the building process could require multiple telehandlers and boom lifts on-site at one time."
The structures are built for a broad range of uses. The smaller, 24'-30'-36'-wide buildings are often used "as garage-type storage on personal property or acreages," said Gustad. "Bigger buildings are used for hay storage, livestock buildings, beef and sheep confinement facilities. Larger buildings are also used for equestrian riding arenas. It's a more economical clearspan than wood or standard steel. The much larger 150'-180' wides are commonly use for flat grain storage. Our biggest building so far holds a little over 5 million bushels of grain. It's 180' wide and over 700' long."
Gustad explained that ProTec works exclusively through its dealer network, which is currently heavily concentrated in the upper Midwest (Minnesota, the Dakotas, Iowa, Wisconsin, and Illinois). "We're a manufacturer. We don't have any of our own erecting crews. We work exclusively through our dealer network; we're always looking to grow that network." There are ProTec dealers from coast to coast, but in areas other than the Midwest, they are not as concentrated, so there is some opportunity for builders to fill the voids.
"We get a fair number of building inquiries from areas where we have holes in the map," he said. "Dealers who come on board with us find we have a comprehensive marketing department that will work with them to update their websites and help them with their marketing strategies."
Legacy Building Solutions
Legacy Building Solutions [www.legacybuildingsolutions.com] designs, manufactures and installs tension fabric buildings. Their structures, however, are engineered with rigid I-beam frames. Sara Davis is a Building and Project Design Consultant with Legacy Building Solutions. She explained, "The frame itself has structural integrity; the fabric only keeps the building enclosed."
With Legacy's solid steel frames, customers have the opportunity to "Go Big." Their frames are very strong, so they can design large, wide, clear span structures. Clear span means the buildings can be very wide (generally more than 300') without using central column supports. How high? "We recently completed a building for a major steel manufacturer that is 97' at the peak, said Davis, and "there are almost no engineering limits to how long we can make a structure for a customer."
Design
Legacy designers will work with the engineering and estimating team to create the building that the customer imagined. They use software that is standard in the metal building industry, so the plans are easily understood by any engineer, permitting official, or general contractor.
Fabrication
Legacy manufactures the steel frames at their Minnesota headquarters. The fabric cladding for walls and roof are also cut, welded and assembled there. Legacy has recently added a paint shop that applies epoxy coatings to the steel to protect the frames in corrosive environments (e.g. salt storage, mining materials, fertilizer facilities).
Installation
Legacy uses proprietary fabric and provides installation services so customers typically contract with Legacy to install the buildings as well. These crews travel the continent and the world, installing Legacy's customized tension fabric structures. They are highly trained in Legacy's techniques—including stringent safety standards.
When they are done, the Legacy structure looks are very similar to a traditional building made with traditional materials like steel and wood. It has straight walls, high peaks and an interior that is bright and uplifting. The steel frames and the fabric cladding combine to make this a permanent and durable building.
Conclusion
The biggest benefit of fabric buildings is the natural light that fills the interior space. An infinite number of sizes can be achieved with fabric and steel. Even if you never have the need or opportunity to build a large fabric structure for a customer, perhaps you will want to take it into consideration when it comes time to build your next workshop. GSCB