Safety Gloves
OSHA estimates that more than 70% of hand and arm injuries could be prevented with the proper protective equipment. Lack of compliance is often the greatest challenge to workplace safety, and compliance increases when PPE is comfortable to wear. That means considering form and fit as well as function.
Brass Knuckle® SmartCut™ BKCR303 gloves succeed on three fronts by providing dexterity, grip and ANSI cut level A2 protection. This triple threat is accomplished with a glass fiber and ultra-high-molecular-weight polyethylene (UHMWPE) shell — a composite yarn that has a strength-to-weight ratio eight to 15 times greater than steel — and polyurethane coating. The thinner, 13-ga. material delivers deftness without trading away its inherent cut-resistance.
The non-sticky polyurethane coating on the palm and fingers features excellent grip, even against oils, fats, and greases, and can deliver enhanced puncture protection and abrasion resistance, all without adding bulk or reducing touch sensitivity.
In addition, the glove's uncoated back and wrist improves ventilation. A seamless and stretchable full knit wrist provides a snug fit and prevents dirt, debris, and cold from getting inside glove. Color-coded cuffs easily indicate glove size.
www.brassknuckleprotection.com
Safety Glasses
Milwaukee Tool enhances safety and productivity on the jobsite with an expansion of its safety glasses lineup including anti-scratch, fog-free, and new magnification and lens color options. All new safety glasses are designed for extended wear and are equipped with comfortable temple arms for comfort. Aside from the magnifying safety glasses, all new glasses are available with yellow lenses that make environments appear brighter and are ideal for working in low light, gray lenses that are optimized for indoor and outdoor locations, as well as clear and tinted lenses.
New safety glasses in the Milwaukee Tool lineup include Anti-Scratch Safety Glasses; Anti-Scratch Magnifying Safety Glasses; Fog-Free Safety Glasses; and Performance Safety Glasses.
Milwaukee is also expanding their Performance Safety Glasses with new gray and yellow lenses. Launched in 2019, the Milwaukee Performance Safety Glasses are equipped with fog-free lenses that resist scratching to ensure that users' vision stays unobstructed on the jobsite. As a step up in productivity and durability, the Performance Safety Glasses feature military-grade impact protection above the Z87.1+ ANSI rating*, withstanding a projectile impacting the lenses at 725 ft. per second.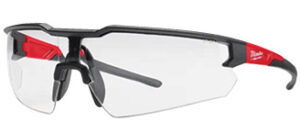 Milwaukee Tool's new safety glasses are designed to provide users with all-day comfort, ultimate durability and protection—without sacrificing jobsite productivity.
*ANSI Z87.1—Eye and Face Protection Standard: Sets the comprehensive standards to be used for protective eye and face devices in OSHA U.S. regulations. Z87.1 is the standard for safety glasses.
Cordless Power Tools
Bosch Power Tools has announced the release of its PROFACTOR high-powered cordless tools, powered by its exclusive CORE18V battery platform and equipped with Bosch BITURBO Brushless™ technology. Delivering power that outperforms its corded counterparts, PROFACTOR cordless tools give professionals the freedom to take on the most demanding applications on one battery platform.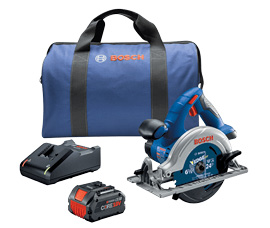 At the heart of this new high-powered cordless system is Bosch's best battery technology — the CORE18V battery platform. It features advanced cell technology, cutting edge design and Bosch-exclusive COOLPACK™ 2.0 technology. With a design including copper end plates, welded cell connectors and power rails, the batteries provide reduced resistance and greater efficiency, allowing tools to draw higher currents from the battery. With the PROFACTOR-optimized CORE18V 8.0 Ah and the new PROFACTOR Exclusive CORE18V 12.0 Ah batteries, professionals can power the full PROFACTOR tool lineup from a single platform.
Color-match Deck Screws
GRK Fasteners has introduced its Deck Elite color match decking screws. These screws are designed for use in wood deck boards, providing a fast drive for increased productivity and an ideal wood tone finish, meaning fewer profit-killing callbacks and more happy customers.

The Deck Elite screw features:
• Tan Wood Tone provides better blending with deck lumber for better aesthetics
• Fast-bite Tip provides a fast start for one-step drilling
• Zip-Tip™ eliminates pre-drilling
• Star Drive eliminates stripping and counter-sinking head prevents screw from protruding from deck
• CEE-Thread enlarges hole to reduce wood splitting and reduces heat buildup, eliminating head pops.
• W-Cut™ Thread Form reduces installation torque for fast driving, ease of install and less battery drain on cordless drills or impact drivers.
GRK Deck Elite screws offer a Lifetime Guarantee against rust for the lifetime of the project. They are available in key sizes for decking top boards and fencing applications, including 1-5/8", 2", 2-1/2" and industry standard 3" lengths. Optimized pack counts cover square footage of decking from 100 to 400 sq. ft.
www.grkfasteners.com/new-deck-elite
Farmhouse-Inspired Garage Doors
Morgantown, Pennsylvania-based Artisan Custom Doorworks has added a new line that celebrates the American Farmhouse. The composite with steel frame doors are premium design, faux barn wood to deliver high curb appeal with minimal maintenance.
According to Matt Courtney, Artisan's President, "A recent custom project involved building three garage doors from reclaimed barn wood. The results were phenomenal and we wanted to share the look, so we were inspired to recreate it with high-density urethane."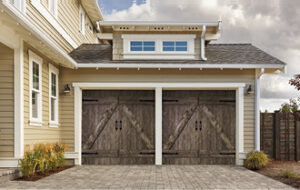 American Farmhouse gives door dealers a new product to bring to homeowners (and vice versa). The composite construction is resistant to bugs, moisture, and rot, making the doors virtually maintenance-free. That extends to special finishes that are more UV-resistant than traditional garage door finishes. By using urethane, the lightweight doors cause less strain on garage door openers, door hardware, and springs.
Single and double doors are available in planks or swing configurations and standard sizes range from 8' to 25'. Artisan offers a wide range of windows, lites, and hardware choices. American Farmhouse is available in 30 finishes, including greens, blues, classics and natural barn wood tones, all in solid or driftwood versions.
Hip & Ridge Shingles
Atlas Roofing Corporation has announced the launch of its StormMaster® Hip & Ridgeshingle, featuring the company's proprietary Core4™ Enhanced Polymer Technology, which allows the shingle to provide extra strength, flexibility, durability and extreme weather resistance.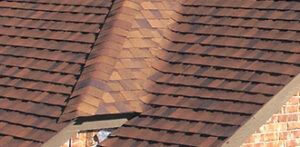 Core4 Technology are manufactured with polymers enhanced at a molecular level that help shingles stand up to the most severe weather conditions. StormMaster Hip & Ridge feature Scotchgard™ Protector for long-lasting defense against black streaks caused by algae.
StormMaster Hip & Ridge colors match Atlas StormMaster Shake, StormMaster Slate and Pinnacle® Pristine shingles.
Utility Knives
STANLEY has announced three new additions to the brand's portfolio of cutting solutions. The latest collection from STANLEY® features a versatile Utility Knife with 10-Blade Storage (STHT10479) and a Control-Grip™ Utility Knife (STHT10432). These knives are ideal for heavy duty cutting a variety of building materials, from drywall and shingles to flooring and packaging.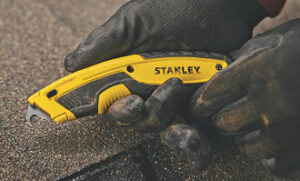 The new line of utility knives is the latest innovation to join the brand's legacy of dependable tools suitable for professional users across all trades. The latest offering provides razor-sharp performance, jobsite durability, comfortable use and easy blade change.
Stone Veneer
Eldorado Stone has debuted Koryak Ridge™ as the latest color palette for its Stacked Stone profile. The new hue blends old-world textures with bright, modern tones to provide a multilayered design statement to suit a wide range of residential and commercial spaces. The panelized format of Koryak Ridge Stacked Stone also reduces installation time, which can be a benefit for builders and designers working under tight timelines.
The Stacked Stone profile offers the appearance of a precision hand-laid dry-stack set. Stones within the profile measure 4" high, and can be found in widths of 8", 12" and 20" to offer a simple panel system installation for expansive walls and column facias.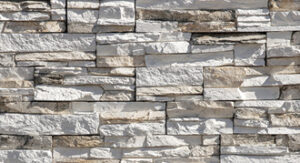 Stacked Stone is available in 12 total color palettes. Alderwood, Black River, Castaway, Chapel Hill, Dark Rundle, Daybreak, Dry Creek, Koryak Ridge, Nantucket, Santa Fe and Silver Lining are distributed nationwide, while Slate Gray is available throughout the Western United States.