Many areas of the country have experienced construction material shortages accompanied by rising prices. Freedom Mill Systems of Grand Rapids, Ohio, helps businesses overcome supply chain and quality issues by sourcing metal-forming equipment from all over the world. The lower price point of their equipment allows small- to medium-sized builders to roll their own steel so they don't have to rely on suppliers who cater more to larger clients.
David Ruth, President of Freedom Mill Systems, said, "Demand for light-duty steel buildings has skyrocketed." He said it's a much, much larger business than it was 20 years ago. Back then there were a handful of guys building them; now there are far more people building light-duty metal sheds and carports. 
Light-duty steel buildings (sometimes called white metal buildings, as opposed to much heavier red iron) are framed with galvanized steel components, which has been coated with zinc oxide, an anti-corrosion coating.
"One reason [it's much more competitive] is you have more than one supplier … you have a whole lot of suppliers." But if you can't get what you need, it puts you in a hard spot.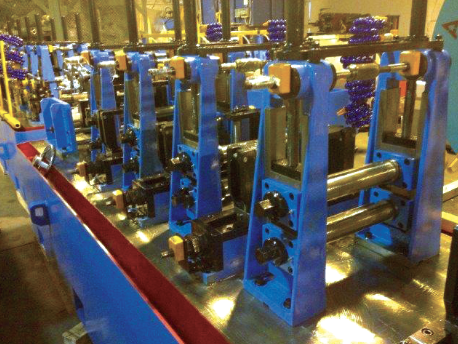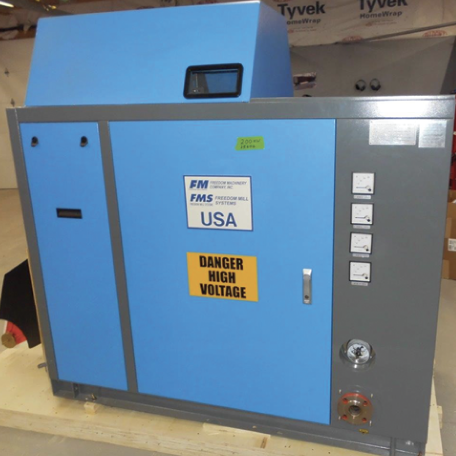 "It can be brutal on a small business if they have orders but can't get their hands on the materials they need." A supplier might be down or busy, "or maybe their volume isn't high enough. The guy who pays cash and buys large quantities gets first priority with suppliers. A small building company is lower on the list of priorities," he explained. Price, quality and delivery are what get a customer to buy from one building company before another, he said. A building business can't succeed if quality or delivery isn't there, he continued.
"These builders have found a niche. Usually when they buy a machine it's because they're tired of standing in line waiting for a product. Every day they go without product is a day of lost profit," he explained.
That's where Freedom comes in. Most of the machines that Freedom sells are for manufacturing steel tubing and pipe. Those machines include, but are not limited to, uncoilers, shear and end welders, welders, tube benders, accumulators and saws.
They also deal in machines that produce steel siding, roofing, and decking, including roll-forming machines, slitters, decoilers, and other equipment.
By sourcing less expensive machines from Eastern Europe, China and Taiwan, Freedom can supply smaller builders with equipment they can afford for making the components they need.
There's a laundry list of requirements that need to be met before someone can begin manufacturing their own panels and structural components. Some of what's needed:
• A building that is big enough to house a production line that may be 100-150' long. It also has to be big enough to store product
• A source for steel
• Credit or cash to pay for the steel
• Hire someone to train employees on the new equipment
• A place to store the manufactured components.
In the end, Ruth said, "The whole white metal building industry is just getting started. This is just the tip of the iceberg." The question is, will you scale that iceberg or be buried under it?