How Consumer Trends, Shed-Builder Input are Fueling an Expansive Choice of Colors
by John McQuillan
Ruthanne Hanlon knows color. With over 22 years of paint industry experience analyzing and forecasting consumer color trends – including 17 years working in the new home construction segment – color is her life's calling and, equally so, her passion.
As PPG national color and design manager, Hanlon helps shed manufacturers eliminate the guesswork when it comes to the color options they offer customers. In fact, Hanlon was the driving force behind the creation of the new PPG Aquacron® coatings color palette for sheds.
To the benefit of Garage, Shed, and Carport Builder magazine readers, Hanlon provides answers to the questions she has been asked most with respect to the development of the new palette, the emerging shift in color preferences of shed buyers, and the way shed paint brands such as PPG are addressing this shift to help shed builders increase sales: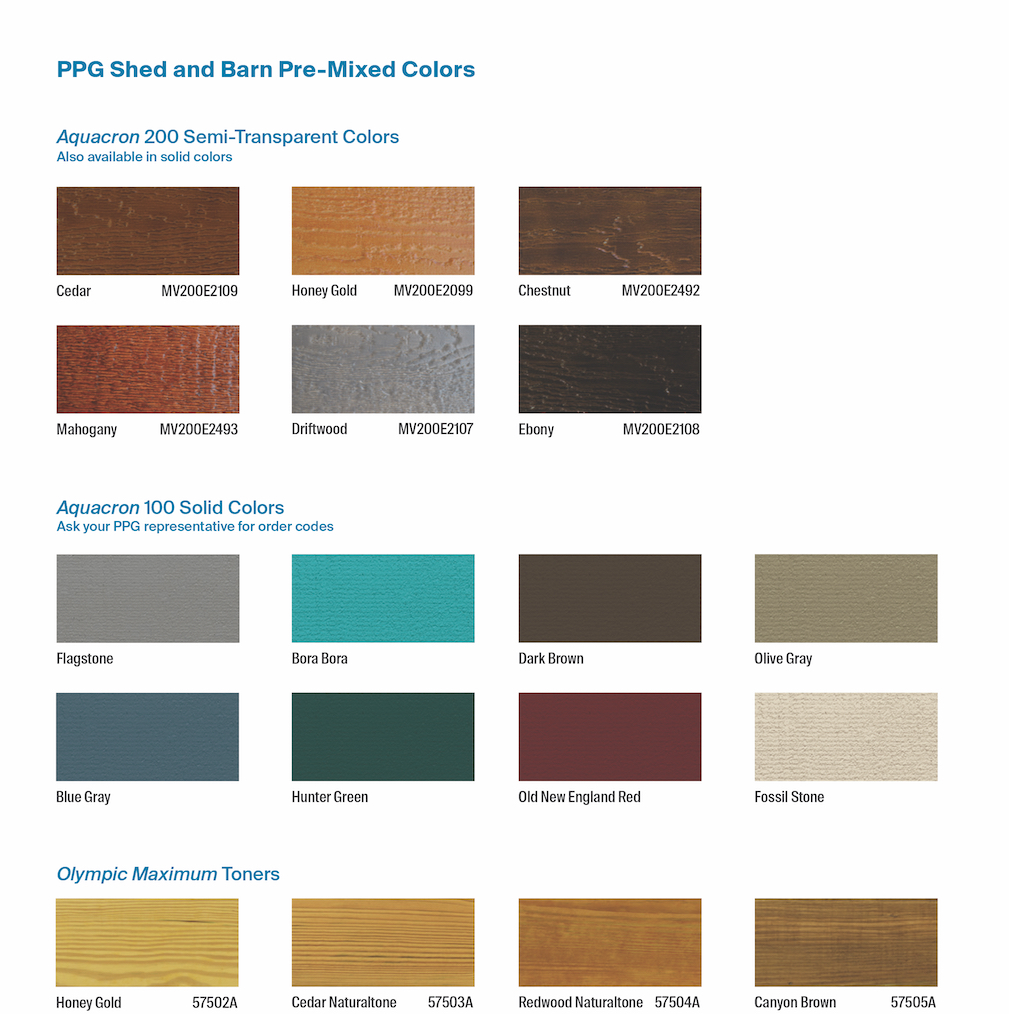 Why would a paint manufacturer develop a color palette exclusively for shed paints?
I think the market demands it. In the past, shed builders often considered color as an afterthought. At the same time, many consumers would select a shed based on the colors available in a retailer's inventory. But this is no longer the case. Homeowners have a new perception of what a shed can be. Given the fact that today's sheds are used for a number of different purposes, buyers are looking to shed builders for a wider range of colors to complement their shed's function.
A great example is a shed that is used as a child's playhouse. Kids do not have a fear of color. If you give a group of children a fan deck, they're likely to select the boldest, brightest colors. Whereas an adult would likely select a gray or maybe a beige. We tend to lose our confidence in color as we get older. However, with kids, it's no holds barred. That is why a well-rounded shed paint color palette will include brighter colors that convey fun.
This is in great contrast to a shed that is used for gardening. In this case, you would want a collection of colors associated with foliage and digging in the dirt. This would feature shades of earthy browns with organic greens and other colors symbolizing nature.
Another type of shed that has gained popularity – especially during the COVID-19 pandemic – is one that is used as a studio or home office. Colors that come to mind for this application include your more sophisticated, urban tones. You'll see some of the darker shades and nuanced colors such as a blue with maybe a hint of green.
Of course, there's always going to be the traditional type of shed that's used to store bicycles, lawn equipment or anything else that doesn't fit in the garage. The majority of sheds fit into this category, so it's a good idea for shed paint brands to offer a comprehensive color palette with a good sampling of warm and cool neutrals, and a representation from just about every color family.
The key takeaway is that sheds are being used in a variety of different ways, and the consumer wants or maybe expects more color options. As a result, shed builders are turning to shed paint manufacturers to deliver a greater range of colors. I believe this is why an increasing number of paint brands are developing color palettes exclusive to the shed industry.
The Aquacron shed color portfolio, for example, features four distinct color groups, providing color solutions for standard sheds, as well as sheds that are used for a playhouse, gardening/landscaping and a backyard studio.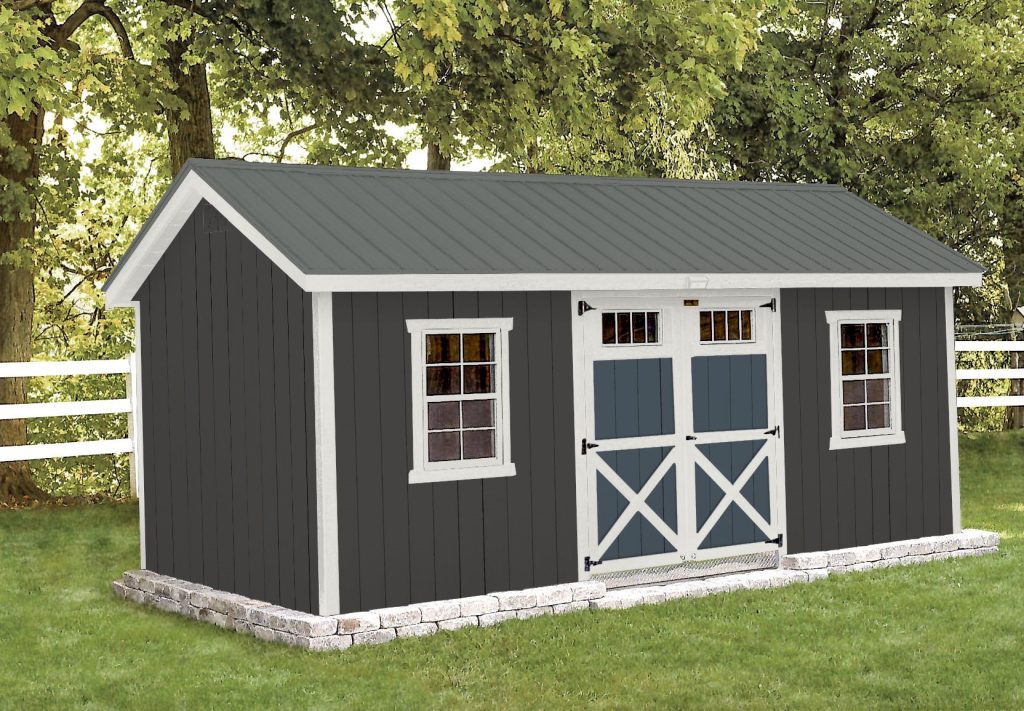 Talk about the process of creating a color palette for sheds. Where would a paint manufacturer begin?
Some shed paint brands are heavily vested in color trends and have in-house color forecasting teams. They also utilize information from trade organizations like the World Global Style Network and The Color Marketing Group, who release annual global color trend reports. PPG is no exception. In the early stages, we enlisted color experts from different industries we serve, including aerospace, automotive and architectural, to monitor the global, regional and cultural factors that influence color preference.
We also went out in the field and talked with shed builders and shed retailers. This might seem like an obvious early step, and I'm sure this is a resource all shed paint brands tap into, yet we were still pretty amazed with the information we gathered. As I mentioned, the shed building industry as a whole seemed to pay little attention to consumer color preferences until homeowners started using sheds for non-traditional purposes. This created the need for non-traditional shed colors, which we learned by talking with the those who build and sell sheds.
Then there's the information we already knew, which is the link between shed color preferences and colors used in new home construction.
With the exception of our Playhouse Collection, PPG's new shed color palette directly correlates to what we see trending in the new home construction industry. The colors people want on their sheds are very closely related to what the people buying new homes desire. It's also important to note that shed paint brands want their color portfolio to have longevity, which is exactly what both the new home construction and shed building markets want. The goal is to avoid switching out colors every year.
Would you say that shed builders are starting to use color as a selling tool?
Absolutely, and for good reason. There's an old adage in the paint industry that, "we manufacture paint, but we sell color." You can easily apply this to the current state of the shed building industry. Color has the ability to bring a shed to life. I can relate a story about a shed retailer that I visited not too long ago. He had this very bright yellow shed that a customer ordered but never purchased. After sitting on the back lot for months, the shed was moved out front near the street on a whim. I talked to the retailer a week later and he said that by placing the shed in front of his location, he saw a drastic increase in store traffic. The fact that the shed was different and eye-catching pulled people in. This, in a nutshell, represents the undeniable selling power of color.
What does the future have in store for the shed paint industry?
I believe that the way people use sheds will continue to evolve. As it does, so too will consumer color preferences, along with shed paint color palettes. To stay ahead of the game, shed paint manufacturers will need to work closely with shed builders and increase the level of communication and support they provide them. And I think PPG is one of the brands that might have an edge in this regard.
For example, we currently work with shed builders to further refine our PPG Aquacron shed color offerings and create co-branded palettes based on local or regional color trends. I think you'll see more of this across the shed industry.
The bottom line is that shed paint manufacturers are devoting more time and resources to better understand and address the needs of shed builders. And I think this movement will continue to build momentum for years to come, which is great news for everyone involved – especially those who want a beautiful-looking shed in their backyard. GSCB