PPG (NYSE:PPG) has introduced a new selection of hues for its PPG AQUACRON® shed coatings portfolio, complete with color collections for sheds, playhouses, gardens, and backyard studios. Developed with input from shed manufacturers and buyers, the new collection reflects today's consumer preferences for color while embracing the emerging role color plays in the consumer decision-making process.
"At PPG, we know that consumers will often make a purchase decision based on color selection and availability," said Ruthanne Hanlon, PPG national color and design manager. "Backed by our more than 135 years of industry-leading expertise, we created a color palette that appeals to today's consumers, who often want a hue that correlates with the purpose of their shed, or complements the color of their home. Ultimately, this color collection will help eliminate the guesswork for customers."
One important aspect of the PPG Aquacron shed paint offering that hasn't changed is PPG's commitment to support service. It starts with the partnership PPG forms with each customer.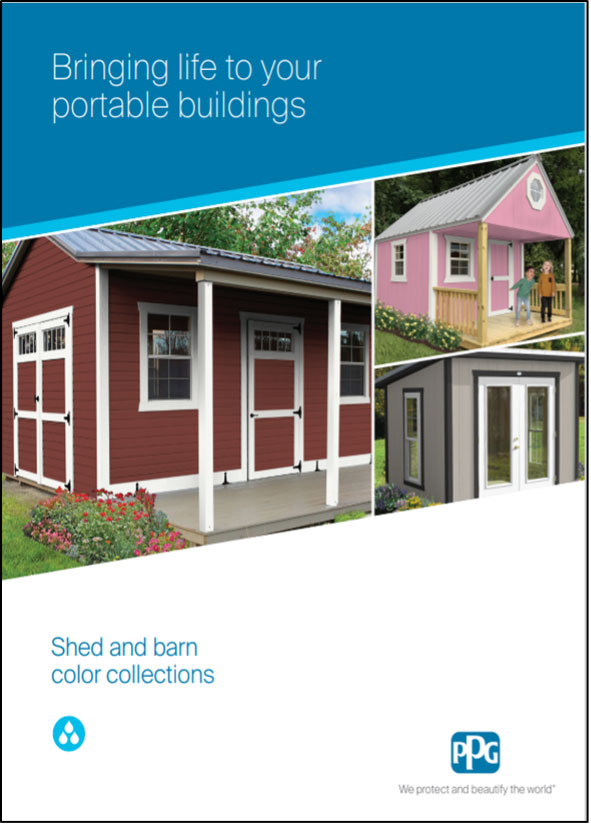 In addition to offering top-of-the-line technical guidance and marketing support, PPG offers their shed building partners the expertise of a PPG professional color team that lives and breathes color on a daily basis. This includes the ability to custom match any color a consumer may desire.
For an interactive look at the new PPG Aquacron shed paint color palette, visit the PPG Color Selector at ShedHub.com. To learn more about PPG Aquacron shed coatings, visit the PPG website or call 501-336-7326.