Online Platforms Extend Reach For Shed Sellers
By Shannon Latham, Shed Geeks
How has online selling affected the world around me? Well, I just recently drove by an abandoned Toys "R" Us at our nearest shopping complex.  I couldn't help but wonder how much of an impact websites like Amazon have played on the store's closing. I'm not sure we'll ever know; however, it's obvious sites like these are here to stay. It seems they can lower overhead and still provide the amount of customer service necessary to satisfy buyers. Even as I look around my office, I realize our equipment was purchased 100% by shopping and comparing online. TV's that serve as monitors, and even my Shed Geek Podcast mouse pad are all from online searches. 
For this first column, we'll look at how shed builders and manufacturers can benefit from online selling platforms. Jeff Huxman, founder of ShedHub.com, and Jim Kuhlman, founder of ShedsForSale.com, who are both innovators for creating online shed-selling platforms, shared some insights with us.
Let's first clarify what "selling online" means. Kuhlman explains that online sales include shopping and "checking out" online, but that "it is also shopping online and connecting with a salesperson found through the online shopping experience."

Huxman said he defines online sales as "any transaction that happens in part or in whole through a website, app or other electronic means.
"When it comes to sheds, people will often start their shopping journey online, and end it in person at the lot," he continues. "Many other shoppers start online, then visit the lot, and complete the sale digitally after they visited the lot once. This saves them from having to make two trips."
When asked how online selling platforms add value for the manufacturer or dealer, Huxman said his platform "is a way for people to see your products that might not otherwise see them. For the dealer, you're providing shed shoppers the shopping experience they expect to get in this day and age of online shopping."
Kuhlman echoes the sentiment by saying an online platform will give dealers an avenue to show inventory online "more easily than their own website or ads placed on broad sales pages." Dealers can keep their inventory listings current and visible for potential customers shopping online. "A customer will have the choice to reach out through the app or visit the dealer's sales lot," he explains. "This will create a more professional and simpler experience than texting pictures of inventory to a potential customer."
Serious customers who are looking to buy a shed will be drawn to websites that only sell sheds. As opposed to general online marketplaces, they won't have to sift through tons of products they're not interested in to find the sheds they want to see. "My experience is these sites attract lesser quality leads, confuse potential buyers and distract shoppers from their original target item," says Kuhlman.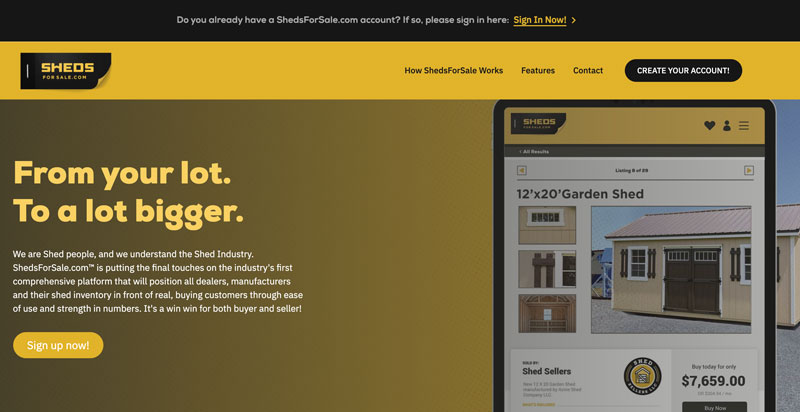 "Think Wal-Mart. How often have you gone into Wal-Mart and came out with everything else you didn't need (or weren't looking for) only to have forgotten what you went there for in the first place? Consumers seriously considering purchasing a shed will want to use a site like Shedsforsale.com." 
Huxman feels the same way – that online platforms strictly for selling sheds will meet a consumer need. "Shedhub.com is a marketplace specifically for sheds and other accessory buildings. Facebook is trying to sell everything to everybody and can't focus on any one thing. Consumers are very much used to marketplaces that sell a very specific set of products and rely on these marketplaces to make good shopping decisions."
When asked what online selling platforms might offer a dealer who chooses to operate under "old school" face-to-face selling techniques, Huxman explained, "Marketplaces are great things for people who live a little bit out-of-the-way from certain sellers. For instance, if it wasn't for autotrader.com, I would've never found a car in a town that I normally would never go to; I only went there because they had the car I was looking for. The same thing holds true for sheds. You have customers looking for your products, and are not going to spend the time to travel to you unless they know they'll be able to see the buildings they are interested in. Showing current inventory online is a great way to bring people out to your location to complete a deal face to face."
Kuhlman agrees: "The goal isn't to take away from physical sales lots but to enhance the old school way of selling by making your sales location and inventory more visible to online shoppers. This also helps to create more value with shed manufacturers. Most consumers want the option to shop online and view in person, or shop in person and research online."
Online marketplaces like ShedHub.com and ShedsForSale.com are another way to introduce  your sheds to more potential customers.
---
Shannon Latham is a 6-year veteran of the shed industry. He has served as sales manager, quality control, and RTO dealer support specialist, among other roles. He hosts the Shed Geek Podcast [shedgeek.com/] along with Kyle Summers, and has a desire to help move the shed industry forward.
---