By Jeff Huxmann, ShedHub
Many shed manufacturers worry about shed shoppers who are searching for the biggest bargain. And that can lead some manufacturers to take shortcuts or use inferior building materials to keep prices low. But shed customers value, well, value! It's not always about being the lowest, it's about providing features that customers will enjoy. What you'll find is that customers will notice a well-built building. They will notice the features you provide, and ­— very importantly — customers are willing to pay more for what they value.
Purchases, large and small, are heavily influenced by emotion and social influence. Keep these things in mind when you are selling sheds. The emotions of the buyer heavily influence a decision, perhaps just as much as their budget. For example, does a person need a fancy sports car to ride around town? Not at all. There are much less expensive models of cars. But the people who buy sports cars value style, speed, and handling, and are willing to pay more for a product they value.
So how do you stand out in a crowded field of shed manufacturers? Here are a few of the many ways you can set yourself apart:
Great Expectations
Always be up front about the time it can take to get a custom shed built, but add a week or two more to the delivery time. When the shed is done sooner than the customer expects, you have now just exceeded customer expectations. If further delays come up, you are then closer to what you originally told your customer. Setting and exceeding expectations is much easier than managing expectations when a customer feels let down. It will also help you stand out as a company.
Best Customer Service = Best Communication
Sheds and carports are in high demand and in many instances there aren't enough crews to build fast enough. Quotes get ignored, the phone is ringing constantly, and the sales people are terrified of being undersold by your competitor. This leads to razor thin margins and staff that are frazzled and ready to jump ship. This doesn't need to be.
Set your price points so that you can do the right job, not the cheapest job. In this economy, having happy staff leads to happy customers. If your staff are calling your customers and they sound tired and rude, that reflects on your company, and then those customers are definitely going to go somewhere else!
A great way to stand out from the pack is to dazzle your customers with such excellent customer service that they go home bragging to all their friends about their shed. Over-communicating with customers is ok to make sure they know about the status of their order. If issues come up, the customer has a better chance of being a good sport about delays if you have demonstrated to them that you care about their building.
Keep in mind a shed is one of the most expensive things beyond a home or car that a person will purchase in their lifetime. They have a lot of emotional energy tied to this purchase. Keeping them delighted with good communication is really important.
Follow-Up is Fruitful
After you have delivered an order, following up with a customer can prove to be a valuable standard practice. Many customer service people may be thinking "If the customer is not complaining, why call them? Won't that give them an opportunity to complain about something?" Yes, but that is ok!
Every company should learn from their customers and be ready to improve based on customer feedback. Many customers may be frustrated by little things, but don't share that with the company. Asking about how their order and delivery went will help you weed out problems within your company, and you'll also discover which customers absolutely love your products, and here is where those customers can help you. If you ask them to leave a review on Google or Facebook, those reviews can help bring in your next customer. Send those customers links to review you and tell them how much you would appreciate it if they would help you in this way.
Another good form of follow up is to send a thank-you card to each of your customers. This "warm-fuzzy" gesture can only help your company by letting the customer know that you appreciate them.
Fancy and Finished
Real estate prices are growing across the country and prices in places like California have been sky-high for decades. The housing crunch means more people can't find a home or can't afford a large home. Many people are also re-thinking the necessity of needing lots of things. Billionaire Elon Musk recently sold all his homes and is now living in a 375 sq. ft. modular dwelling delivered near Starbase, Texas. For many people, less is more.
But few people actually want to live in a bare-walled shed. They want all the comforts of home, just less square footage to maintain. Companies like Boxabl, InShed, and Studio Shed take sheds and small spaces to the next level by delivering small, but posh, dwellings. They take more effort to build, and the price tags get bigger, but people are willing to pay more for the comfort and ease of not having to finish out their own tiny home.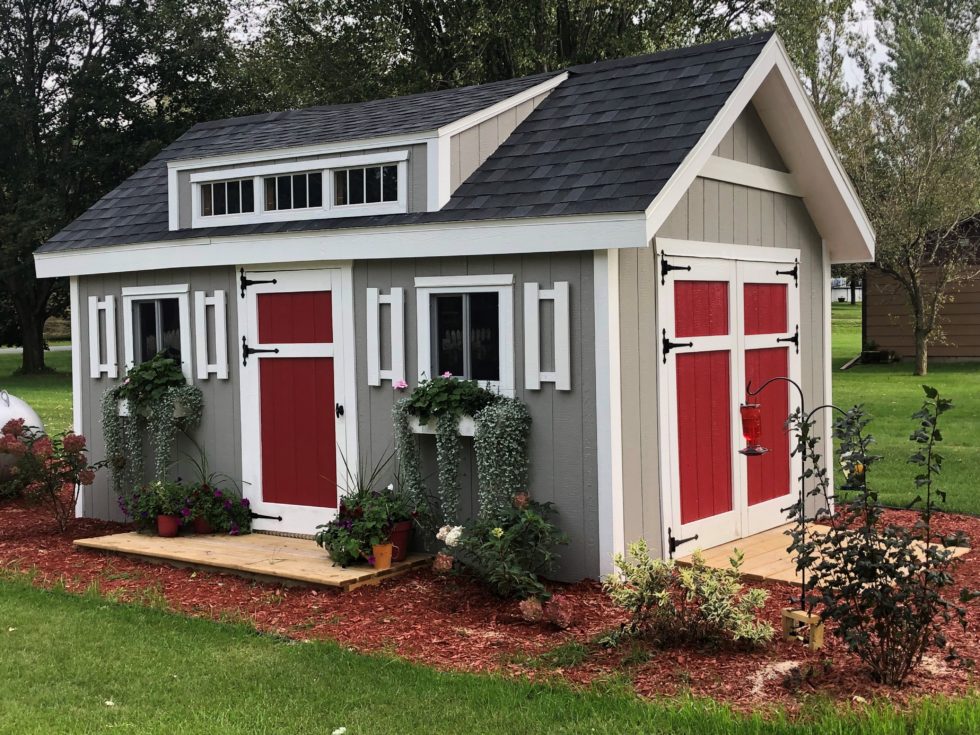 Kit and Ship
As mentioned earlier, places like California have a huge need for housing. California has also had a labor shortage for a long time now. Delivering sheds to semi-urban areas can also be a challenge as most homeowners have fences and it's a tight squeeze to get into backyards. To help with labor shortages and to open up their products to customers with smaller parcels, many shed companies have found a happy medium between on-site building and 100% factory-built sheds. These sheds are prebuilt, and then disassembled into larger pieces that can be fastened together with ease on the customer's property. These kits can be built with smaller crews and in less time. Some kits, such as those delivered by the Little Cottage Company, are meant to be easy enough to put together that the customer could build the structure themselves. When you make kits like this, the advantage is that your sheds can go anywhere a pallet can be shipped. This may open up a new territory for you.
Get Rough
As prices of lumber kept going up throughout the pandemic, many people with otherwise-dormant small lumber milling equipment realized they could make good money by cutting lumber themselves. The lumber that comes out of smaller machines may be rough-cut, but that look is in vogue. Consider using a more rugged look. Who knows, you may be able to market and sell the shed made with rough-cut lumber for more than the more finely finished wood products.
Most small-time operations can't produce treated lumber. Using treated runners and flooring materials is still a good idea. Anything above the floor is the best for the rough-cut look.
Olfactory Delights
Have you ever walked into a kitchen filled with pleasant odors and suddenly been thrust into a memory of your childhood? Probably. Have you ever walked into a shed and thought to yourself, "This is the best-smelling shed I have ever been in!"
No?
Neither have I. But I know there are people working on that right now. If you want to get people to remember your building the moment they walk in, think about natural wood products that have a pleasing odor. I'm thinking cedar or eucalyptus trim on the interior of the shed might help.
I hope this gives you some ideas of how you can make yourself more memorable to potential customers. How is your company standing out from the crowd? GSCB
---
Jeff Huxmann is the founder of shed industry marketplace ShedHub (shedhub.com), which offers marketing tips, sales tips, and more. Send comments and feedback to [email protected] or call 415-915-7433.