By Marcus Josiger
RTOs and Portable Buildings
Investing in portable buildings can be challenging. The current state of the economy and inflation does not help with significant financial decisions. Customers need alternative payment plans. Today, alternative strategies exist to help customers pay for portable buildings. Understanding which payment plan is best for your customer is a business priority. Focused specifically on the Rent to Own (RTO) plan and its benefits, this article further explores the world of alternative payments, allowing readers to understand popular payment options.
Getting Up to Speed on Payment Plans
Financing usually occurs through a 3rd party—banks or credit unions are the most common. The lending party assigns an interest rate based on credit and several other factors. Interest rates generate profit for the lender. Both parties must agree on the interest rates and the repayment contract length. Financing plans are rigid payment options. Ensure that your plan allows you to pay off your remaining loan balance early with no penalty. Customers who have missed a payment may be subjected to a "late fee" charge. Furthermore, any missed payments lead to damaged credit scores, even if you repay your loan afterward. The end goal of financing is to own the item.
Renting: Focused on borrowing a product or space. Usually rentals are for no longer than 30-day increments.
Rent to Own: Also known as leasing or lease to own, this is the most flexible payment plan available. There is no credit check. Instead, you can pay until the agreement is over at which time the customer owns it. Other options include exchanging the product for a different model. In layman's terms, it is like a subscription to a service or product, where the customer can own the product at the end of the day. In this industry, leasing almost always leads to buying the product. The most common exception is leasing a storage room. In this case, the person leasing the space is simply borrowing the area for the length of the contract.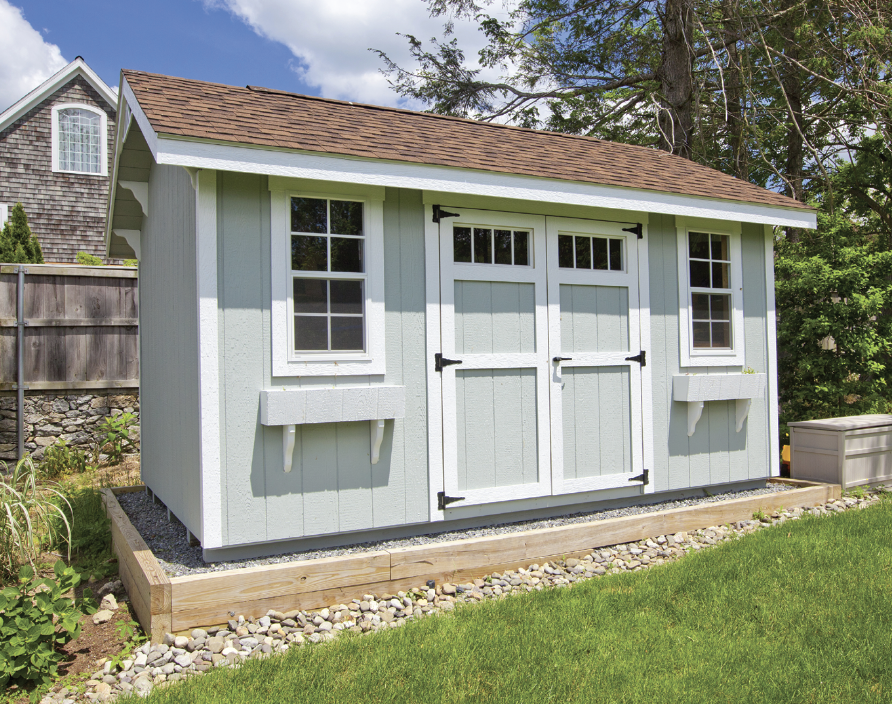 As mentioned previously, RTOs are like a subscription service; they give customers a sense of freedom. Canceling their shed payments is easy and allows clients to walk away from their "subscription" anytime. In contrast when the shed has a finance plan, customers would be required to sell the portable building outright and pay off their remaining loan or risk defaulting on a financial contract, risking repossession and damaged credit. Left with potentially increased interest rates, the client's next loan will be faced with penalties. RTOs' flexibility provides customers with comfort. In times of financial crisis, portable buildings are not the customer's first concern; their families are.
Additional features RTO includes are contract buyouts. This perk allows customers to pay off the entire contract with the money in hand. Furthermore, RTOs may appeal especially to younger buyers because of the financial freedom it provides. Student loans, car payments, and high-interest mortgages are deciding factors for these market trends. However, RTOs are for more than just a younger demographic. Customers concerned about their credit or who are unsure if they may move are also great candidates.
RTO Usages in Portable Buildings/Structures Industry
RTOs are an excellent option for large purchases. Portable buildings, boat lifts, carports, steel buildings, and HVACs are just a few. However, this payment plan has its limits. Despite the range of products RTO covers, there are restrictions. For example, RTOs are not a viable option for buildings intended for housing people. Structures with foundations also fall into this category.
Concerns for Portable Buildings with RTOs
Structural limits are not the only concern. Buyers must be aware of local regulations. Researching building and transportation limits is a must. Check in on local guidelines if your neighborhood has a local Homeowners Association (HOA). Planning is an absolute must.
Clients must consider installation and removal issues when placing an order. Wet/damp grounds are not suitable for any structure. Removal of the building must be possible, even if the customer plans to keep the unit, in case the customer can no longer afford the shed or does not wish to keep it. Installing the portable building is the top priority while avoiding structural and physical harm. The biggest concern with RTO and portable buildings is the weather. Extreme weather conditions can halt transportation making installation or removal of products difficult. Often, bad weather can add days to projects. Complications can arise during wet periods. Mud makes removing the shed difficult. It can cause heavy vehicles to slide or become stuck. Winter freeze-overs can also be problematic. Sheds sink in water and mud, which freeze over, increasing the difficulty of product removal.
Conclusion
Despite transportation and repair issues, RTOs are a great alternative payment option for portable buildings. As mentioned before, market trends suggest that the housing market is changing. Younger people are looking into buying houses; often loans affect their financial decisions. RTO gives the freedom the customer desires while the dealer makes a valuable sale. When considering RTOs for your company's purchase plans, be sure to weigh the positives and negatives of this option. GSCB