Building To Complement Existing Structures
By Karen Knapstein
A residence is often the first structure to be added to a property; "toy sheds" and other accessory buildings come later. When the time comes for an owner to add an accessory building, it's often up to the designer to make the new structure fit in with the other buildings that are already on the property.
One of the simplest ways to begin the design process is to get clear photos of your customer's house or the buildings that sit near the new shed's location. This simple trick will make selecting colors, doors, trim, shutters, and roof material much easier.
Design To Complement
Dan Nyberg, sales training manager at Morton Buildings, said when he was selling he always encouraged people to not try to match their building. "We want to complement your building," he said. "Because, if you're going to match it, it has to be an exact match." Otherwise it doesn't look right. If you're looking to match, then you better find the exact same sources for exterior steel and trims and so forth as what's on the other building, because if it's not exact, it usually looks like the builder tried but just couldn't get it, he said.
Color is a huge factor when designing buildings to look good together. Instead of trying to exactly match a building, Nyberg recommended figuring out which colors are the key ones the customer wants to carry over between the residence and a new building. "Figure out which colors are the key ones that they want to carry over and how can we do a building that looks very good sitting next to the existing building but doesn't look like an 'almost' match."
Design Tip: If the house has tan or gray siding, and it can't be matched exactly, try a darker hue of tan or gray for the shed. Look at the colors side-by-side to see how they will look together before you finish the building with it; use a large enough sample to get a good feel for how the end result will look.

 
As an example, Nyberg said he sold one couple a building and "they went with the evergreen as an option" because that was the color they were going to paint their front door. They painted the front door of their brick home an evergreen color, and they went with white trims on the shed that matched the white trims on the house in addition to the evergreen. The couple really liked the effect and thought it was absolutely perfect, he said.
He said a lot of times you can tie two buildings together visually by using the same trim colors. If it's a dark shingled roof on the house, you can go with a charcoal or a similar color steel on the roof if they want to go with a steel roof. "People will accept a different material that's a very similar color," he said. "Then you just carry through with that color that you want to be the tie-in to tie the two together."
Shutters
Shutters are another detail that will help tie a residence to an accessory building with windows. Shutters are easy to change; if you need to, you can replace the shutters on existing buildings and put the same ones on new buildings and they will all match and tie the buildings together.
If adding or replacing decorative shutters to tie the look of buildings together, ShutterContractor.com recommends the width of the window and the distance between windows should be taken into consideration when determining the width of exterior shutters. They say the width that usually works best is between 25% and 33% of the total width of the window including the window trim.
If the owner would like to make their outside shutters look like they'll close over the windows, as many designers and architects recommend, install shutters that are close to 50% of the size of the glass and window frame only, excluding the window trim.
In most cases, the most appropriate height of a decorative shutter is from the top to the bottom of the window trim. If vinyl shutters are to be installed above a sill, it's important to leave a gap of at least 1/4" inch to allow vinyl shutters to expand and contract.

Windows
You can also match windows if they have a specific style of window. If they have casement windows on the house, you can put casement windows on the accessory building. If they have double-hung windows on the house, you can put double-hung windows on the accessory building. "That's one thing people don't think of very often," Nyberg said, "but if you've got good complementing colors and then the walk door is an exact match and the windows are an exact match and the shutters are an exact match, all of a sudden you've got people going 'Oh wow! That building really looks good!"
It's very common that in post-frame construction, the individual companies have their line of windows stocked at the plant or offer as standard. It shouldn't be a problem for any of them to be able to get a window that matches. If you've got Anderson or Pella or Marvin windows on the house, you should be able to purchase that same style window from that same manufacturer and install it on the post-frame (or new) construction and that gives a very, very close tie.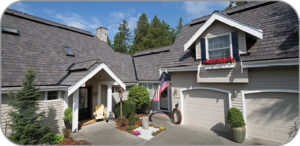 A Word About Shed Size
While the customer is always right, and they know their own mind, you should acknowledge that the size of a shed should be considered as well as its design when in the planning stage. A shed shouldn't be so big it overwhelms a property; it should supplement the residence, not overshadow it.
On the other hand, a shed has to be large enough to suit the owner's intended purpose.
In summary, when it comes to tieing buildings together on a property, thinking "color" and "components" can take you a long way when it comes to making your customer happy. GCSB