By Karen Knapstein
It's no secret having different exterior options makes sense since changing the look of a shed model is as easy as selecting different materials to cover the frame. Let's take a closer look at some of the materials commonly used on shed exteriors.
Morgan Merkert of building supplier Capital Forest Products answered our questions about products popular with shed builders and some of the things to keep in mind when using them.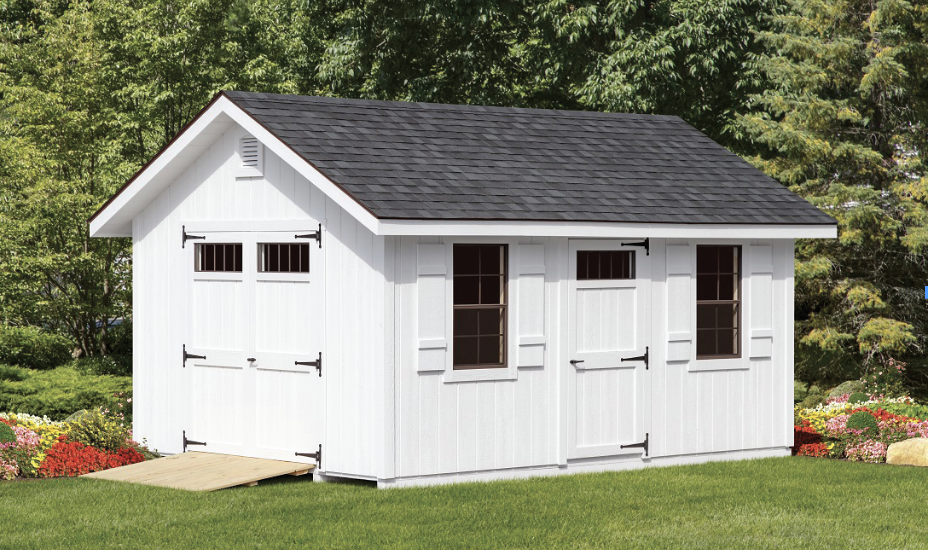 DuraTemp
DuraTemp, manufactured by Roseburg Forest Products, is a popular product with many shed builders. "DuraTemp from Roseburg is one of the most popular shed siding products," said Merkert, "There really aren't any special tools needed, there's no extra labor, you don't really need anything special. It's an easy, fast process to get walls up on a shed."
DuraTemp is a panelized plywood siding product manufactured in Oregon. (T1-11, sometimes referred to as T111, is a generic term for this type of plywood siding.) The grooved plywood panels are 4' wide x 8' long; the product carries a 50-year limited warranty. The face veneer is tempered hardboard, while the core and back veneers are Western softwood. It has a rough-sawn cedar appearance and is available either raw or pre-primed with an exterior latex primer. It has a clear face, making it easy to paint or stain.
If pre-primed, the manufacturer recommends specific paint for the best results.
Additionally, according to the DuraTemp product guide, semi-transparent or opaque stains, as well as oil-based house paints, are not recommended for use on DuraTemp siding. Solid-color latex or oil-based stain can be used but must typically "be reapplied more often than acrylic-latex paint." No matter the product to be applied, the manufacturer recommends painting with either a brush or a roller rather than spray application (back-brushing may be needed in the grooves when spray-painting).
DuraTemp, which should always be installed in a vertical orientation, can be installed directly over wall framing, 16" on center. The siding should be fastened with 6d nails for siding up to 1/2" thick, and 8d for thicker panels. When applied over wood or plywood sheathing, the nails must penetrate 1" into the studs. Panel ends and edges should meet over framing, with a 1/16" minimum gap between panel edges and an 1/8" gap between panel ends to allow for possible panel expansion.
Shingle Panels
Capital Forest Products is also a supplier of Cedar Cove shingle panels by Shakertown 1992, Inc., of Winlock, Washington. Higher-end products are available, but this is an economy siding product that is made by bonding Western red cedar mixed-grain shingles to exterior grade plywood, creating 8' self-aligning panels that install 10 times faster than individual cedar shingles.
The panels can be installed over solid nailable sheathing, over insulative board, and over spaced sheathing. The manufacturer recommends using corrosion-resistant (hot-dipped galvanized or stainless steel) 1 ¾" roofing nails for blind nailing at a maximum distance of 16" on center. Nails should be long enough to penetrate the studs a minimum of ¾". Nail heads should be flush with the panel. (Sinking the heads into the panels can affect the long-term performance of the siding.) Installation instructions also say to "Always put one nail ½" from the ends of each panel." They also advise to never nail from both ends toward the center of the panel, and to have the panels face-down when cutting to prevent splintering.
Since this is a natural wood product, space should be left at joints for expansion. Allow 1/16" spacing at overlocking end joints, and 1/8" spacing where panels butt against windows and doors. Joints should be caulked with non-hardening caulking compound. [Shakertown Technical Bulletin 1102]
The product is coated on all sides with an oil primer. It can be left unfinished; however, the manufacturer recommends finishing to prolong the life of the siding. "Oil stains are the recommended finish agents for Shakertown cedar products as they allow natural moisture to escape without causing blistering and cracking of the coating film." [Shakertown Technical Bulletin 4001, Stains and Finishes]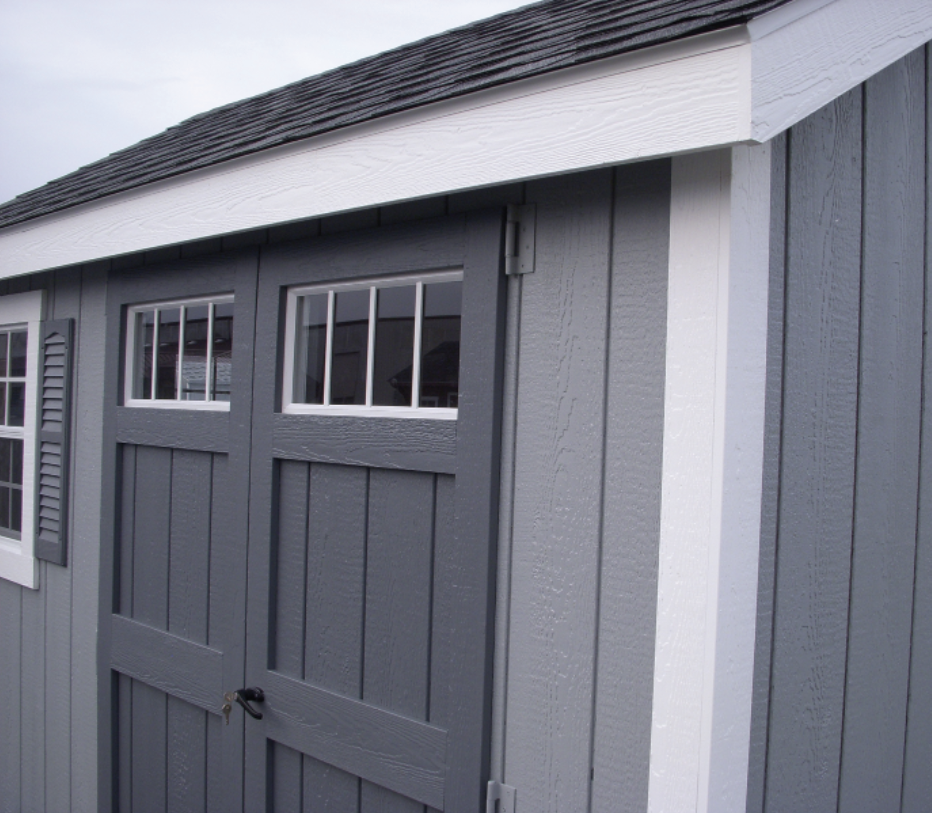 MiraTEC Trim
"MiraTEC is a composite board that is pretty much one of the most popular trim boards," said Merkert. "It's dense, it doesn't separate, and it cuts consistently."
Manufactured by JELD-WEN, the product is created using the TEC™ (Treated Exterior Composite) manufacturing process, which bonds natural wood fibers with phenolic resins and zinc borate. The resulting wood composite trim is resistant to moisture, rot, and termites. The product is strictly for non-structural applications. Typical uses include, but are not limited to, soffit, fascia, window trim, corner boards, shutters, column wraps, and door casings.
MiraTEC trim is factory-primed on four sides with a low VOC primer containing a mildewcide. It's reversible, with a wood-grain texture on one side and a smooth texture on the other. The product must be finish painted for the 50-year warranty to be valid.
It has a wood grain texture and can be nailed without splitting. The company advises MiraTEC trim should be installed with 6d or 8d 15-gauge finish nails or headed nails that are long enough to penetrate through sheathing material and 1 1/4" into studs. It should be nailed at least ½" from the edge and nailed from one end to the other (as opposed to nailing from both ends toward the center). Double nail on both sides of a joint, a minimum of ½" from the edge. Caulk or sealant that remains flexible over time should be used at joints on all cut and raw ends. For runs less than 30' long, as would be the case with most portable sheds, butt joints should lightly touch. For runs over 30', butt and scarf joints should be spaced 1/8" apart with flexible sealant filling the 1/8" joint.
The trim should be kept in the manufacturer's original containers and packaging, unopened, until installed. It should be kept dry and stored off the ground on a flat surface, protected from the weather.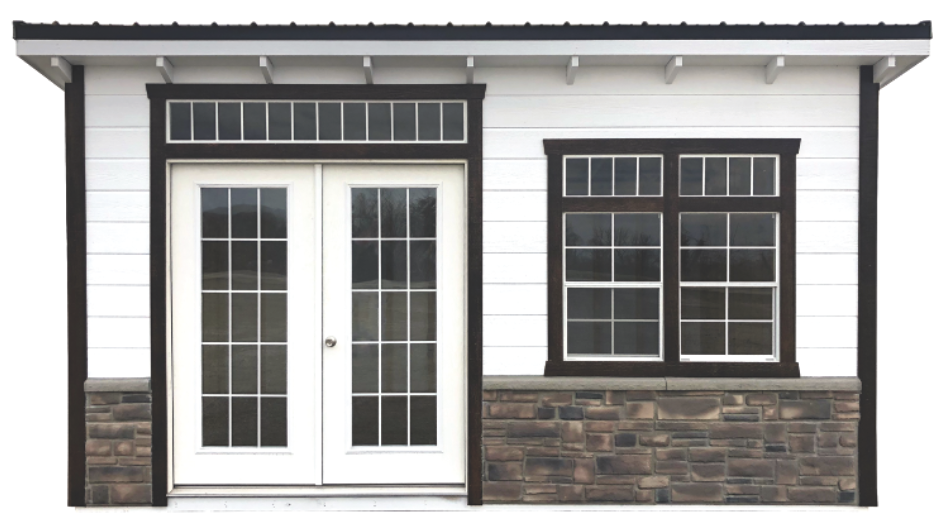 Faux Stone
Qora faux stone cladding panels give buildings a premium look of stone without the weight and specialty labor of traditional masonry products and installation methods. Qora Cladding, manufactured by Arcitell, is installed with standard carpentry tools. It can be installed directly onto studs or over existing siding materials such as DuraTemp (T1-11), metal, and LP SmartSide, for knee wall, accent wall, and wainscot applications. It comes in 20" x 48" panels and is designed to install with basic carpentry tools and fit together seamlessly with disguised joints. With each panel covering 6.6 sq. ft., Qora Cladding's panelized system gives faster coverage than masonry. The product will not rot, decay, or burn, and provides an aesthetic quality and 20-year warranty.
Boral Building Products' Versetta Stone panels are another option that shed builders can use to quickly achieve the look of stone. It's a mortarless, panelized product that creates the natural look of stone with a simple installation; the 8" x 36" panels install "quick and easy." Kyle Stumpenhorst of RR Buildings, which specializes in post-frame construction, is very familiar with the product. "The beauty of installing Versetta Stone is not just how good it looks when done, but how quickly and easily it installs!" he said.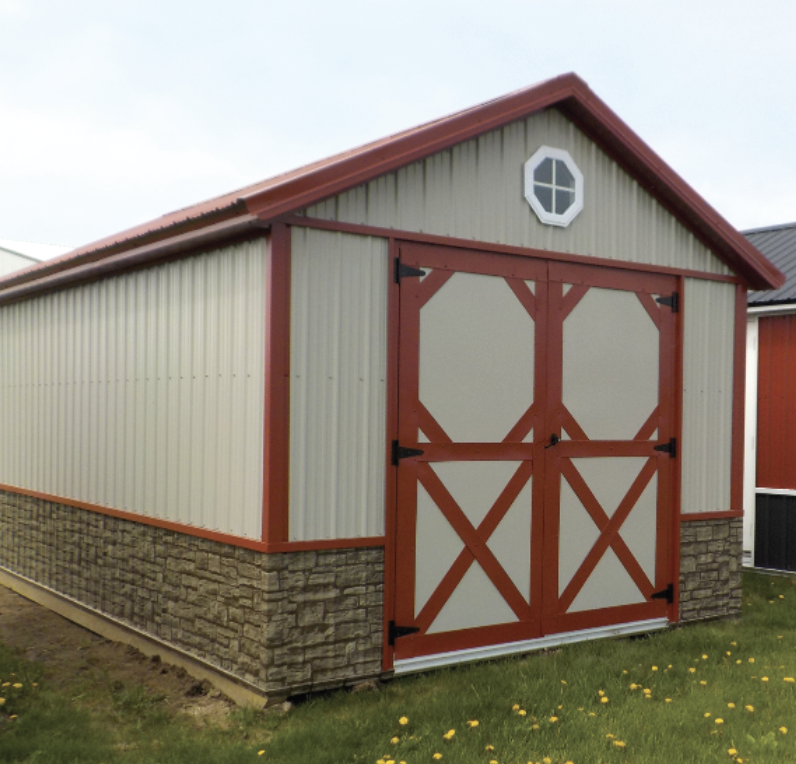 New Angles On Steel
Typically, to get a clean and traditional board and batten look, it takes a lot of solid-sawn lumber and ongoing maintenance. Graber Post Buildings, Inc., Montgomery, Indiana, offers a Board & Batten panel that requires no painting, sealing, or maintenance. The panel is rolled from 26-gauge steel and is available in 28 color options (22 flat colors and 6 textured colors). The panels are coated with the AkzoNobel CERAM-A-STAR 1050 paint system, which carries a 40-year paint warranty. Each panel, which is available in either a flat or embossed wood texture, provides 10" of coverage with 8" rib spacing.
Hixwood Metal (Stanley, Wisconsin) manufactures steel panels in 24-, 26-, and 28-gauge. They use Beckers coil coatings and currently offer 20 flat (BeckryTech) and 15 textured (BeckryTex) finishes. Among the BeckryTex finishes they currently offer are patterns that look like stone, brick, and wood — one of which looks like cedar bark.
"Paul Zimmerman Jr., Vice President of Hixwood Metal, said, "Textured panels have been very up and coming, and in all colors." He pointed out that some homeowner associations prohibit metal siding or may require special siding treatments. For example, a lakefront property may require structures have a stone façade. A faux stone-finished metal panel may meet the HOA requirement without using stone, and it can be installed much quicker and at a fraction of the cost.
Hixwood chooses to use coatings from Beckers because it performs well, as proven by samples in the test wall facility in Florida. To back up its performance promise, Beckers has a 40-year limited warranty on sidewalls and 35-year warranty on roof panels.
Steel siding from TruLog is a premium product in quality and price. Based in Loveland, Colorado, the company manufactures maintenance-free log siding panels from 26-gauge galvanized steel that carry a 30-year paint coating warranty. The steel siding can be cut with hand snips, nibblers, or a radial arm saw with a non-ferrous, metal-cutting blade designed specifically to cut steel. The manufacturer recommends installation with 1" to 1 ½" galvanized or anodized screws.
The patented steel siding incorporates hew and chink lines into the design, making it look like real logs; both the color and texture add dimension. A foam backer, placed behind the log siding during installation, supports the curved profile from behind, which helps prevent denting, and adds an insulation value of R-3 to R-4. The siding is shipped in 12' lengths that are 9" tall. TruLog also manufactures Steel Board & Batten and Steel Lap siding, all of which have a Class 4 impact rating and Class A fire rating. While it offers all the trims necessary to finish a building, the company can also provide color-matched coil stock for those who want to bend custom trims themselves.
Editor's Note: Watch for in-depth coverage of LP SmartSide in an upcoming edition of Garage, Shed & Carport Builder. If you there is a specific product that you prefer using, I'd love to hear about it. Please call or email me and let me know what the product is and why you like using it. [[email protected]; 715-513-6767]