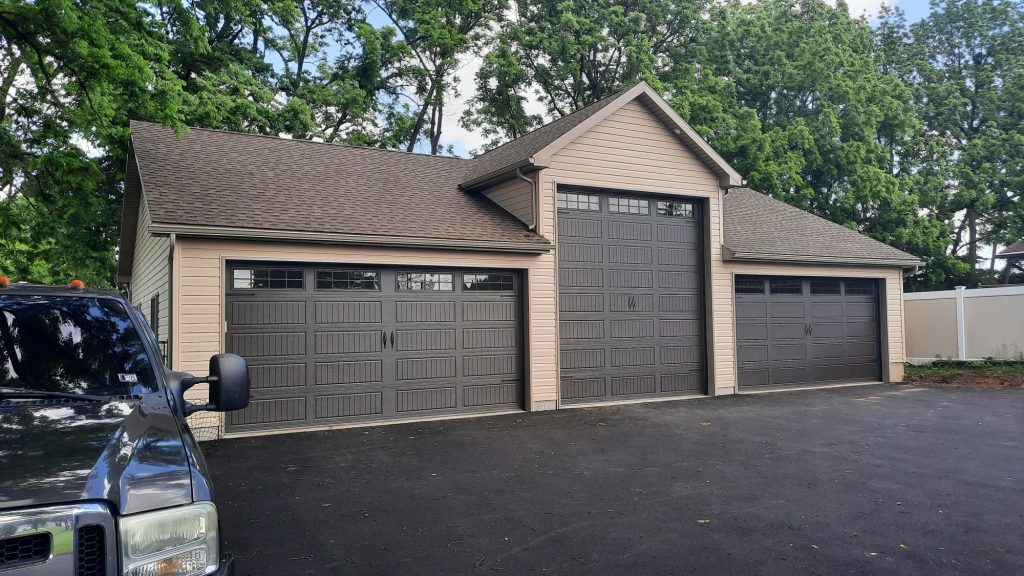 Building Specs
Size: 32'x50'x9'6″ & 14'6″ 6/12 (main roof) & 8/12 (reverse-A)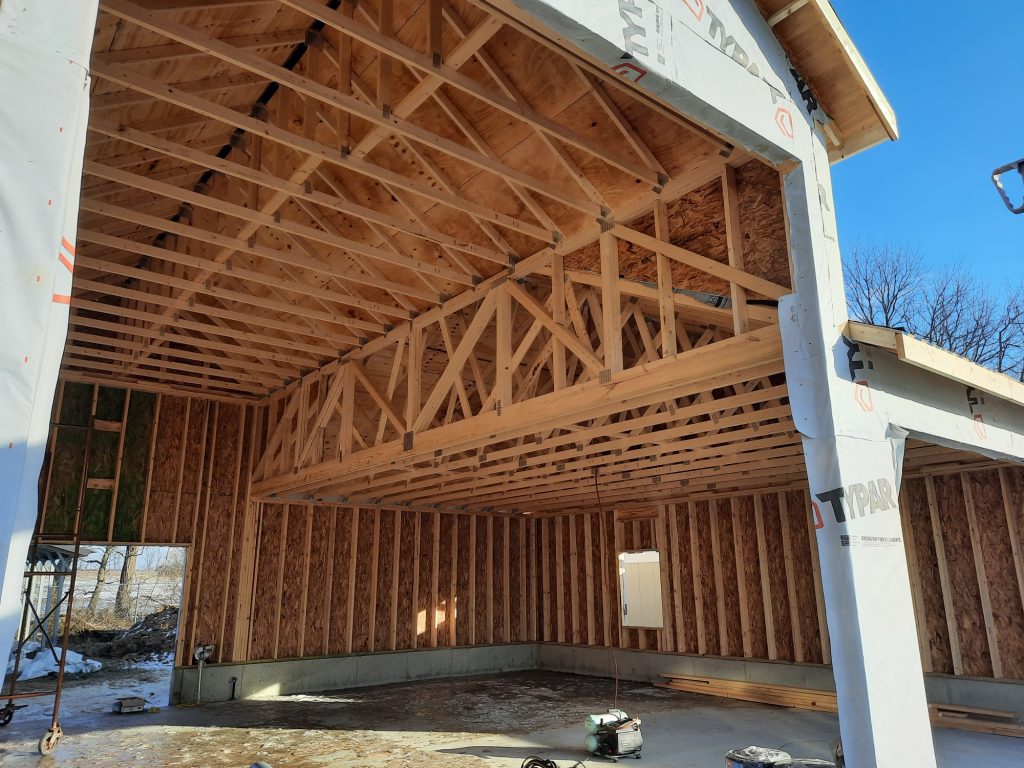 Doors: Hormann 16'x8′ (2) & 12'x13′ (1) model 3200 cottage-style long panel with Stockton windows & jackshaft operators
Foundation: Poured concrete
(footers & walls), rebar-reinforced 8″ walls with 1/2″ rebar
Insulation: Owens-Corning
batt-type R-21 walls & R-38 ceilings
Special Interior Features: Shiplap/Raw Pine T&G Ceiling
Posts: Conventional 2×6 stud wall
Shingles: GAF Timberline HDZ
Ventilation: Cobra Gun type under cap shingle ridge venting.
Wall Panel: Mastic Ovation
Windows: Simonton Profinish vinyl, Low-E glass, 36″w x 48″h
Trusses: Rigid Ply Rafters 32′ x 14′ span, A-Frame 30# Live Load, 32′ Girder Trusses for center reverse-A.
Wall & Ceiling Liner: Metal Sales painted steel wall & ceiling liner 29 ga. classic rib painted steel liner panel.
Additional Features: 50-amp sub-panel, plumbing including frost-free hydrants, fiberglass wash tub with on-demand water heater. LP gas fired unit heater (Modine Hot Dawg).
Martin Construction was in the permitting phase for the construction of a commercial building for this client's logistics trucking business when he approached the builder about designing and building an upscale insulated and finished garage at his residence. The main goal was to house and maintain cars, pickup trucks, a boat, and a semi-truck tractor. The truck tractor presented the greatest challenge, with height restrictions along with a limited area to build. The design requirements also included similar exterior coverings to his residence. Martin came up with a design utilizing a reverse-A center roof allowing a residential-sized garage that fit into the property's setting. By utilizing girder-style trusses to support the reverse-A trusses, Martin Construction kept the garage free of interior support columns.