In business since 1848, Maze Nails offers a full line of painted nails to match manufacturers' colors. Maze is the exclusive manufacturer of Stormguard double hot-dipped Garage Door Jamb Seal nails, and double hot-dipped Soffit and Fascia nails with a lifetime warranty against rust. The thick, uniform zinc-coating is compatible with aluminum, and the strong steel shank drives much better than aluminum nails.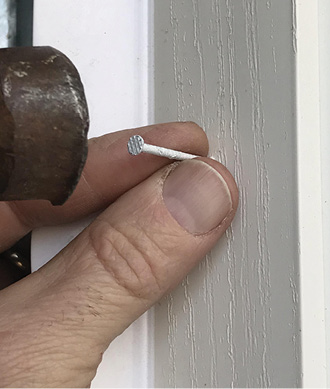 These painted, hot-dipped galvanized nails are perfect for applying jamb seals on garage doors. Jamb seal nails are available in a variety of colors, including brown and white, to match manufacturers' colors. The plain shank (14 gauge) garage door jamb seal nails are offered in three lengths: 1-1/4", 1-1/2", and 1-3/4"; all have 7/32" head size. The ring shank (12-1/2 gauge) garage door jamb seal nails are offered in two lengths: 1-7/16" and 1-3/4" and have 3/16" head size.
Maze's Stormguard Trim Nails are stocked in White and Brown. All weighted at 14 gauge, they are available in 1-1/4" and 1-1/2" lengths. The nail heads measure 7/32".
Maze also has an entire line of stainless steel painted trim nails in more than 200 colors. Maze trim nails have a textured head specifically designed to hold more paint than a flat head. In addition, Maze manufactures nails for post-frame construction, fiber cement siding products, cedar and redwood siding, fencing, decking and roofing. Maze Nails are proudly made in the USA in Peru, Illinois.
Visit https://www.mazenails.com for complete product information. GCSB