rFOIL's 2200 Series Underlayment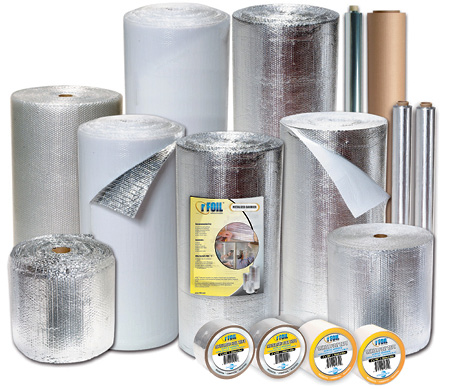 rFOIL® Reflective Insulation 2200 Series underlayment is an effective energy efficient barrier that can greatly reduce transfer of radiant heat through roofing. The new 2200 Series underlayment's polyethylene bubble material, sandwiched by a layer of metalized foil and a white polyethylene sheet, provides an added R-value of 1.1. When there is an airspace between the 2200 Series underlayment and the metal roof, the system boasts an R-value of 4. While most insulating materials/underlayments rely on retarding the flow of heat through walls and ceilings, the 2200 Series underlayment works by reflecting as much as 96 percent of the radiant energy, dramatically reducing energy costs in air-conditioned homes and buildings, as well as creating an effective "shade" in non-cooled outbuildings, garages, porches, and utility buildings. It can be taped to purlins, stapled to rafters or studs, or rolled out on roof decking or existing shingles prior to installation of metal roofing or siding panels.

Spyder Circular Saw Blades With Nickel Cobalt Teeth
Spyder Products has expanded its range of circular saw blades with the release of four new options. Spyder's line of circular saws now spans from 6 1/2-inch to 12-inch sizes for use in miter, table and portable circular saws. Each blade features ultra-tough NiCo (Nickel Cobalt) teeth for long-lasting cutting efficiency, alternating tooth bevel design (ATB) to create clean rip and crosscuts, and an interfused anti-friction coating.
The strong NiCo teeth of Spyder's circular saw blades are triple sharpened and, when combined with the ATB design, deliver a much smoother cut for a range of applications — from framing and general construction to specialty demolition and fine finish work. Spyder's interfused anti-friction coating protects the blade against heat, gumming and corrosion. Polymer stabilization vents reduce noise and vibration allowing for rapid drive through the substrate.
Each saw blade is sold individually. A 10-pack of 7-1/4" framing/general construction blades are available for professional users.

Rockler Miter Gauge and Miter Gauge Fence
Rockler Woodworking and Hardware has introduced a sturdy, easy-to-set and highly precise miter gauge along with a telescoping aluminum fence that mounts easily to the new Rockler miter gauge or to other gauges on the market to provide extended support for longer workpieces and an adjustable stop for making quick, accurate repeat cuts.
The Rockler Precision Miter Gauge has an aluminum head with an easy-to-read scale ranging from 0° to 70° in both directions, plus precision-machined positive stops at 0°, 15°, 22.5°, 30°, 45° and 60°. A spring-loaded stop locks into the notches that create the positive stops, and a machined hairline indicator makes it easy to set other angles. The Precision Miter Gauge's 18" steel miter bar works in 3/4" x 3/8" standard and T-slot miter slots and features adjustable nylon set screws for eliminating slop. It comes with two knobs and two T-bolts for mounting a fence, and all knobs feature rubber overmolds.
The backbone of the Rockler Miter Gauge Fence is a rigid 2-1/4"-tall x 1-1/8"-deep x 14"-long aluminum extrusion and a matching 2"-long telescoping extension that can be mounted on either side of the fence and adjusted to provide a total fence length ranging from 16" to 24". An included 3/4"-thick x 18"-long melamine-coated MDF fence face attaches to the extrusion with included hardware and can be extended beyond the fence to provide zero-clearance support for cleaner cuts. The MDF fence face also is long enough that a 2" section can be cut and attached to the telescoping extension, providing consistent support even when the fence is extended without sacrificing zero-clearance support.