The Jenkins Family Garage is a pre-engineered metal building using Varco Pruden's Rigid Frame system. It was built by Renfroe Construction of Macon, Georgia and designed by SDH Design Solutions.
The Varco Pruden package supplied most of what Renfroe Construction needed for the project, including the metal and the framing, which is described as a "rigid framed gable building with a rigid framed bump-out gable."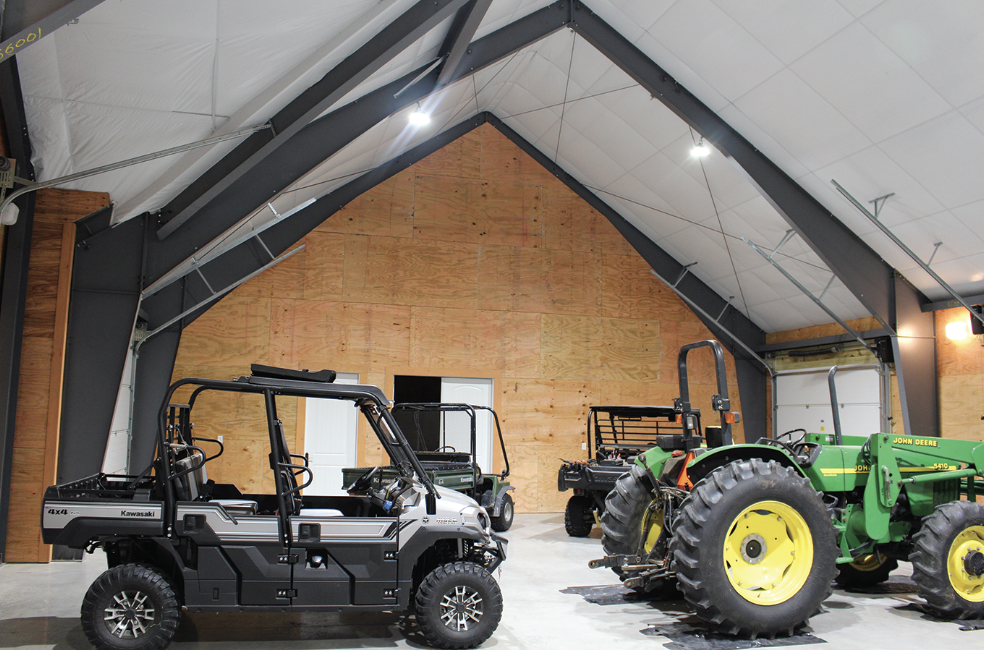 The other key component came from Thermal Design, Inc., and its Simple Saver System, which provided much of the insulation along with its interior finishing system.
The building is basically metal but actually has conventional framed walls (stick-built). The Varco Pruden rigid framing system allowed for the massive clearspan to hold the big doors and create the open space for equipment and a shop.
Most of what the builders needed came from Varco Pruden, including the fasteners, all of the framework, and the girts and purlins. Much of the rest came in that aforementioned Simple Saver System. What was added to those included Hardie Plank siding, natural stone wainscoating, and big overhead doors from Overhead Door Corp. There are no windows.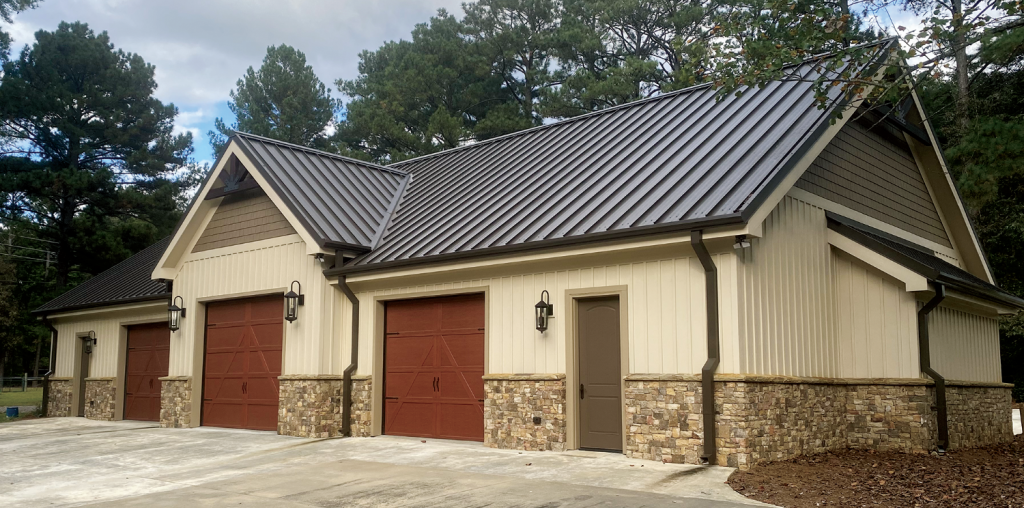 Renfroe Construction President Jimmy Melton said the Simple Saver System and the Varco Pruden package help the builder to more easily achieve the building code. "If you're going to do a pre-engineered building, and you're going to meet the Georgia Energy code, it's the best or even only way to meet the code, in a prescriptive method," he said. "If you follow what the code says, then this is the way to do it. The other option is to do some calculations and then do some offsets, but then you have to have an engineer involved."
The Simple Saver System has metal banding that goes behind the interior metal panels. The insulation gets pushed up against that banding, which holds it in the cavity.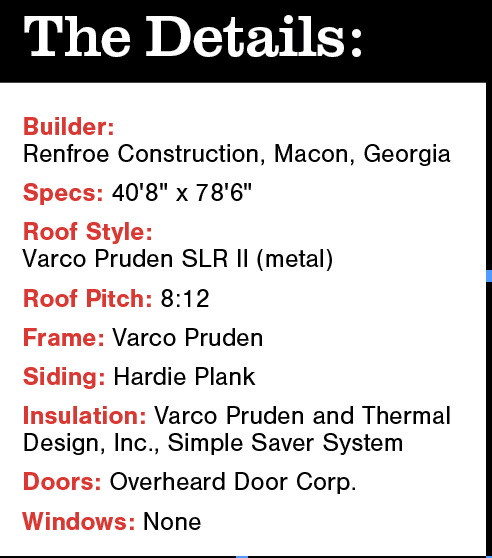 The roof panels are Varco Pruden SLR II. The company says the system is a "low-slope, concealed-fastener metal roof that meets many architectural performance specifications. Using factory-installed sealant, pre-caulked galvanized clips, and field seaming, this metal roof system provides unsurpassed performance and leak resistance."
The building has overhangs on all four sides, including a lean-to and the gable bump-out. The unconventional shapes were orchestrated by a Varco Pruden team led by Earl Blink. GSCB