By Linda Schmid
Consumer Mindsets
In a recent Kantar and Kohler market research study, the majority of participants said the bathroom is a place where they can escape when life becomes too hectic, according to Carrie Seymour, Director of Consumer Insights. Consequently, bathrooms are a popular focus of renovation.
Renovation of existing bathrooms is far more popular than building a new bathroom within existing space or adding on to the house to create a bathroom, Bill Kozlik, Kohler Co. Associate Director of Builder and Trade Marketing, said. During the COVID-19 pandemic, people spent a lot of time at home and it led to some critical thinking about home spaces and how they could be more functional based on better designs. For instance, many people felt their bathrooms could be set up more efficiently, Seymour chimed in. For example, double basins can allow two people to function at the same time, brushing teeth, shaving, washing up, etc.
Largely because the real estate market is not conducive to upgrading their residence, many homeowners are thinking about longevity, what their utilitarian needs are in the house they may be living in for a long time to come. That doesn't mean that luxury is necessarily taking a back seat. Many are building their "dream bathroom." It does mean that they are thinking about what they will need in order to stay in their homes as they grow older.
That's not just Baby Boomers. Research suggests that 74% of homeowners are thinking about modifying their homes to accommodate themselves as they age, Seymour said.
Tubs & Showers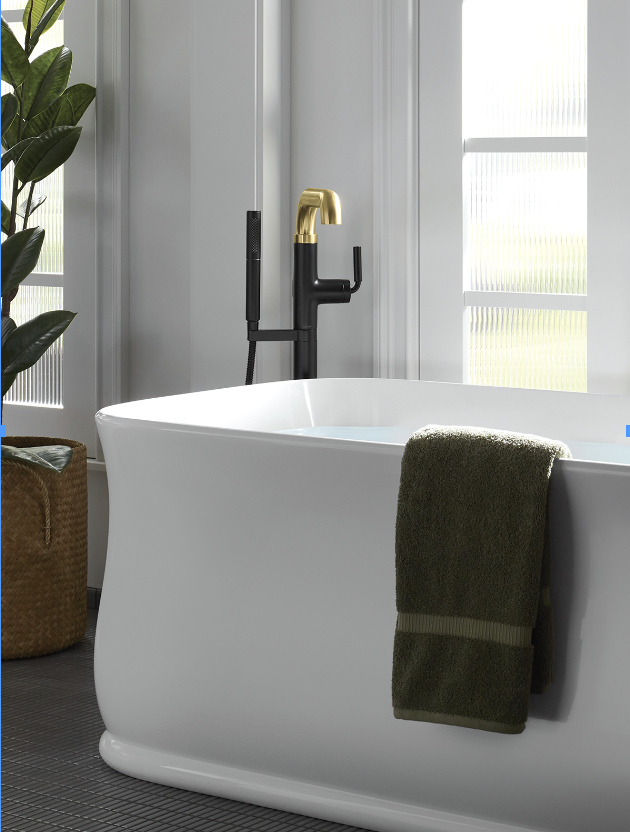 With aging-in-place on their minds, many homeowners are focused on main-floor bathrooms with accessible showering and bathing said Megan Rapp, Kohler Co. Associate Trade Manager.
Kozlik states that "showers continue to drive bathroom remodeling demand from the consumer perspective, both in terms of improving design and functionality in existing spaces."
However, tubs are very important to many people; an "escape" usually means a relaxing bath and a spa-like shower to consumers, Seymour said.
"Wet rooms where a freestanding bath is installed within the shower enclosure continue to shine within luxury homes, both in new builds and remodels," said Marla Krippendorf, Manager, Builder.
Hardware, Tiles, Floors and Countertops
Sleek and contemporary looks are the order of things for hardware. Faucet collections in matte black and brushed brass continue to grow in popularity, according to Krippendorf.
Are older colors and designs making an appearance? People who want something unusual may tap into a retro vibe.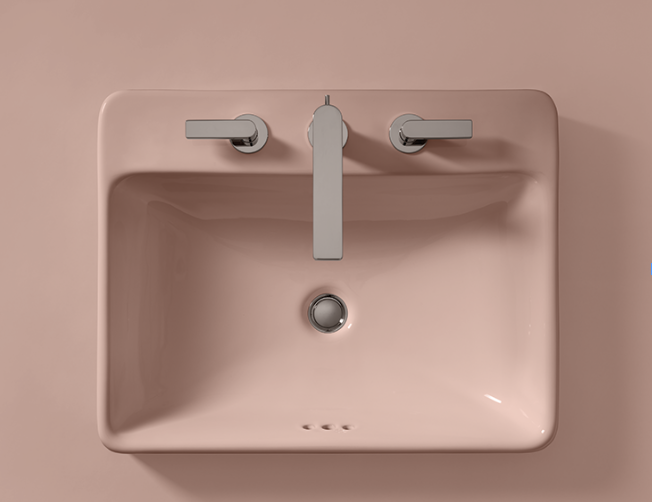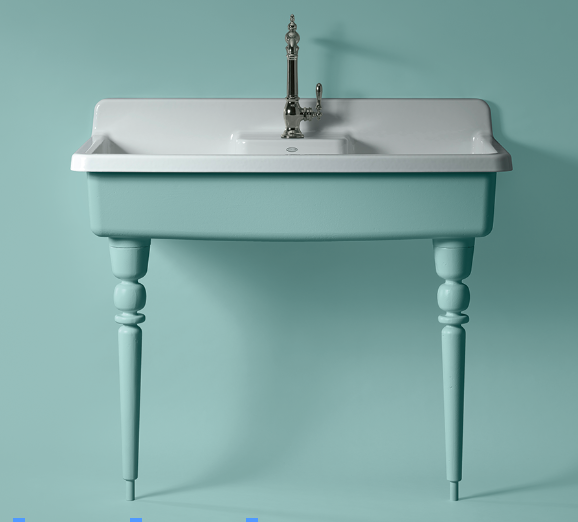 "For our 150th anniversary, we are bringing retro colors out of our archives!" Krippendorf said. "We held a vote of six popular colors and Peachblow and Spring Green were the winners."
The trendy look and feel for the bath is moving into natural materials. Kozlik said that people are creating spaces that feel like they are bringing the outdoors into the bath. This striving to feel connected to the natural world began during COVID when people often felt disconnected from each other and they turned to nature for comfort and inspiration.
This trend has continued as our culture has recovered from the disruption in our lives that the pandemic caused. "Wood, natural stones, and metals are design trends for 2023," Kozlik said. Pair these materials for floors and countertops with natural colors throughout and you will have a very spa-like space.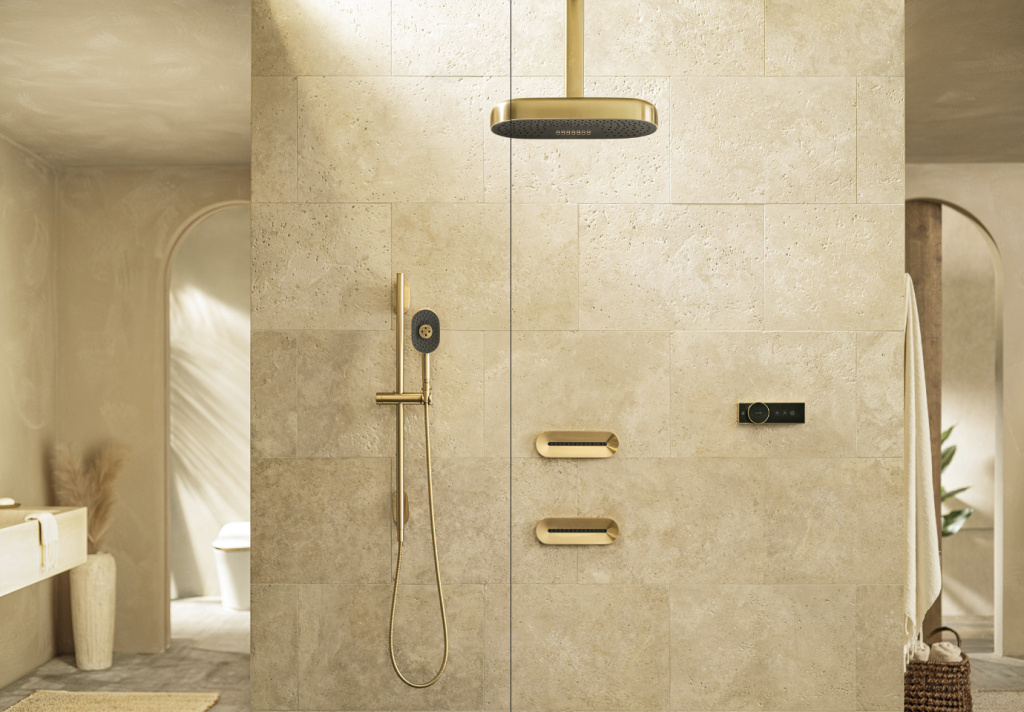 Making the Dollars Make Sense
Kohler's research shows that homeowners generally prefer to "splurge" on bathroom renovation rather than other areas of the house. "In an economic climate where people feel like they have to choose, the bathroom is a priority because of its role in creating a calming, spa-like environment within the home," Seymour posits.
"Consumers are prioritizing the bathroom space, but weighing those wants and needs against declining home values, increasing interest rates, and significantly higher cost for building materials (the latter is the biggest concern for homeowners looking to remodel)."
A builder or contractor, therefore, should try to ensure that the homeowner has thought through what they really want. Will they use a free-standing tub? According to Kozlik, utility should not be sacrificed for aesthetics. However, if aesthetics are the focus for the customer, and the elegance of a freestanding tub is truly what they want, then that is what they should get.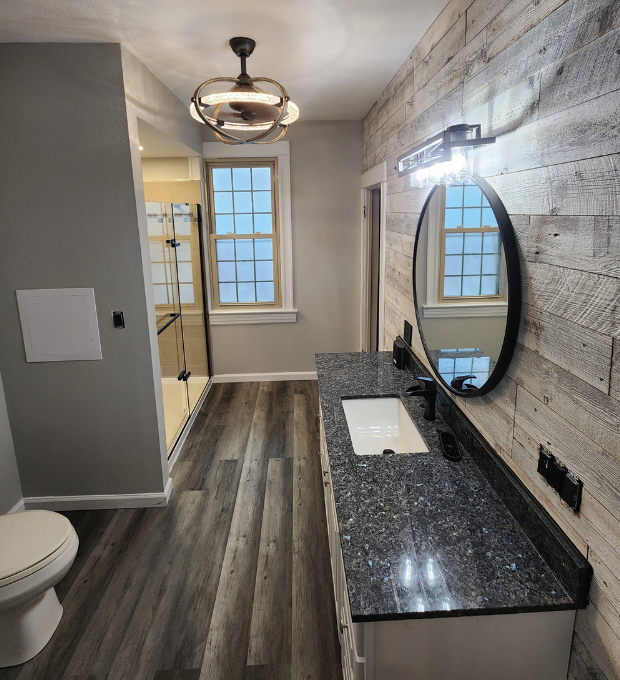 Talk to them about use of the space and ensure that the layout will work efficiently for those who will be using it. Consider the details, Seymour advises. Think about such things like outlet placement. If an outlet is placed near the toilet, for example, a smart toilet with bidet functionality is an option.
"Another consideration that is often overlooked is how easily a client can save water by installing lower GPM showerheads or lower GPF toilets which save water without sacrificing performance," Seymour said.
For assistance in designing a bathroom, Rapp suggests that contractors work with designers who know how to develop a space tailored to the client's needs. Kohler also offers a Bath Design Service to help navigate all of the decisions that must be made when renovating a bathroom. GSCB
Floating Toilets
Ronn Jefferson, Product Manager at Geberit says that bathroom renovations are big this year because increasing interest rates are motivating people to keep the homes they have and improve them. One way they are attempting to do that is making better use of the space. He says it's all about reorganizing for work from home, or being home more often, and getting the most enjoyment from it.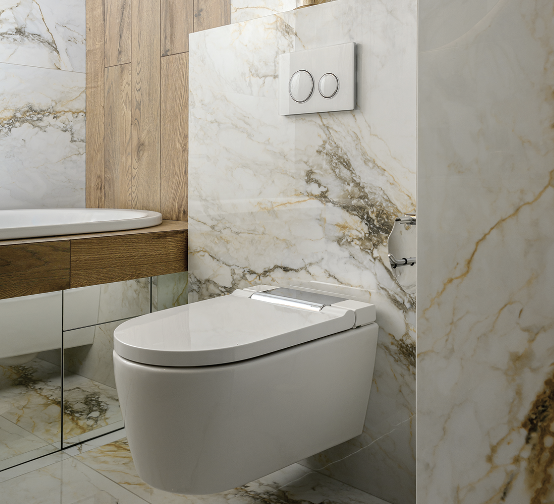 That's where the floating toilet comes in. A floating toilet doesn't really float, of course, but by installing the tank inside the wall with the toilet wall-mounted, you save space and it can look quite sleek.
You've probably seen floating toilets before; they are sometimes installed in public restrooms in airports and hotels among other places, and they have been popular in multi-unit residential projects where space is at a premium and quite expensive.
"The biggest benefit," Jefferson says, "is space gain. It opens space up an additional 6″-10″ which may not seem like much, but psychologically it gives a feeling of spaciousness and comfort. It's very popular in powder rooms."
People also like how easy it is to clean. With no fixtures on the floor to try to wipe down and get behind in a small space, people can just "swiffer" under them, Jefferson said. The designs are rimless and more hygienic; every place that dust or debris might collect is taken out of the equation if at all possible, and tucked into the wall.
Height is flexible with these toilets, making them a comfortable choice for older adults and it is very adaptable to ADA guidelines.
Maintenance and repairs are easily accomplished. The portion inside the wall is fronted by a decorative piece that can be removed to access the tank.
The toilets have lifetime warranties, and Jefferson says that the first floating toilets were installed by Geberit in 1964. They were replaced fifty years later — not because there was a problem, but because the building was being renovated.
Like any option, there are some drawbacks. It's a new learning process for the installer; you have to open the wall, and you may have to move plumbing or studs around to fit the system in the wall, which means a little extra work and cost. You will have to plan for this. However, no one has to figure it out alone as the company offers training, in person or on demand, and this elegant yet elderly-friendly option may be just what the homeowner is looking for.
From One Builder To Another
Zach Larison, owner of AZ Custom Remodeling, LLC, Atwood, Kansas, sees renovation through a Midwest lens; his renovation work is spread across central to northwest Kansas and southwestern Nebraska. Bathroom renovations are popular now as he says that people want a change and when they decide to invest in renovating their home they want a big bang for their buck.
"Kitchens are more complicated," Larison said, "and more expensive. In a bathroom you can make a lot of cool changes for a lower price."
The Trends:
• Most popular colors are grays, blacks and some brown
• Hardware is trending to brushed bronze and flat black
• Flexstone showers, marble, or inserts in neutrals,
browns and off-whites
• Tile showers in everything from brown ceramic to
white porcelain marble with black veining
• Pre-cast sinks with "stone slab look" vanity top
• Glass sink bowls on real marble tops
• Tile floors
• Click-together waterproof, wood-look tiles
• Bidet built-in toilets with heated seats and remotes
The Challenges:
The biggest challenge that Larison comes across is faulty caulking. Take your time and get a good seal, he advised.
Other Errors:
• Liquid nail used instead of pinset for tile
• Joints were not mudded
• Leakage develops between tile and drain because the installer didn't use PVC glue.
• Vapor barrier was not used.
• One or several of the previous errors combined caused water damage in the walls or in the subfloor
and now mold has developed.
Larison says that telling a homeowner they have mold is a tough conversation because they likely had no idea there was a problem when they budgeted for this renovation, and now they are going to have to pay for structural work. Sometimes they can help the customer out with payment plans, he said, but sometimes customers have to revise their plans.
To avoid these errors, Larison advises that builders take their time and do their research on the products they plan to use to ensure they are making the right choice. Also, he recommends watching the videos online on YouTube and manufacturers' websites that will show you how to use the product correctly.
Taking the time to research will help things go more smoothly, avoiding material waste and keeping errors down.
Finally, Larison said, "Bathrooms are wet; you can't over-do the vapor barrier. Make sure you have a good water seal." GSCB