What is the best material for shed building?
by LP BUILDING PRODUCTS
For years, builders have been sourcing plywood for their outdoor structures. Its ability to be used for everything from shed flooring and walls to furniture makes it a convenient option—but it isn't the only option. Despite plywood being top-of-mind for many builders, engineered wood products boast a greater value when it comes to outdoor structures.
With built-in strength and knot-free surfaces, engineered wood pairs beauty and durability so that you can take shed building to the next level.
Plywood vs. Engineered Wood: What's the Difference?
When it comes to sourcing material for an outdoor structure, there are lots of options on the market. Plywood and engineered wood are two of the most viable and comparable options, but it can be a challenge to know what sets engineered wood apart. A closer look at the makeup of each of these products will reveal the value of engineered wood compared to its competitors.
Plywood is a wood-based material made from layers of wood veneer that are held together by glue and pressed into a flat sheet. While plywood is bonded with a glue adhesive, engineered wood uses treated wood strands combined with waxes and advanced adhesive binders for exceptional strength and durability.
In addition to strength, engineered wood products offer enhanced workability and may require less maintenance than competing products. Although plywood typically comes in 4'x8' or 10'x12' sheets, engineered wood siding panels often come in 4'x8' sheets and up to 4'x12'. Lap and vertical sidings come in up to 16' lengths while remaining lightweight. The extra length may make engineered wood products faster to install, reduce seams, and provide more building options on the jobsite.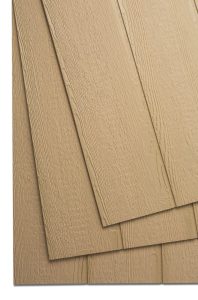 Added Durability
When it comes to outdoor structures that are exposed to the elements, durability is crucial. To help withstand inevitable impacts, engineered wood is treated to withstand climate stressers. For example, LP® SmartSide® Trim & Siding products are treated to the core through a proprietary LP® SmartGuard® process, which includes four components of protection: adhesive resins, water-resistant waxes, zinc borate and a resin-saturated overlay.
Though plywood has adequate uniform strength, it commonly sags or bends when exposed to too much water. The added strength in many engineered wood products helps protect materials from impacts, freeze/thaw cycles, high humidity, fungal decay, and termites to help extend the life of outdoor structures.
In recent years, sheds have seen a resurgence in their use beyond traditional storage. From man caves and workshops to home offices and playhouses, homeowners are dreaming up ways to take advantage of additional space with outdoor structures. With growing interest in alternative use sheds, builders are looking for materials that fit the bill.
The Total Shed Package
Manufacturers offer a portfolio of engineered wood products to achieve a variety of shed styles. Essentials include beautiful exterior siding options and flooring options designed specifically for sheds.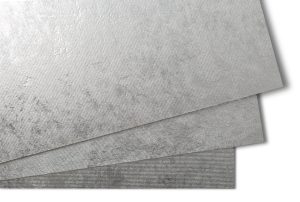 To help brighten shed interiors, LP offers products manufactured with a highly reflective, professional-grade appearance. SilverTech® reflective finish is available on siding and roof sheathing products, providing a clean and bright interior.
Engineered wood products beyond siding include outside corners, trim, soffit, and other finishing pieces. A portfolio of engineered wood products by a single manufacturer allows you to create a complete shed build with products proven to work well together.
Engineered Wood Surpasses
Plywood with Exceptional Curb Appeal
Though curb appeal isn't the only category in which engineered wood outperforms plywood, it certainly is a benefit. With the rise of alternative-use sheds, aesthetics join durability and workability on the priority list for homeowners and builders.
Engineered vertical siding products can contribute to the charm of the trending board and batten style. And, as people begin to spend more time in their sheds, interior aesthetics matter just as much as exterior. When it comes to flooring, an engineered wood floor that is free of knots or voids can be a welcome change from traditional plywood. GSCB