Expert Tips to Building Your Customers a Backyard Oasis
By Carol J. Alexander

The buzzword in home remodeling for 2021 is biophilic design—bringing occupants closer to nature. And, it's no wonder since stay-at-home measures were put into place with the onset of the Covid-19 pandemic last March. People feel cooped up, depressed, and lonely. According to the Centers for Disease Control and Prevention (CDC), last June 40 percent of adults reported struggling with mental health or addictive symptoms.
Fortunately, there's a balm in nature. In 1984, Roger S. Ulrich, Ph.D., professor of architecture who specializes in healthcare building research, conducted a study of the effects that gazing on nature had on patients healing from surgery. His study found that patients allowed to recover in a room with a large window overlooking nature "had shorter postoperative hospital stays, received fewer negative evaluative comments in nurses' notes, and took fewer potent analgesics" than matched patients in rooms with windows facing brick walls.
But we didn't need a 37-year-old study to tell us that people want to be outdoors more than ever. We only have to look at the data. The International Casual Furnishings Association's 2021 Outdoor Trend Report shows 90 percent of those surveyed consider their outdoor living space as more valuable than before. And, that 78 percent made outdoor upgrades during 2020.
If you're considering adding outdoor living options like gazebos, pergolas, decks, or play equipment to your inventory, here are a few tips from others who have gone before.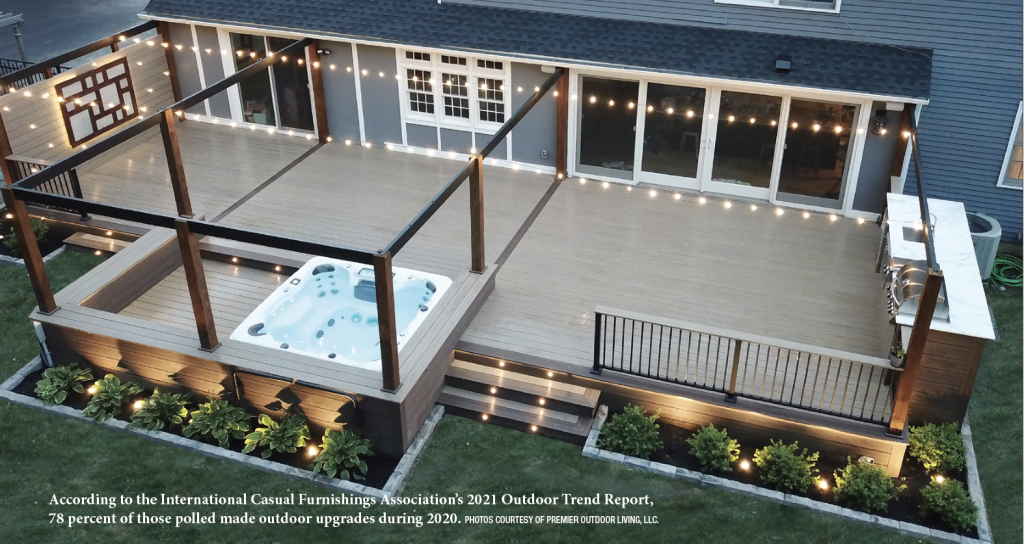 TIP #1: Do Your Research
Is there a demand?
We've already established that outdoor living is trending. But what, exactly, does your clientele demand? If your customers are mostly families with children, they probably want decks and play equipment. Whereas, customers in an urban setting with smaller yards may look more for a patio and firepit. Collect data from manufacturers, suppliers and clients to gauge interest.
Send surveys through your email list
Scan social media feeds for opinions and needs
Post polls on social media
According to Doug King, owner of Doug King Contracting, Inc. in St. Petersburg, Florida, and president of the National Association of the Remodeling Industry, in his area pool additions or modifications are his number one request. However, "adding a covered lanai on the back of the house for an outdoor kitchen, or just expanding a covered gathering area is very popular," he says.
Do you have the skillset?
Research the product you wish to offer. "You can learn small differences and a lot of tricks by doing research," says Sean Collingsgru, owner of Premier Outdoor Living, LLC in New Jersey. Differences in design, materials, and techniques all play a role in developing the end-product you choose to offer. You may also learn different tricks of the trade by consulting with other manufacturers.
If your company only offers one type of product, like storage sheds, there may be a learning curve to building other items like decks and pergolas. Now's the time to take an assessment of the skill-sets you already possess with your current staff, and any new ones you'll need training for. Such as building deck stairs and railings, laying patio block, or setting posts for pergolas.
However, he says it's the details of the design that matter. "A tiny difference in the design can take a mediocre deck to something nice and polished."
King suggests shed builders partner with a design/build firm. "Someone who can help them provide options and solutions to homeowners who are looking to make their backyard a private oasis." However, if you already have design skills and the necessary software, you're well on your way to creating your customer's dream backyard.
Collingsgru recommends Realtime Landscaping Architect software by Idea Spectrum. "It gives a 3D rendering, which is by far the best sales tool," he says. And, to design something your customer will love, he says to ask the customer critical questions, like:
How they plan to use the space,
What size capacity they'll require,
What features they want (grill, firepit, drink coolers, etc.), and
Their budget.
What materials will you use?
Since lumber prices have surpassed a 200 percent increase over April 2020, according to the National Association of Homebuilders, you may struggle to keep your outdoor storage buildings at a price point your market can afford. Building outdoor living structures, using different materials, gives you additional products to offer your customers.
Even though the substructure of Collingsgru's designs includes pressure-treated lumber, he says it's a relatively small portion of his total cost to build. "I use Deckorators," he says, "It's a mineral-based composite, gives better traction and minimal expansion." And for patios, he prefers Techo-Bloc.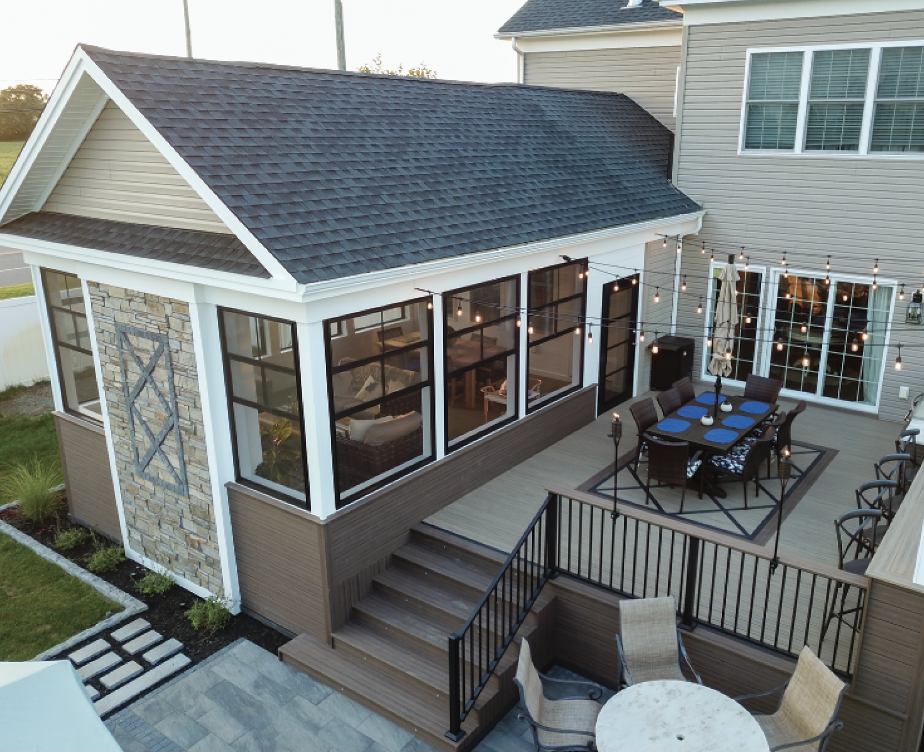 TIP #2: Network with Other Supporting Businesses
A complete outdoor living package could require the services of several different types of businesses. "Partnering with a concrete company, an engineer, and possibly an electrician so that all the parts and pieces can be offered as a turn-key project," says King. "Homeowners like 'easy," he continues. "They don't want to hire multiple companies."
Referrals come from your network, too, according to Collingsgru. When the landscaper you usually hire to work on your jobs has a customer who wants a gazebo, he knows who to recommend. Pool builders, home remodelers, design/builders, and masons are other businesses you may want to keep in your contacts.
To find others to network with, try your local Chamber of Commerce, NARI chapter, or other associated organizations. Visiting trade shows is another way to not only network but get leads. For instance, having a booth at a local pool and spa show will capture leads for you of those people who came to shop for pools not realizing they may want a deck, patio, and pergola to surround it.
TIP #3: Advertise
Remember the couple who walked away because you didn't build gazebos? Now's the time to give them a call and let them know you have added them to your inventory. Advertising and marketing will get the word out that your business has expanded. In addition to buying advertising space in print publications or airtime on radio or TV, there are other ways to let your customers know you have something new to offer. If you don't already have a marketing team member on staff, find an agency or freelancer to help you with the following punch list.
Update your website
Before telling the world you have new products or services to offer, add them to your website. In addition to a product page with the description, specs, and options, there are a few other things to include:
A product-specific landing page—This page with a dedicated URL is a helpful tool to measure interest. It will be the page you'll share on social media to announce the launch of your new product. Think of it as a birth announcement with pictures of your new baby, sales copy that touts the benefits of the product, and links to the separate product pages, i.e. large gazebo, medium gazebo, small gazebo.
A content download—This is content related to the product that a potential customer will want to download and save for future reference. A few examples include: "A Step-by-Step Guide to Designing Your Gazebo," "Wood or Vinyl? 5 Things to Consider When Choosing the Material for Your Pergola," or "How to Size a Patio for Your Backyard." To download the content, the customer must give you their contact information, creating a lead for your sales team.
A case study or two—If you built a few prototypes, add a few case studies, or happy customer stories, to the website that highlights the problem you solved for that customer. You could add these later, after a few sales, if you already have case studies of your existing products.
Send an email campaign
Sending an email announcement to existing and potential customers is the least you can do to promote your new product line. Better yet, make it a campaign of three to six emails. The first email could be a "We're working on something big" kind of message. Follow that with a couple of happy customer stories. Make sure these home in on a problem/solution angle. Then, reveal the product in another email. Follow up a few days later with an ask: "Wouldn't you like this in your backyard?" Spread these out over several weeks to avoid bombarding your customers —especially if you're not in the habit of sending regular email newsletters.
Social media posts and ad campaigns
Finally, following the same type of content that you use in your emails, write social media posts for each of your accounts. Always include photos with your posts to show the reader what your product looks like. Once you've sold a few, share photos of the product in the homeowner's yard.
With 90 percent of homeowners seeing their outdoor living space with fresh eyes, there's no better time to pivot your business by adding to your product line. The question is: What will you build next?
Carol J. Alexander writes feature articles, website copy, case studies, and more for the home remodeling and building industry. She lives in the beautiful Shenandoah Valley of Virginia.