By Linda Schmid
When you hear the term "epoxy flooring", do you imagine a high sheen, flashy floor used to showcase collectors' cars or something similar? While epoxy flooring can be used for that, it's not just about aesthetics. It is also the perfect flooring solution for so many other situations, both residential and commercial. That is according to Rick Hoeltke, franchise owner of GarageExperts of the Fox Valley in Appleton, Wisconsin along with his partner, Ryan Bednarowski.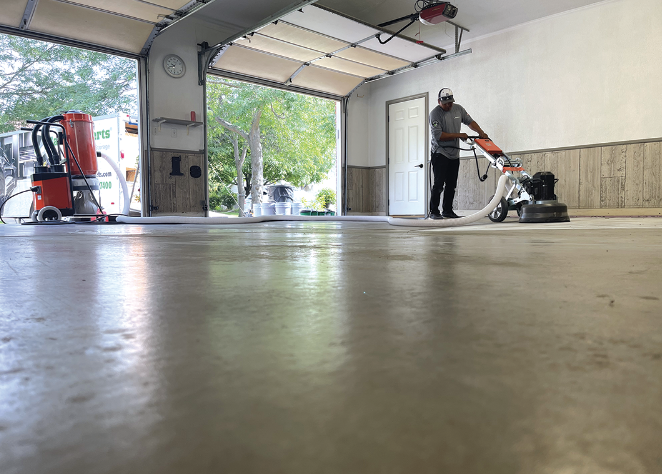 Of course, GarageExperts' system isn't pure epoxy; their system is a combination of epoxy and poly-ascorbic coating. Hoeltke explains that epoxy penetrates the cement, forming a moisture and vapor barrier that resists hydro-static pressure thereby preventing cracks, a quality that is especially helpful in areas where the weather vacillates between hot and cold. Poly-ascorbic solution provides added durability and protection. Altogether, it's the best of both worlds.
People install these floors in basements, on stairs, in pole sheds, barns, and in commercial structures including schools, casinos, industrial laundries and kitchens, clinics, and other healthcare situations. According to Hoeltke, people like them because they are mold resistant and easy to clean; just mop with vinegar, water, and a squeegee and you have a sanitary floor. They require no additional maintenance and they are pretty scratch, stain and wear resistant. And, in the case of GarageExperts, they come with a lifetime warranty on concrete. (Wood floors have shorter warranties because the wood itself can fail).
Installation of these floors begins with prep. For new construction, prepping involves running over the concrete floor with a 20" diamond grinder to open the pores a bit so the epoxy can penetrate. If the concrete is older and has problems, Hoeltke says they have solutions to fill cracks and pits and build the floor back up before they take the grinder to it. The flake option is dispersed over the epoxy; this is the solution that provides the color. The epoxy and flake need a couple of hours to dry, then the floor is scraped to remove any extra. The final step is the poly-ascorbic top coat which includes an anti-slip agent.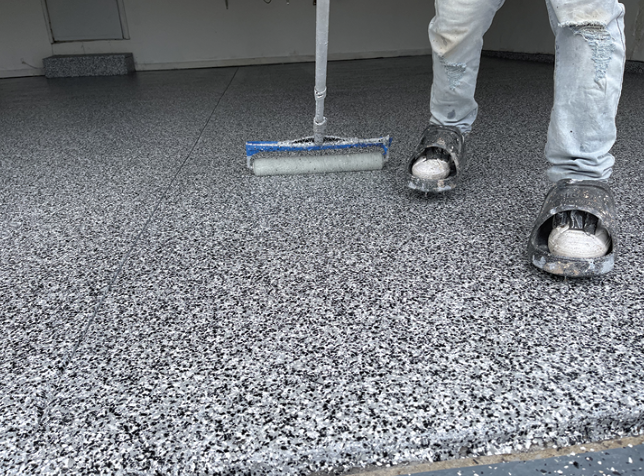 Installation mistakes mainly have to do with timing. Once you start to lay the epoxy, you are on the clock; if you take too long to complete it you will find that the flake doesn't bond well with the epoxy because it has already begun to set. The results will be patchy at best. If the epoxy/polyascorbic flooring is applied to wood, you have even less time because the wood will absorb more product than concrete and absorb it faster.
Hoeltke and Bednarowski partner with several local construction firms for many of their jobs:  Rucon Construction and Cypress Homes to name a couple. Building these types of relationships is helpful for all involved; they trust you to do quality work and you trust them.
Hoeltke and Bednarowski started their business 2½ years ago, but GarageExperts franchises began in 2008. Their proprietary products are created by Versatile Building Products.
After a lot of research, they decided to open their franchise because they like the flooring
system, and they like all of the support they receive. New install teams are sent to Texas to headquarters for training.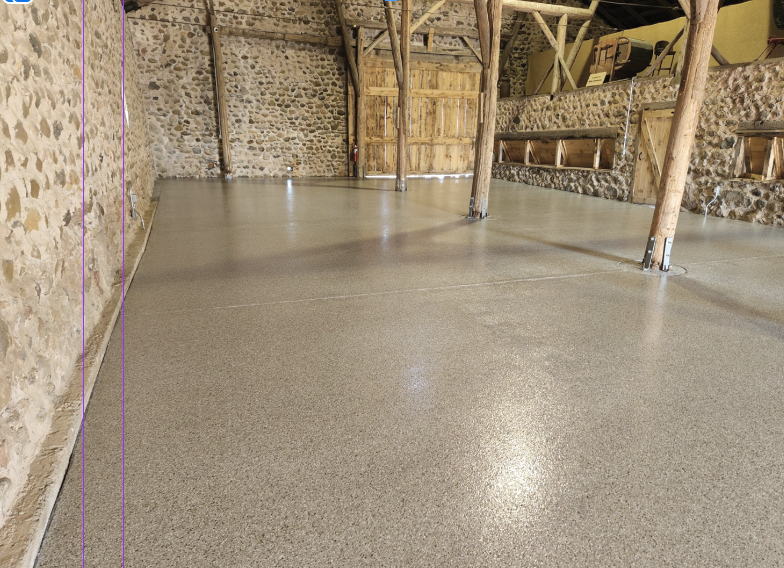 "The training is excellent," Hoeltke said. "It's set up so that all you really need is a bit of marketing knowledge and determination to make it as a new franchise," Hoeltke continued.
Community involvement, print ads, Facebook, Google, TV ads are all part of the marketing mix that Hoeltke and Bednarowski use, but early on the company grew most by word of mouth. Nothing convinces people to try a product and service like a friend or acquaintance talking it up.
"Word of mouth is our favorite way to grow," Hoeltke says, "and that entails having a quality product, taking your time prepping, and following through on promises." GSCB